After months of hard work, here you have OneScape, the new enterprise extension of OpenNebula! The main objective of this brand-new component is to simplify the maintenance, management and upgrade workflows for OpenNebula corporate users. They will be able to use this new extension as part of the benefits they receive for their OpenNebula Subscription. It's our way to say thank you to all those organizations supporting OpenNebula by purchasing some of our professional services 🙂
This initial release of OneScape comes with two functionality modules:
The first one provides a tool to generate a comprehensive diagnostic bundle for existing OpenNebula deployments so that, when needed, the OpenNebula Support Team will have all the necessary information to deliver swift and effective support.
The second module takes care of the management of the OpenNebula front-end configuration files. We are pretty much aware that migration of deployment-specific configuration settings is a challenging step during an OpenNebula upgrade. The good news is that this is not going to be a source of pain anymore! The configuration module is backed by the tool that allows you to automatically upgrade configuration files to the new OpenNebula version while preserving your specific customizations. Hurrah!
But enough theory! Let's demonstrate the power and simplicity of this new configuration management module with a couple of screenshots showing its performance in real life ?
All interactions with the OpenNebula configuration files take place now via a new tool called onecfg, so the first step is to check the configuration version status and find available upgrades. A cloud administrator can do all this simply by calling onecfg status. If there are any updates available for those configuration files, onecfg upgrade will execute the upgrade.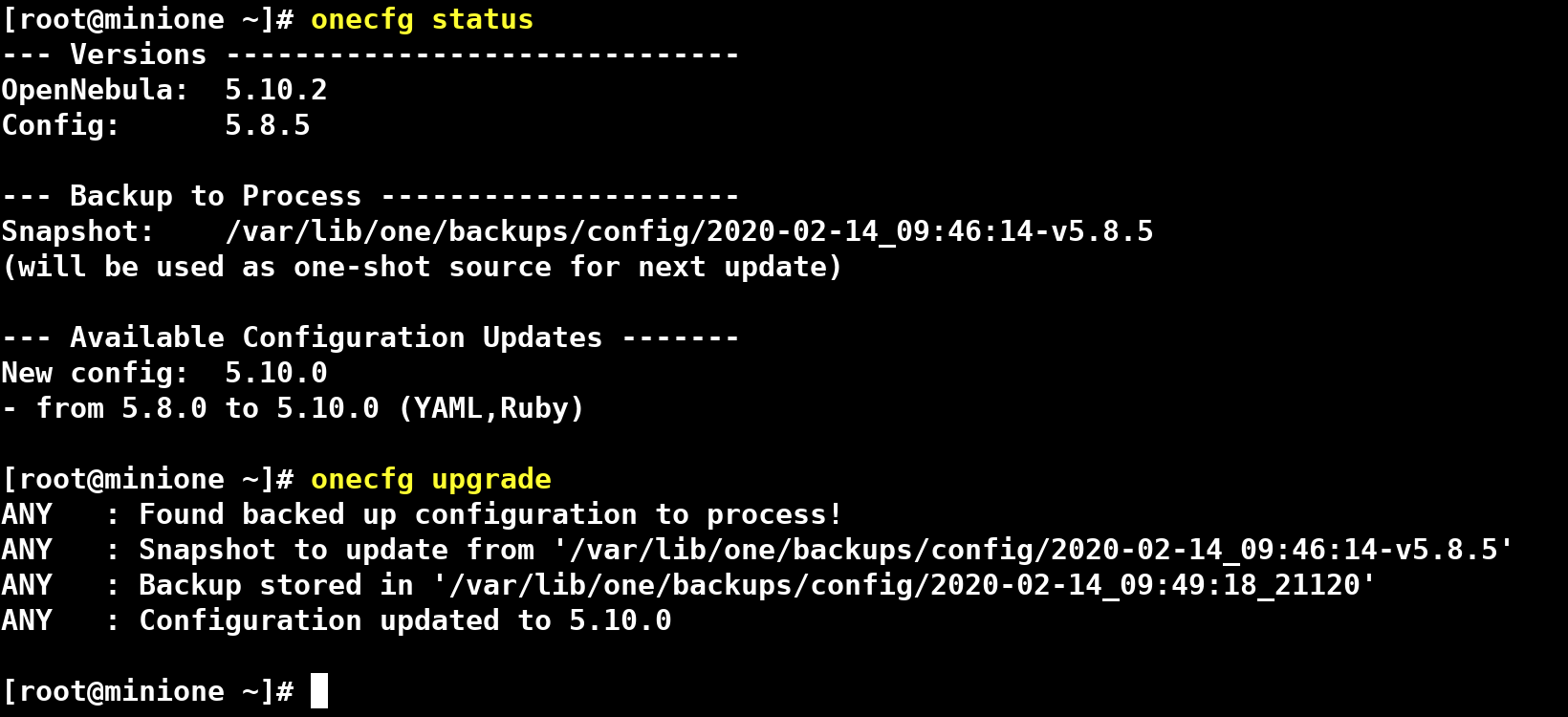 On the example above we have successfully migrated specific configuration settings for OpenNebula 5.8.5 and they are now ready for use on the new version 5.10 'Boomerang'. This automatic migration of configuration details is supported for OpenNebula 5.4.0 – 5.8.5 when upgraded directly to OpenNebula version 5.10.2 or higher.
Just remember that this new tool is not intended to upgrade the OpenNebula packages themselves, this has to be done aside by the administrator as part of the standard OpenNebula upgrade procedure.
Another useful feature of the configuration management module is to identify custom changes done in configuration files and display them for review in an easy-to-read output format, showing inserted, changed or removed configuration parameters. In this example, our simple (miniONE-based) deployment has just very few customizations to the base OpenNebula shipped configuration files, but here you have them nicely presented:

We've invested a substantial amount of time and resources to produce this first version of OneScape, so we really hope our users will enjoy this new tools and will now find OpenNebula even simpler to manage! Read more about how to get and use OneScape in the dedicated documentation section. And don't forget to send us your feedback via OpenNebula's Customer Portal! 😉