Why OpenNebula?
"Simplicity is the Ultimate Sophistication".
—Leonardo Da Vinci
If you are looking for an easy-to-use but powerful open source solution for your private, hybrid or edge cloud infrastructure, you are at the right place. Welcome to OpenNebula, the Cloud Management Platform that brings flexibility, simplicity and vendor independence to your Enterprise Cloud.
LIGHT & SIMPLE
Lightweight and easy to install, maintain, operate and use
FLEXIBLE
Fully open source and customizable for any data center and its policies
ROBUST
Production-ready, highly-scalable, and commercially supported
POWERFUL
Innovative functionality for virtualization and private clouds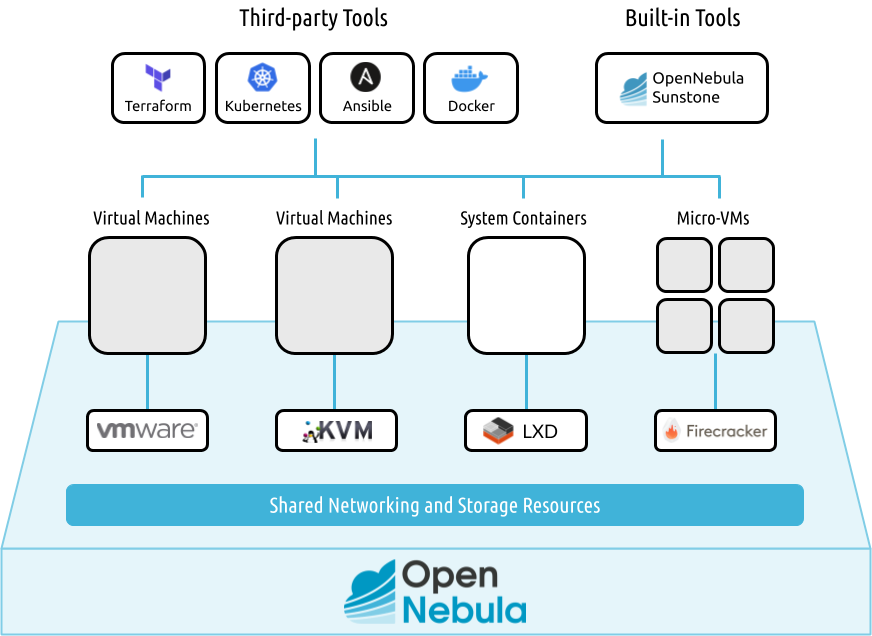 OpenNebula Overview
OpenNebula is a simple, but powerful, open source solution to build and manage Enterprise Clouds. It combines virtualization and container technologies with multi-tenancy, automatic provision and elasticity to offer on-demand applications and services.
It supports both containers with virtual machine workloads in a common shared environment to get the best of both worlds.
It integrates multiple virtualization technologies, from VMware and KVM for fully virtualized clouds to LXD and Firecracker for containerized and serverless deployments.
It can easily deploy hybrid and edge environments with resources from AWS and Equinix Metal.
OpenNebula Models for Cloud Infrastructure Deployment
OpenNebula is certified to work on top of multiple technologies, providing complete flexibility to build your Customized Cloud. Yet, OpenNebula also provides a unique True Hybrid Cloud configuration based on solid open source technologies, taking a hyper-converged approach with hypervisor nodes that encapsulate all the necessary components for management, storage, compute and networking.
This True Hybrid model is a much simpler approach, providing on-demand deployment on physical and virtual resources, with workload portability, both on-premises and on a cloud provider. Thanks to on our True Hybrid Cloud Architecture, you can enjoy a single vendor experience with a complete cloud stack fully supported and managed by OpenNebula Systems.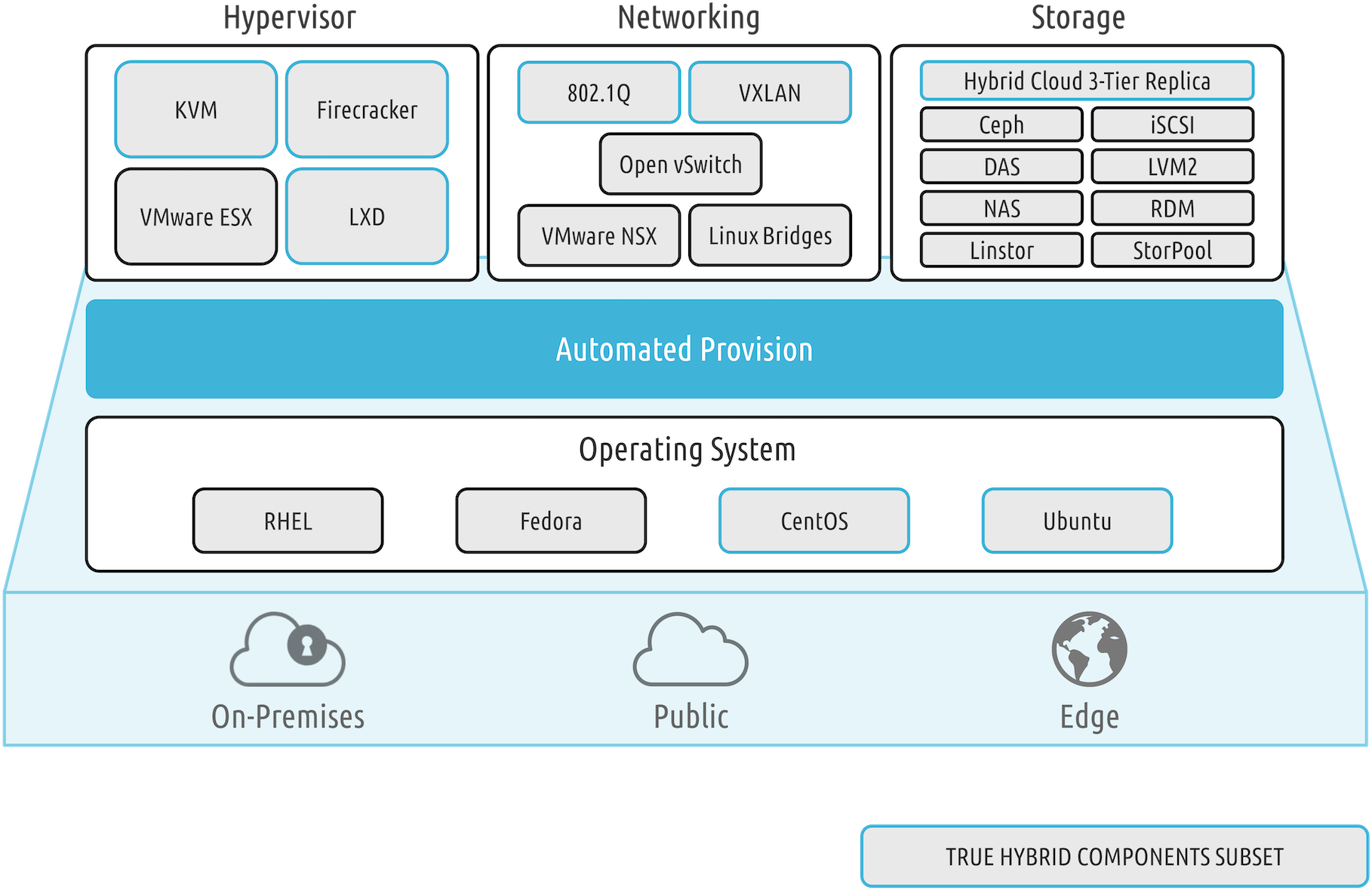 Get Started with OpenNebula
Guides about OpenNebula on main hypervisors and tools to eliminate the challenges of implementing a small-scale OpenNebula cloud for development, testing or product evaluation. In just a few minutes, install a single-node KVM or LXD cloud using miniONE or build a cloud on top of an existing VMware vCenter using vOneCloud.
Virtual Machines

Virtual Machines

System Containers

MicroVM Serverless
Bring your Private Cloud to the Edge
Are you looking for a high-performance real-time response? Edge Computing helps companies and providers to transfer computational power and resources closer to their end users by increasing the number of endpoints and locating them near the users or devices. Check out ONEedge, an enterprise solution with OpenNebula at its core, to bring your Private Cloud to the Edge 🚀
OpenNebula by the Numbers
OpenNebula Package Downloads in the Last Year
OpenNebula Clouds Connected to the Marketplace
Data Centers in the Largest OpenNebula Federation
Cores within the Largest OpenNebula Cloud
User Stories
OpenNebula is used to implement different types of cloud deployments, from clouds tuned to address the demands of a niche market to clouds optimized to manage the virtualized resources in the data center.
Case Studies
Learn more from some of our users' experience about how they are putting OpenNebula to work in their production environments!
Use Cases
Browse the ever-expanding catalog of screencasts created by the OpenNebula Team to showcase interesting applications and integrations with third-party technologies and other open source projects.
Commercial Services
Enterprise Support is offered by OpenNebula Systems at a competitive cost, with product influence and privacy guarantee.
Get the best out of your OpenNebula cloud with our standard and customized training courses.
Get your OpenNebula deployments expertly designed and deployed from start to finish.
Hire consulting services to address your needs from design, deployment and overall operation.