The OpenNebula Cloud offers a virtual computing environment accessible through two different remote cloud interfaces, OCCI and EC2, and two different web interfaces: Sunstone for cloud administrators, and SelfService for cloud consumers. These interfaces access the same infrastructure, i.e. resources created by any of the mentioned methods will be instantly available on the others. For instance, you can create a VM with the OCCI interface, monitor it with the EC2 interface, and shut it down using the OpenNebula Sunstone web interface.
This Cloud has been migrated to the latest OpenNebula 3.6 Beta. If you have an account you can still use your old username and password. If not, request a new account and check out the upcoming OpenNebula 3.6 features. These interfaces show you a limited view of the Cloud, as you will not be able to manage certain system resources such as ACL rules, groups or users; nor infrastructure resources such as hosts, clusters and datastores.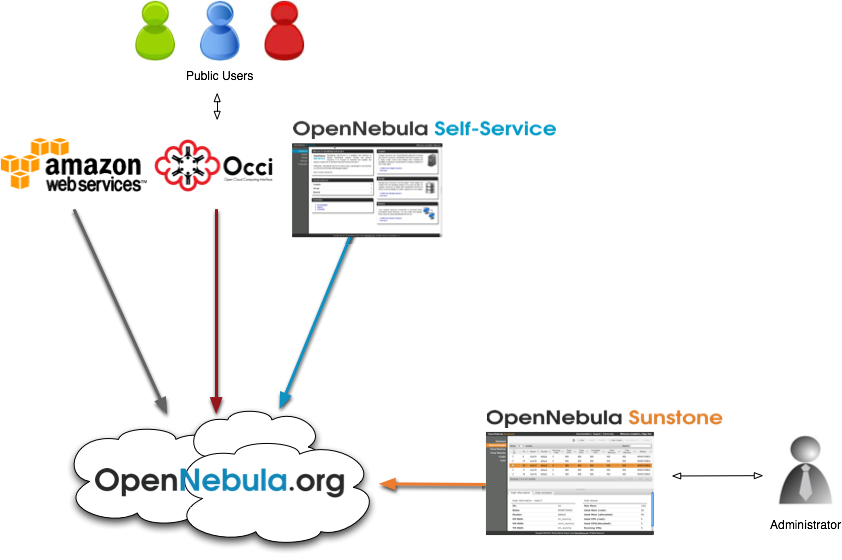 Keep in mind that this is a demo cloud, and the operations you can perform will result on virtual networks and machines resource creations, but no real action whatsoever will be performed. This means that there will be the illusion that a VM is created, but in fact it won't be running anywhere.