Get Migration Packages for Latest CE Release
⚠️ In order to use these non-commercial migrators to upgrade to the latest CE release (OpenNebula 6.8 "Rosette"), you will need to first upgrade your existing OpenNebula environment to CE Patch Release 6.6.1.1
All Community Edition (CE) migration packages for versions prior the latest one are—and will be after each new major/minor release—publicly available for all types of organizations and deployments under Apache License 2.0 as part of the standard OpenNebula distribution. However, the CE migration packages for the latest version are distributed under a Software License Agreement for Non-Commercial Use.
At the moment, all migration packages apart from those needed to upgrade to version 6.8 "Rosette" are publicly available at OpenNebula's public repository. Migrators for this latest version will be made publicly available under Apache License 2.0 after the next major/minor release of OpenNebula CE. In the meantime, they are available under a non-commercial license by filling the form below.
What is Non-Commercial?
Non-commercial deployments are those that are (a) not undertaken for profit, and (b) not intended to produce works, services, or data for commercial use, and (c) neither conducted, nor funded, by a person or an entity engaged in the commercial use, application or exploitation of works similar to the software.
This basically means that you can get immediate access to the CE migrator package for the latest release if you are:
An

 

individual

 

using OpenNebula CE for private purposes
A

 

nonprofit organization

 

(NPO)
Any other organization using OpenNebula CE

 

for evaluation purposes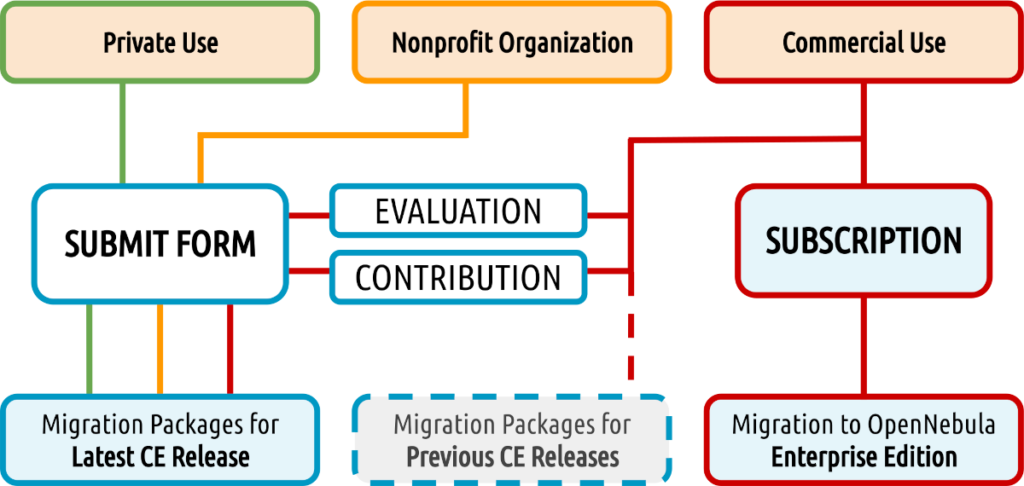 What if I Run a Commercial Deployment?
Being an open source project, we depend on active participation and contributions, especially from corporate users. That's why, in exchange for the migration packages needed to upgrade to the latest release, we request a certain level of commitment to open source and to the project. If you are using our Community Edition in production but have made (or are about to make) a significant contribution to the OpenNebula Community, please submit the form below with all the relevant information. Otherwise, if you haven't contributed yet but are willing to do so, please reach out to our Community Manager to discuss the simple methods through which an organization can support the project, including case studies, webinars and other community actions.
Alternatively, you can contract one of our Enterprise Subscriptions, which comes with access to our Enterprise Edition, its migration packages, and many other benefits for corporate users, or just wait until the next major/minor release is out. For more details, please visit our OpenNebula Subscription FAQ section.