The Enterprise Edition of OpenNebula is a tested, hardened, and production-ready version that incorporates additional bug fixes and software patches with minor enhancements developed by OpenNebula Systems.
While we make all our products open source under the Apache License Version 2.0, the packages of our Enterprise Edition and the Enterprise Tools we've created for Corporate Users are distributed under commercial license terms only available to those customers with an active OpenNebula Subscription.
🔄 The "Backups" tab can be used to view and restore backup images. In the case of incremental backups, you can pick a specific increment inside the image and restore it.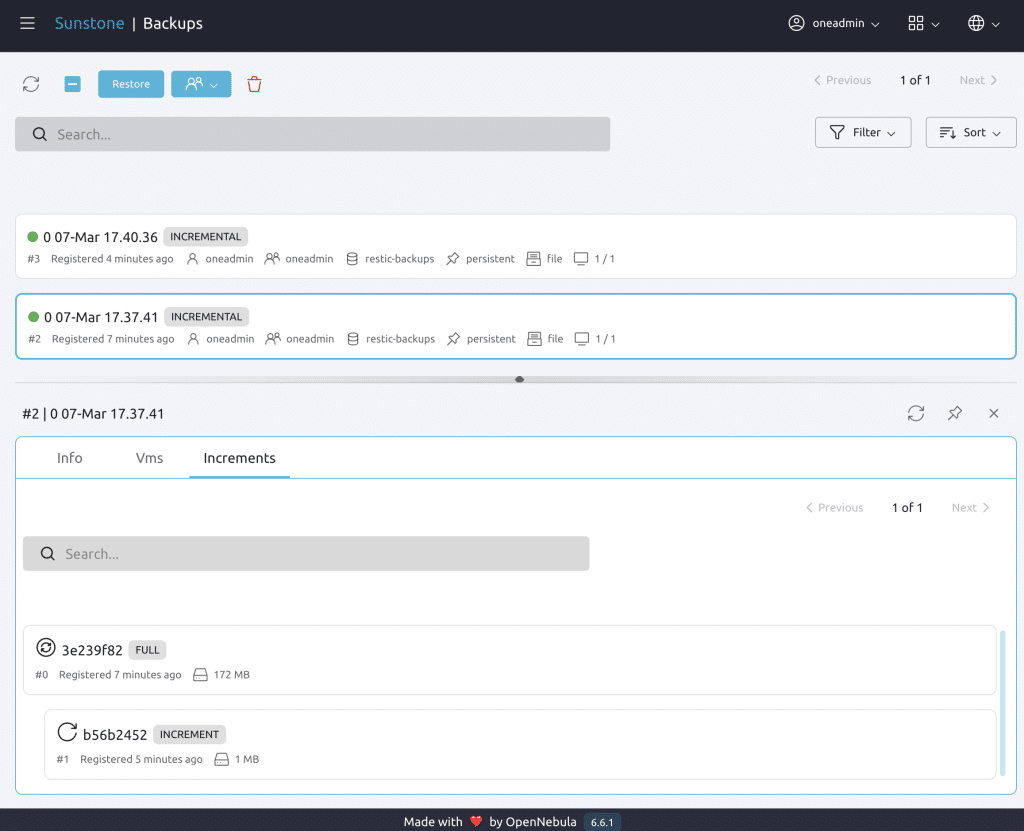 This new maintenance release comes with a number of backported new features:
Restic and Rsync drivers now allow you to limit CPU and I/O resources consumed by the backup operations.
Added support for the nested groups in LDAP.
OneFlow Services now supports custom attributes for specific roles.
Restore incremental backups from a specific increment in the chain.
Automatically prune restic repositories.
Specify the base name of disk images and VM templates created when restoring a backup.
Retention policy for incremental backups.
Cluster provisions have been upgraded to use Ubuntu22.04 and Ceph Quincy versions.
OneStor was fixed to support persistent images.
👾 6.6.1 also fixes several minor issues reported since the 6.6.0 version.
Check the release notes for the complete set of new features and bug fixes.
Relevant Links