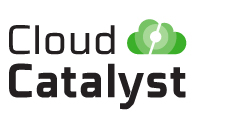 The EU CloudCatalyst initiative invites you to participate in a survey about cloud computing trends. You can influence over the CloudCatalyst project by collaborating on the identification of existing challenges for Cloud expansion as well as on the definition of new market opportunities. The survey will produce detailed information about the main barriers to cloud adoption in order to help entrepreneurs, researchers, and software developers create value-added Cloud solutions and services.
To take the survey, click the link:
https://www.surveymonkey.com/s/3GHCM9K
The results of the survey will be shared (for free) with all the respondents.
Cloud Catalyst is an initiative funded by the European Commission that aims to provide useful tools to foster the adoption of Cloud Computing in Europe. CloudCatalyst will set up a cross-border advice and support service targeting two main groups:
Software developers, researchers, start-ups, and other Cloud entrepreneurs interested in accelerating the development and deployment of Cloud Computing and internet services
End-users from large industries, SMEs, and public entities interested in knowing how to benefit from the implementation of Cloud solutions.
On behalf of the CloudCatalyst Team,
Thank you in advance for your participation!