We are excited to share that OpenNebula Systems will be at the Cloud Expo Madrid 2023, marking our third consecutive appearance at this major industry event. This tech show, scheduled for 30 & 31 October at IFEMA, is a magnet for cloud technology enthusiasts and professionals across Europe. OpenNebula Systems is proud to be among the exhibitors and we will be at booth #3G80, where we invite you to stop by, engage with our team, and delve deeper into the world of OpenNebula.
Across the two days, and in close collaboration with our customers and partners—especially those involved in COGNIT, the EU innovation project that we coordinate—we have curated an exciting agenda of talks and demos, covering three main tracks: Cognitive Cloud, Edge & Telco Cloud, and Open Source Cloud. We will be joined by speakers from ACISA, IBM, Ikerlan, Red Hat, SUSE, Telefónica, Todo En Cloud, and UC3M. Check out the flyer below for the timings of each talk and don't hesitate to join us!
AGENDA – Lunes, 30 Octubre
🌟 COGNITIVE CLOUD
11:00 | Proyecto COGNIT: Construyendo un cloud soberano europeo basado en IA 👤 Alberto P. Martí – OpenNebula Systems
11:30 | Desplegando IA y plataformas cloud en la Corporación Mondragón 👤 Leire Ibargutxi & Iván Valdés- Ikerlan
12:00 | Presente y futuro de Rancher Kubernetes Engine (RKE2) 👤 Juan Herrera – SUSE
12:30 | Crea tu entorno multi-cloud híbrido con OpenNebula 👤 Constantino Vázquez – OpenNebula Systems
13:00 | Desplegando sistemas inteligentes de transporte cooperativo en el continuo cloud-edge 👤 Joan Iglesias – ACISA
13:30 | Sesión abierta de Q&A 👤 Victor Palma – OpenNebula Systems
🌟 EDGE & TELCO CLOUD
15:30 | Sesión abierta de Q&A 👤 Victor Palma – OpenNebula Systems
16:00 | SYLVA: un stack de virtualización de referencia para Telcos 👤 Luis Velarde – Telefónica
16:30 | OpenNebula: La solución europea para nuevos proveedores edge y telco cloud 👤 Alfonso Carrillo – OpenNebula Systems
17:00 | Despliegues piloto de OpenNebula sobre 5G edge 👤 David Artuñedo – Telefónica
17:30 | Transformación Digital con una estrategia "Open Hybrid Cloud" 👤 Michael Abdou – OpenNebula Systems
18:00 | Sesión abierta de Q&A 👤 Victor Palma – OpenNebula Systems
AGENDA – Martes, 31 Octubre
🌟 OPEN SOURCE CLOUD
10:30 | Explorando las nuevas funcionalidades de Ansible 👤 Amaya Gil – Red Hat
11:00 | Descubre la oferta de infraestructura edge cloud de Equinix Metal 👤 José Ignacio López – Equinix
11:30 | Cómo sustituir tu entorno VMware corporativo con OpenNebula y KVM 👤 Constantino Vázquez – OpenNebula Systems
12:00 | Ventajas de usar Ceph como solución de almacenamiento para OpenNebula 👤 Ernesto Puerta – IBM
12:30 | Descubre cómo contribuir a la comunidad open source de OpenNebula 👤 Francisco Picolini – OpenNebula Systems
13:00 | OpenNebula como solución IaaS open source para Cloud Service Providers 👤 Manuel Argiz – Todo en Cloud
13:30 | Sesión abierta de Q&A 👤 Victor Palma – OpenNebula Systems
16:00 | Proyecto EDGEDT: Construyendo un edge hiperdistribuido para 6G 👤 Antonio de la Oliva – UC3M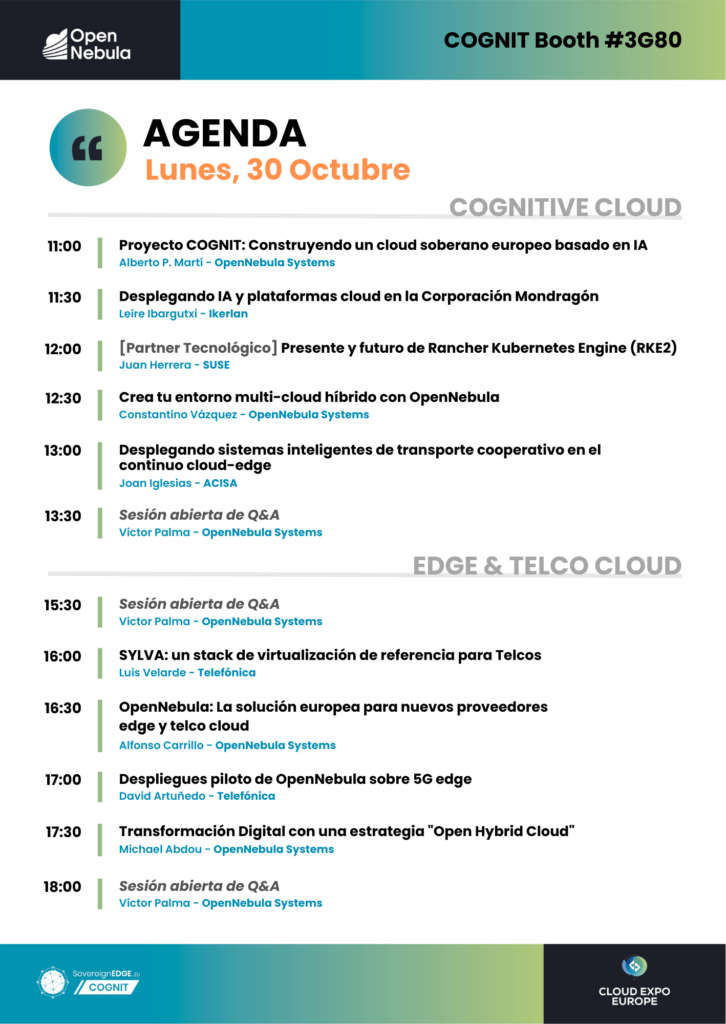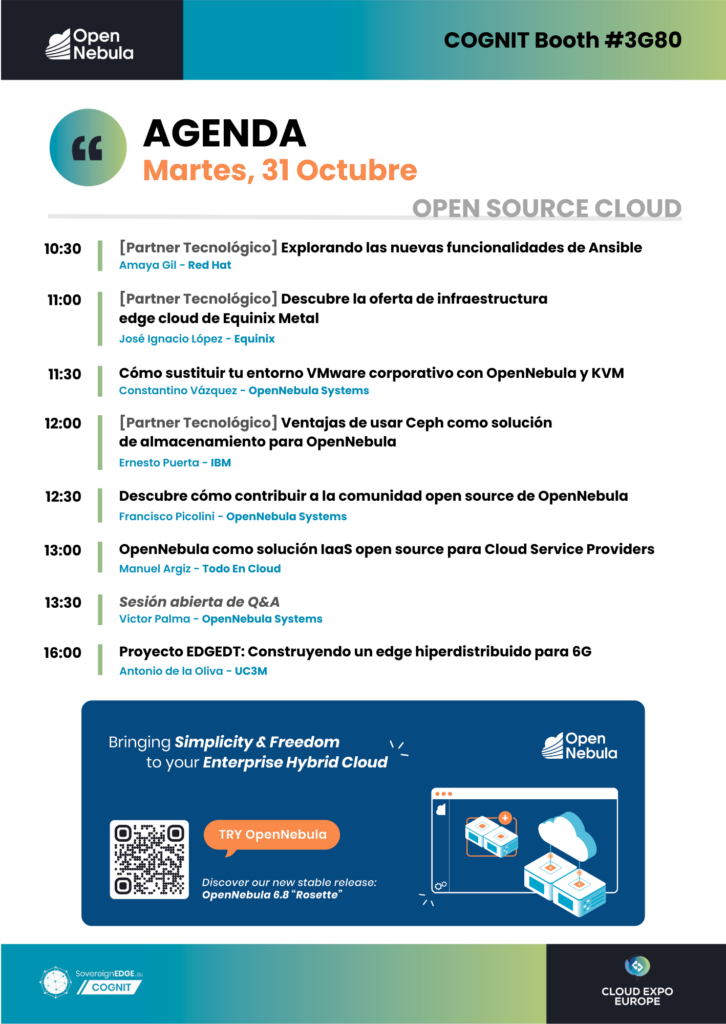 In addition to the talks, we'll have a dedicated demo station space where one of our engineers will be providing live demos of OpenNebula on the fly. This is your chance to explore face-to-face the latest features of OpenNebula 6.8 'Rosette', including its enterprise backup functionality, our latest integration with Prometheus & Grafana for enhanced monitoring, and our recent FireEdge GUI enhancements, among others. If there's a specific feature you're especially curious about, feel free to request a demo at our booth!
Remember: you will find our team in Pavilion 3, at booth #3G80. Don't miss out on grabbing some exclusive OpenNebula merch and goodies when you come by to say hi. We look forward to seeing you at the Madrid Tech Show 2023 and to sharing more about OpenNebula!
🇪🇺 This event has been co-funded by the COGNIT Project through the European Union's Horizon Europe research and innovation programme, under Grant Agreement 101092711 – SovereignEdge.Cognit (2023-2025).