We want to let you know about what we are up to with the main news from the last month regarding the OpenNebula project, including what you can expect in the following months.
Technology
After one beta and one RC release, OpenNebula 4.6 Carina was released. With Carina the OpenNebula team has started a journey to deliver a more intuitive and simpler provisioning experience for users. Our goal is to level the final user usability with the system administration and operation ones. So, sing along with us, simplicity is the key!
OpenNebula Carina brings a new cloud provisioning portal with a simpler, clean and intuitive design. This view ensures a minimal and utterly simple portal to consume cloud resources. All the clutter is out of the way to make the experience as pleasant as possible. The Sunstone graphical interface has also been tweaked to help implement common cloud admin workflows and improved in order to support the new Marketplace version, which makes even easier for a user to get a virtual application up and running.
This release also consolidates a provisioning model based on Virtual Data Center (vDC), offering an integrated and comprehensive framework for resource allocation and isolation. Another important new feature has taken place in the OpenNebula core. It has undergone a minor re-design of its internal data model to allow federation of OpenNebula daemons. With OpenNebula Carina your users can access resource providers from multiple datacenters in a federated way.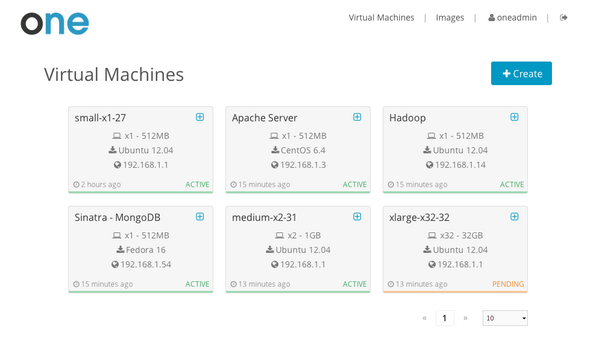 Also, a release candidate of the AppMarket 2.0 was released. This release extends the AppMarket functionality by adding a new set of features that enables the management and processing of OVA files. A new component AppMarket Worker is introduced, which handles the OVA package treatment (download, unpack, OVF parsing) and image format conversion.
Another advancement in contextualization was brought on by the OpenNebula team, this time in Windows contextualization. This new development adds the possibility to add users to Windows guests within Virtual Machines, enable remote desktop, enable ping, update the hostname, etc; using the OpenNebula contextualization mechanism.
Some of the Carina features and the new features in AppMarket 2.0 have been sponsored by Produban in the context of the Fund a Feature program.
Community
OpenNebula community has been especially productive this last month. The mailing list was flooded with feedback on the beta and release candidates of OpenNebula 4.6 Carina, which is always a plus in polishing a release and adjust it to people needs.
It is worth highlighting oneInsight, a visualization addon for OpenNebula that allows users to have a graphical insight of the load of managed hosts. We all love charts, they certainly make administrator lives easier! Thanks Rodrigue Chakode for this great Addon.
Another great addition to the OpenNebula software ecosystem allows the integration of OpenNebula as a provider for salt-cloud. Check it out, it's really neat.
Outreach
As usual, first things first, this year's OpenNebula Conference will be held in Berlin as well, 2-4 of December, 2014. If you want to repeat or find out how it is for yourself, save the date!
Last month, members of the OpenNebula team participated in the LOADays event in Antwerp, Belgium. The event included a "Build your OpenNebula Cloud Day", consisting on a tutorial and image create session for OpenNebula.
An OpenNebula Technology day hosted by CENATIC last 9th of April. This TechDay included an OpenNebula tutorial as well as talks by our project director.
In few weeks, we are organizing a Hands-on Tutorial in the EGI Community Forum, Helsinki, Finland, May 19, 2014.
We are setting up a number of OpenNebula TechDays around the world. These events are designed to learn about OpenNebula with a hands-on cloud installation and operation workshop, and presentations from community members and users. If you are interested in hosting or sponsoring one, let us know!.
There will be two OpenNebula TechDays in the upcoming months in the USA, covering both the east and the west coast. The one in Florida will take place in Boca Raton the 19th of June, hosted by TransUnion, whereas the west coast will be covered by the Bay Area Techday the 24th of June, hosted by Hyve, which includes an exciting tour around the manufacturing plant of Facebook production racks.
Last, but not least, our project director Ignacio Martín LLorente will move to the Bay Area during the following months, so if you want to meet up and discuss the project, drop us a line.
Remember that you can see slides and resources from past events in our Events page. We have also created a Slideshare account where you can see the slides from some of our recent presentations.