Time flies, and we are once again celebrating our anniversary. Let me take advantage of this opportunity to describe the progress of the project during the last 6 years by using the slides of the opening talk "Unleashing the Future of Open-source Enterprise Cloud Computing" in the first OpenNebula Conference held in Berlin one month ago.
Our Vision: Flexible Enterprise Cloud Made Simple
"Simplicity is the ultimate sophistication", Leonardo da Vinci
When the OpenNebula project started in 2008, we intended to create an open solution to make Enterprise Cloud simple. From the beginning, we understood enterprise cloud computing as an evolution of data center virtualization to host both cloud-aware and traditional applications. So we aimed to combine existing virtualization technologies with multi-tenancy, automatic provision and elasticity, following a bottom-up approach driven by the real-life needs of sysadmins and devops, and the following main principles:
Flexibility: Easy customization to fit into any datacenter
SysAdmin-centrism: Complete control over the cloud
Simplicity: Easy to deploy, update, operate and use
Lightness: Highly efficient
Enterprise-readiness: Delivered as a single production-proven, packaged product
Our History: From Research Project to Enterprise Product
OpenNebula started as a research project more than 8 years ago, in November 2007 we created the OpenNebula open-source project. Since then OpenNebula has evolved from a research project into an enterprise-ready product matured through many release cycles. OpenNebula was originally funded by the European Commission in the context of flagship projects in cloud computing research and innovation, and it is now mainly sustained by C12G Labs thanks to customer support subscriptions and Fund a Feature projects.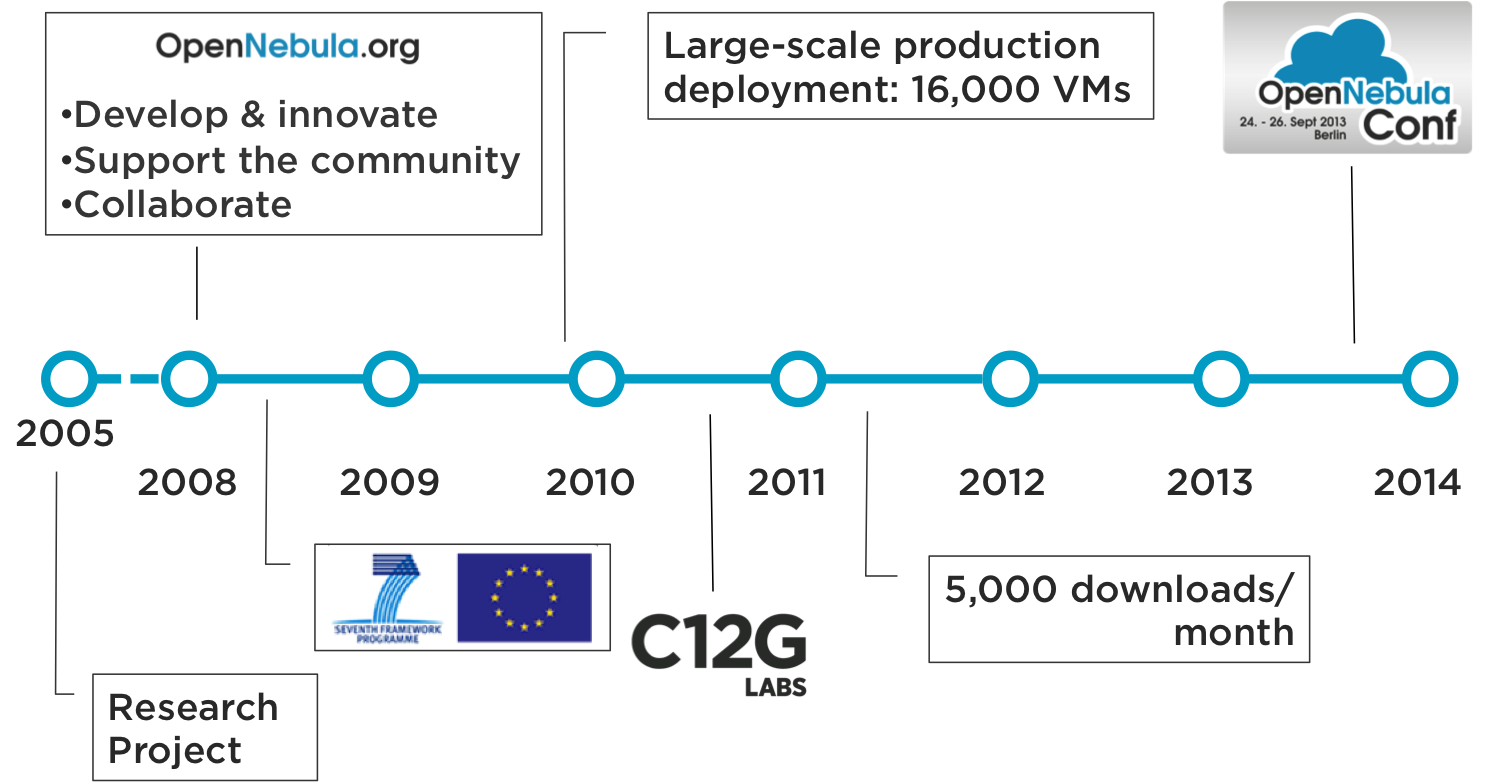 Our Community: A Traditional Open-source Project
We are extremely happy with the organic growth of the project. Many people and organizations contribute in different ways, from the expertise and dedication of our core committers and hundreds of contributors to the valuable feedback of our thousands of users. Most of our contributors are users of the software that are willing to contribute new innovative features from their production environments,  not developers hired by vendors to contribute to the project. OpenNebula is really vendor-neutral, there is no hype, just a focus on real-life needs, developing the best technology, and serving our users.
We are 1,400 registered users at our support mailing list, 650 registered users at our dev portal… What's more interesting behind these figures is the quality of our active and engaged community. One month ago we celebrated our first OpenNebula Conference with the active participation of leading organizations such as Produban – Bank Santander, Akamai, FermiLab, European Space Agency, CentOS, BBC, CloudWeavers, Terradue, Inovex, Netways, INRIA, viApps, CESCA, SARA Supercomputing, CESNET, SZTAKI…
Next year's OpenNebula Conference will be held in Berlin as well, 2-4 of December, 2014. If you want to repeat or find out how it is for yourself, save the date!.

Our Users: A Widely-used Cloud Management Platform
The number of downloads from our repositories is doubling each year. There are tens of thousands of deployments around the globe and OpenNebula is parked in some of the biggest organizations out there including Industry and Research leaders building enterprise private clouds, cloud services, and clouds for HPC and Science. We have recently collected some user stories in our web site.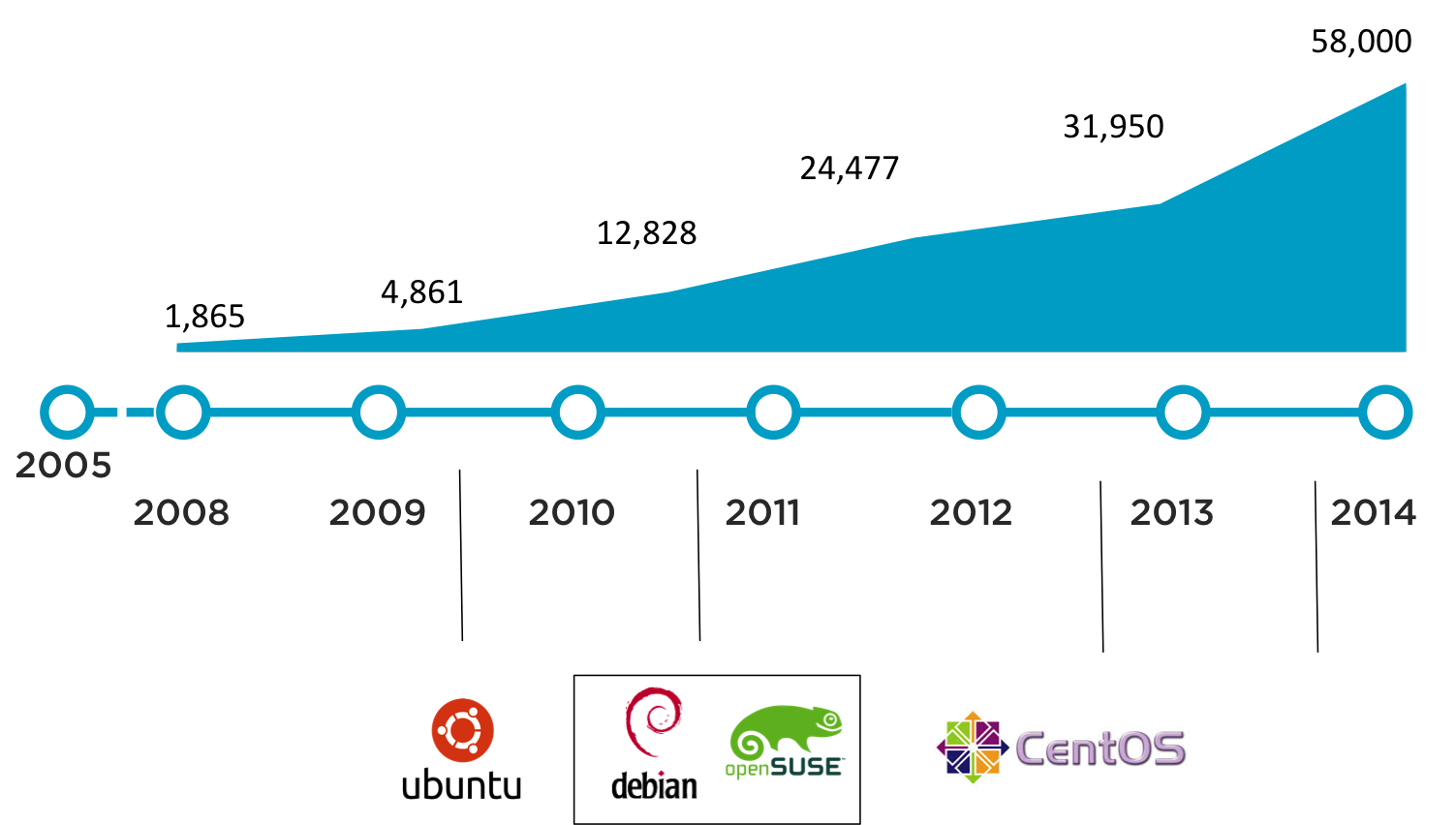 Our Technology: Solving Real User Needs in Innovative Ways
OpenNebula has released 18 stable versions in a rapid release cycle to accelerate the transfer of innovation to the market. We leverage the power of user-driven development. OpenNebula's roadmap is completely driven by users needs with features that meet real demands, not features that result from an agreement between IT vendors planning to create their own proprietary cloud solution.
OpenNebula has been pioneer in many different aspects. For example OpenNebula has been the first cloud management platform to offer cloudbursting, on-demand provision of Virtual Data Centers, advanced and flexible scheduling policies for virtual resources placement, a public marketplace, support for multi-VM applications with automatic scaling…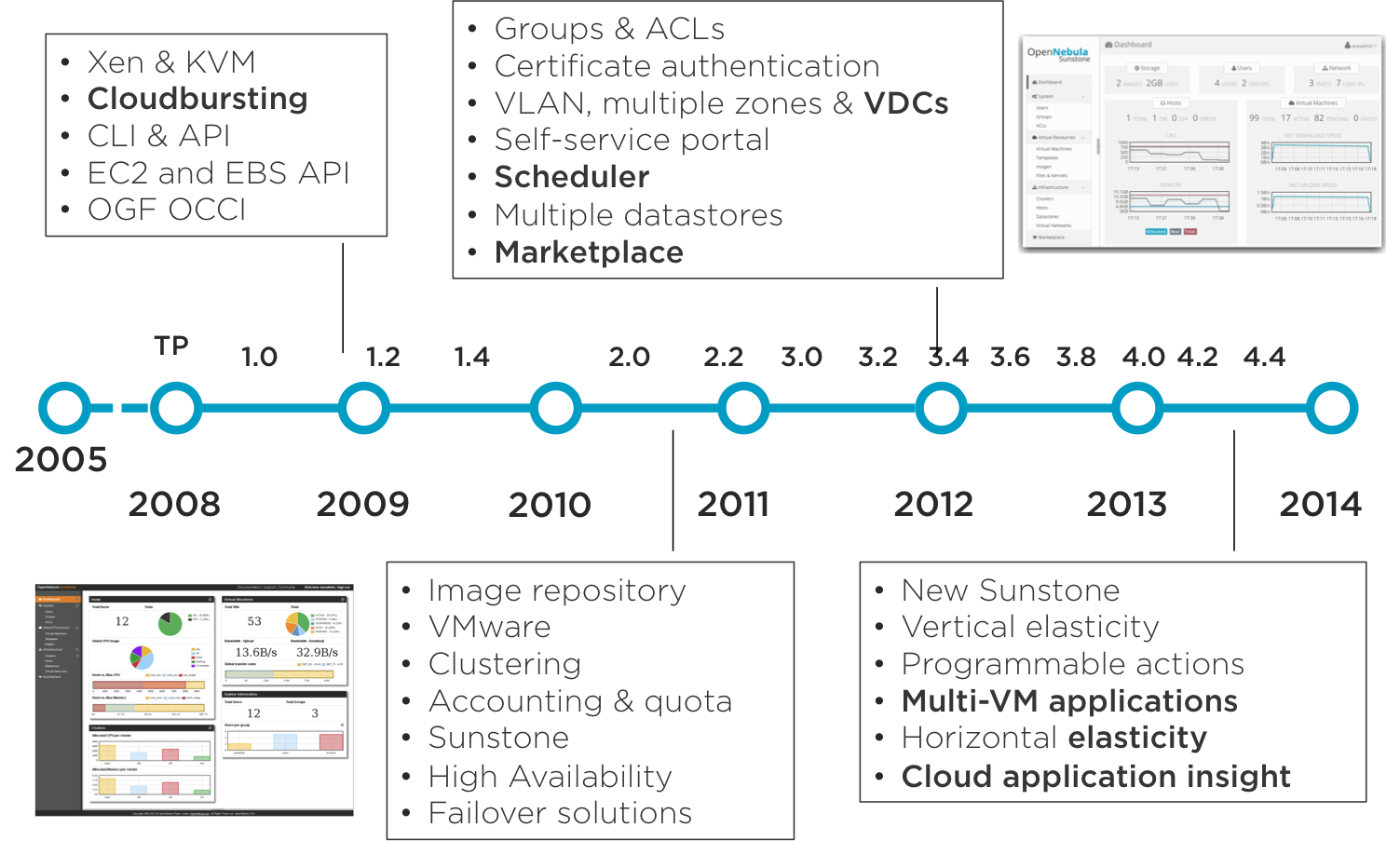 Its All About You!
An active and engaged community, along with our focus on solving real user needs in innovative ways and the involvement of the users in a really vendor-agnostic project, constitute the OpenNebula's recipe to success. We continue to focus on making sure OpenNebula continues to be the most solid, powerful and flexible open-source management platform to build and manage Enterprise Clouds. If you haven't had a chance yet, please check out all of the new features of OpenNebula 4.4. The stable version will be out in few days.
Let me end the post with one of my favourite quotes.
"Any intelligent fool can make things bigger and more complex… It takes a touch of genius – and a lot of courage to move in the opposite direction", Albert Einstein
Thanks to all of you and happy anniversary!
On behalf of the OpenNebula Project.