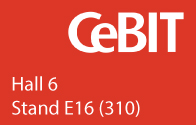 NETWAYS will be holding a booth at the world´s leading high- tech exhibition, from March 10th – 14th at CeBIT 2014, Hanover, Germany. NETWAYS is a premium partner of C12G Labs and a contributor of the OpenNebula project. Due to our broad experience in OpenNebula, interested parties are invited to visit our booth in order to find out more about the latest innovations and news, as well as demonstrations of the latest OpenNebula functionality. For those who already know they want to meet us, we highly recommend making an appointment but of course you can also just drop by at hall 6 (booth E16 319).
Moreover, all through Thursday 13th and the morning of Friday 14th, members of the OpenNebula team will be hanging around the NETWAYS booth, so please feel free to come by for more information on the project, as well as fresh news on the planned future of OpenNebula.
Aside from that, all OpenNebula fans should definitely not miss the presentation "OpenNebula: Open-Source Enterprise Cloud Simplified" held by Tino at the Open Source Forum (hall6) on Friday, March 14th.
We´ll see you in Hanover!