Earlier this month I was invited to participate at the 16th Users Conference of the Spanish Supercomputing Network (RES) in Cáceres, an event hosted at the headquarters of CénitS-COMPUTAEX, the Extremadura Supercomputing, Technological Innovation, and Research Center. Established in 2007 by the Spanish Ministry of Science and Education, RES manages a unique distributed infrastructure, composed of 14 nodes interconnected with high-speed networks. Its mission is to offer the necessary computing and data management services and resources to support the development of cutting-edge and highly-innovative research projects, made available to the Spanish scientific community. RES is composed of a number of top-ranking Spanish universities and research centers—many of them users of OpenNebula—including the Barcelona Supercomputing Center (the coordinator of this initiative), the Centro de Supercomputación de Galicia (CESGA), the University of Zaragoza, the University of Valencia, the Consorcio de Servicios Universitarios de Catalunya (CSUC), and the Autonomous University of Madrid.
The conference started on Wednesday 14th September, with plenary sessions and technical and scientific presentations by leading supercomputing specialists.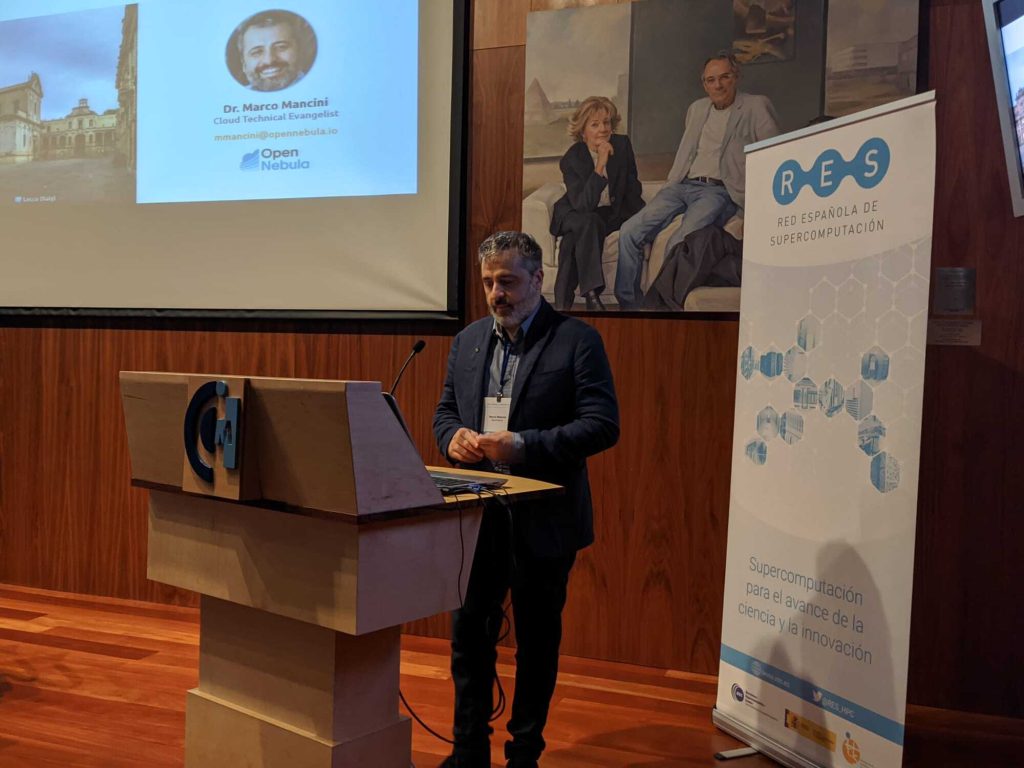 The second day, Thursday 15th September, started with my technology keynote, where I presented how to build a next-generation European open source solution for the future Edge-Cloud-HPC Continuum based on OpenNebula's new distributed Edge Cloud Architecture, developed as part of the H2020 innovation project ONEedge (Nov 2019 – March 2022). Creating Europe's next-generation edge cloud involves the federation of resources from current (and future) edge/cloud providers and Telecom/5G operators, but also the interconnection of European HPC infrastructures in order to meet the needs of a growing number of use cases that require the off-loading of computationally intensive data processing models to HPC resources in the edge-to-cloud continuum, or to access specific HPC processing infrastructure, hardware (e.g. GPUs) or services (e.g. AI/ML algorithms).
With over 100+ industry experts and 30 sessions at the conference, I would like to extend our thanks to the Spanish Supercomputing Network (RES) for hosting such a wonderful event and for inviting OpenNebula to participate in a keynote presentation. See you all next year! 🤓
🚀 Looking for an open source edge computing platform? OpenNebula comes with amazing edge computing features for deploying distributed edge clouds!