Storage has always been the single most complex and expensive asset in any company that builds clouds, provides cloud services or manage its own infrastructure. Companies are in constant search of reliable, scalable, simple and affordable storage alternatives.
We are happy to announce that we have a new storage system which is now integrated and available to OpenNebula users: StorPool.
StorPool is block-level, distributed storage software. It runs on standard servers and builds a fast, scalable and reliable shared storage system out of these servers. StorPool is incredibly flexible and can be deployed in both converged setups (on compute nodes, alongside VMs and applications) or on separate storage-only servers.
StorPool was designed from scratch to deliver the fastest and most-efficient storage solution possible. It eliminates the need of traditional SANs and all-flash arrays (AFA). Because of it's performance, flexibility and unmatched efficiency (taking minimal resources on the servers), it is preferred choice to other storage software (like Ceph), when it comes to building high-performance block-storage systems.
The integration between the two systems is performed as a new datastore driver in OpenNebula. OpenNebula persistent and non-persistent images (virtual disks) are stored in a StorPool cluster with the expected high level of reliability and performance. OpenNebula controls and monitors the StorPool cluster. For example, when you create a VM in OpenNebula, it instruct StorPool to create a new volume for the VM, which may be based on a ONE template. When a ONE template is being imported it goes directly into the StorPool image data store.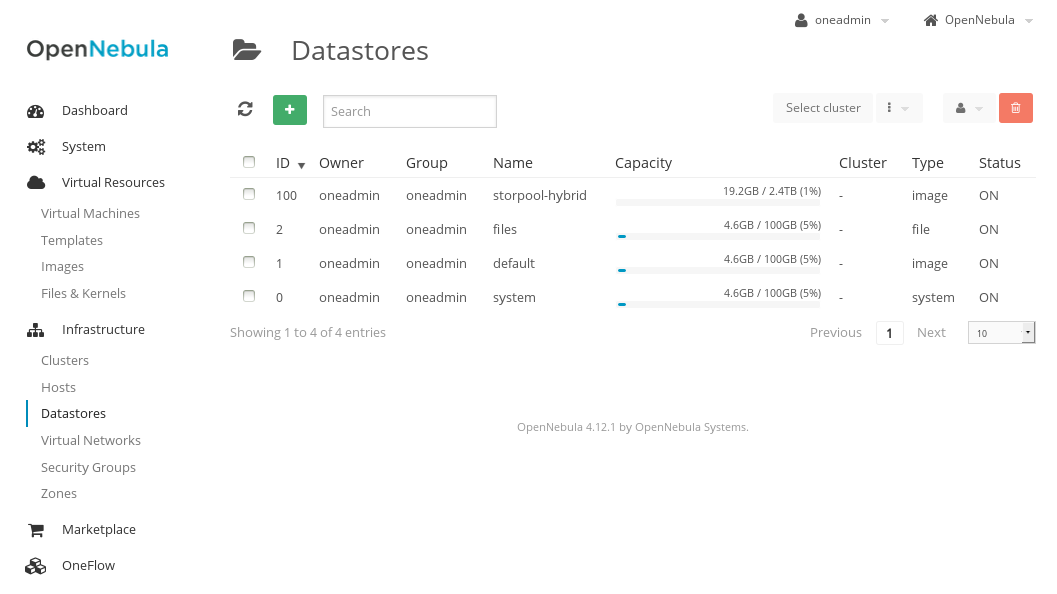 With StorPool, your OpenNebula cloud gets exceptional storage bandwidth, IOPS and latency, enabling you to provision many more VMs per host. Combining both products allows for seamless scalability in capacity and performance as well as increased reliability.
By deploying StorPool with OpenNebula companies get storage infrastructure that is:
Reliable – with no single points of failure, shared storage with solid data protection
Fast and scalable – having seamless scalability in capacity and performance
Intelligent and flexible – allowing online expansion, online changes, self-healing, in-service upgrades
Simple – all the ways – to buy, deploy, operate and expand, utilizing standard servers, drives and networking
Affordable – one of the most affordable alternatives on the market
To learm more about StorPool or get a free test version of the product visit: www.storpool.com or contact them at info@storpool.com.