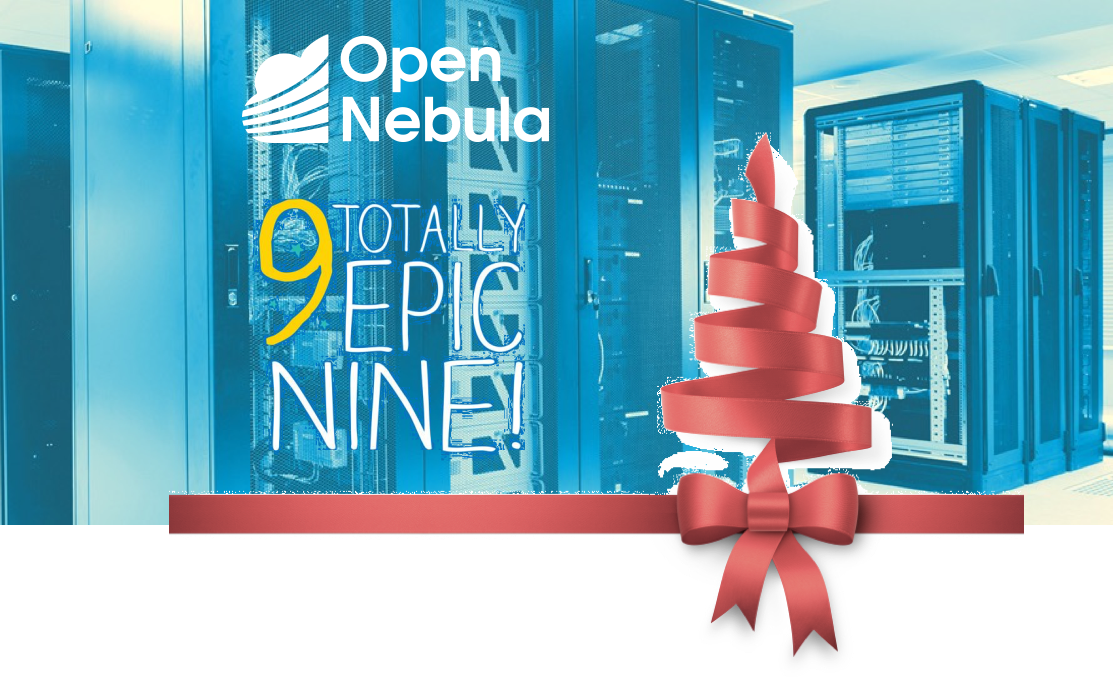 We are approaching the end of this year 2016, winter has finally come, and we wish to thank all those individuals and companies that helped with the numerous achievements of OpenNebula throughout the year.
OpenNebula is keeping its momentum, widening its adoption and turning into a very mature product, with more than 9 years of development behind. We like to give a special recognition to the over 1.000 contributors registered in the development portal, who help advance OpenNebula by submitting bug fixes, patches, feature requests, …. We look forward to your contributions to code development!.
Also, we would like to thank Blackberry, Unity and the Université Catholique de Louvain for funding general interest features that are made available publicly in OpenNebula releases through the Fund a Feature program. The community is certainly in debt with you.
It is always difficult for an open-source project to know who uses its software. So we consider ourselves lucky to know that there are more than 3.500 production OpenNebula clouds connected to our marketplace, with the largest one spanning over 16 data centers with over 300.000 cores. This year a milestone was achieved with more than 180.000 downloads of the OpenNebula packages.
Two major OpenNebula releases were published this year: 5.0 Wizard and 5.2 Excession. Moreover, three maintenance versions were released to fix bugs and polish features. Focus in future release will be centered in the vCenter integration, without neglecting the default hypervisor for OpenNebula clouds, KVM. The plan is to bring vCenter up to speed with the KVM support.
vOneCloud achieved v2.0 this year, an important milestone that allowed to settle a number of features and plan for the future roadmap. Lots of new vCenter related features are present in OpenNebula and will make their way to vOneCloud, specially with the redesign expected in OpenNebula 5.4 of the vCenter integration, that will bring full storage and network manage to the table. vOneCloud exposes a multi-tenant, cloud-like provisioning layer, including features like virtual data centers and a slick self-service portal.
The community has been very active engaged this year 2016. Many contributions in the form of new addons, functionality patches, feedback for future releases, messages in the forum, twitter and so on were delivered in the past 12 months. You can check these contributions, along with other details about the great progress that we have seen for the OpenNebula project in our monthly newsletters. We are also announcing our new Community Champions Program. An exclusive group of passionate technology and community leaders that help sustain and grow our user base. They represent OpenNebula and work to connect, teach and spread OpenNebula, throughout the world.
This year's OpenNebulaConf was held again in in Barcelona and featured very interesting keynotes by relevant users like Telefonica or Akamai, among others. It featured three days packed with interesting talks and great experiences exchange. It was a great success thanks to the support and participation of all of our community members, speakers, sponsors and friends. You can check our YouTube channel, download the slides from the slideshare account or take a look to the pictures of the conference. For 2017 we are planning to break down the conference in two instances, one to be held in Europe and another in the US. Yes, our first conference in the US. Stay tuned!
Also this year, members of the OpenNebula team participated in several OpenNebula TechDays around the world. These are full day events to learn about OpenNebula with a hands-on cloud installation and operation workshop and presentations from community. We want to give a warm thank you to all organizations that hosted a TechDay in 2016 for their hospitality: Mimos in Kuala Lumpur, StorPool in Sofia, Rentalia in Madrid, ContainerizeThis in Dallas, C151 Data Centers in Toronto, Harvard FAS Research Computing in Cambridge, BIT.nl in Ede, Netways in Nüremberg and Trinity College Dublin in Dublin. We are organizing the schedule of TechDays for future months, send us an email or send it to the community discuss mailing list if you are interested in hosting a TechDay event.
Finally, we want to highlight the participation in both VMworld Europe and US, where the team were showcasing vOneCloud functionality over vCenter.
***
We want to thank our community for their feedback and contributions, you are the key asset that makes OpenNebula a great cloud management platform that solves real world problems.
The OpenNebula team wishes happiness and prosperity in 2017 to you and your loved ones!
– The OpenNebula Team