One more month this newsletter acts as a brief summary of OpenNebula's progress. In this newsletter, you will read about new release features, event details, calendar updates and important community contributions during the last month.
Remember, the big event of the year will be the OpenNebulaConf 2018 which will be held in Amsterdam at the end of the year. Passes are being sold right now, do not miss the chance to come!.
Technology
As we prepare our next big jump to OpenNebula 5.6, the team wants to make sure that everything is up to date on 5.4. This is why this month OpenNebula developers have put all the effort on streamlining the current version with the 5.4.7 and 5.4.8 hotfix releases.
Most of this changes were demanded by community members, thanks to the feedback we were able to fix the following:
Make vip sh less error prone
Instantiate VM with volatile image
Resize VM disk
Moref sharing, now works on multiple instances of vCenter
Of course this is just a summary, you can check the full list of changes in our documentation or in our github.
Attention spoiler alert!
We have been working on Hybrid Clouds, improving Amazon EC2 and One-to-One drivers. With this new One-to-One driver we aim to ease the communication between OpenNebula instances.
However, this is just a little leak on what will be available on OpenNebula 5.6.
Community
As an open source project an important part of our labor is to maintain and give support to our community. But as the saying goes "He who gives, receives much more in return" and we receive tons of great contributions, initiatives, answers and many other feedback from our community, and this is for us a source of pride!
Several companies like StorPool, Linbit, Nodeweaver, Virtual Cable, Virtuozzo and DET-IO have signed in the new OpenNebula Ecosystem. Joining our Partner Ecosystem is a really simple process that you can complete following this guide.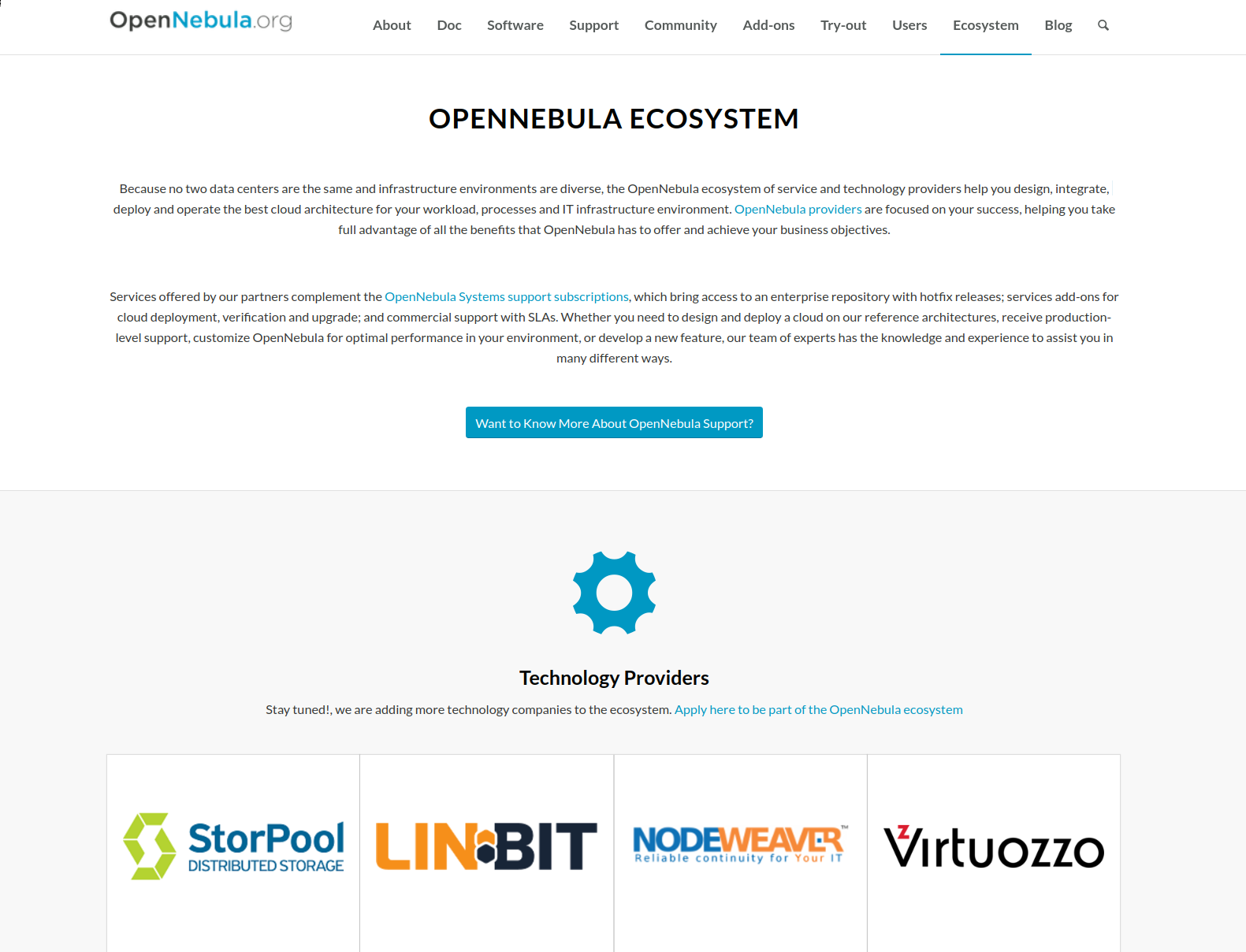 It was great to discover, while creating our new Ecosystem how OpenNebula can be integrated with other technologies to provide great solutions. One example is Virtuozzo 7 which will be integrating OpenNebula as an advanced but simple control panel for their infrastructure components. Virtuozzo's team has made a pretty clear and simple tutorial for installing OpenNebula on top of Virtuozzo 7 which is worth having a look at.
A pleasing discovery was the support for OpenNebula 5.x included by UDS Enterprise. They have written an enlightening post explaining the great advantages of publishing virtual desktops on OpenNebula.
Also you will find an amazing video showing the integration in action, in this video you will see how UDS Enterprise is able to create 1 virtual desktop on OpenNebula every 3 seconds!
StorPool team has made a Reference Architecture document describing the architecture of a complete IT infrastructure including storage, computing, networking and cloud orchestration. This document is very complete and didactic.This is why we recommend reading this paper to learn more about different architectures integrating OpenNebula.
Another great initiative came to us via twitter, where we saw that the team of runtastic has developed an OpenNebula provider for Terraform. You will find a use example and how to contribute notes on the github repository.
Seeing that people are organising some technical meetups regarding OpenNebula, such as the one organised by Computer Port are always great news, this is a good way to teach OpenNebula all around the world and we truly appreciate it.
To finish this community section we would like to congrat all of you that have started new personal or professional projects using OpenNebula, some times it is hard when you start with a new technology, but at the end you will find all the benefits OpenNebula brings to your work. This happened to @kore_less that tells on this tweet:
It took its time, and mistakes and more mistakes, and configs and more configs… But finally I have the base for my project up and running. OpenNebula running on the first node!
We would like to encourage him and all the users like him to continue with this great job and contribute to our project with their feedback, asking and answering using our forum.
Outreach
To start, just a quick reminder that OpenNebulaConf 2018 will be taking place on the 12-13 of November in Amsterdam. Just a few days ago, we announced the very early bird registration and the Call for Sponsors. Gerhard Sternath, CFO at Linbit, already confirmed their attendance via twitter and in a few days we will welcome LINBIT as our first Platinum sponsor. We are hoping to see you all there, to exchange knowledge and most important, to live this amazing experience and enjoy it.
We are excited to present the OpenNebula's Techday calendar for 2018. Our Call for Hosts was welcomed by many partners and thanks to them members of the OpenNebula team will be visiting Bulgaria, Barcelona, Cambridge, Santa Clara and La Habana. The Call for Hosts is still in progress so if you want to be hosting one of our TechDays you are still on time. Read carefully our information page listing the needed steps.
Last but not least, I would like to remark our assistance, one more year, to both editions of the VMworld, where OpenNebula experts will be showcasing the latest versions of OpenNebula and vOneCloud. For dates and detailed information check this link.