OpenNebula has entered 2018 stronger than ever. January has been a month for planning and discussing OpenNebula's roadmap. Here you have a brief summary of OpenNebula's progress in this first month of the year. Pay special attention to the outreach section, OpenNebulaConf2018 is confirmed!
Technology
Good news for our beloved users, OpenNebula 5.4.6 is here! This release brings a lot of bug fixes and some new functionalities.
Recent news regarding to Meltdown and Spectre vulnerabilities put OpenNebula team to work hard trying to alleviate performance issues. Well, do not worry, fortunately we came up with a solution. Now you will be able to specify your host's CPU model so that KVM virtual machines can improve their performance and security. How does this work? You can find more technical details on this link
Some bugs have been also fixed on this release:
The network topology now works as a charm with networks with over a thousand machines.
You can see how we managed to do so here.
As some of you requested, we have also include new commands to onedb on the CLI. These new commands will be extremely useful for recovery purposes, like for example, adjusting the showback.

update-history
show-history
Of course these are just some examples, for the full list of features and fixes you can always visit our documentation.
The team has rev the engines for the next major release, OpenNebula 5.6. Stay tuned for exciting new features!
Community
We are having a very intense year kickoff, this means, great news for and from our community!
OpenNebula team wants to welcome OneHost Cloud. They announced recently via Twitter, OneHost is migrating from OpenStack to OpenNebula.
We have chosen Opennebula to build our new cloud platform which will provide increased performance and simplicity for our current and future customers.
We recommend reading this article where the reasons for this change are listed and explained. It was amazing to find out that before making this turn, OneHost Cloud consulted experts on cloud:
after consulting many experts in the cloud arena we have felt comfortable implementing such platform to replace our current VMware and Openstack cloud
An enlightening tutorial was made by our colleagues from Pandora FMS. In this tutorial you will learn how to do the monitoring of your cloud using OpenNebula, along with other useful tips.
NodeWeaver team has released, for all of you, their LizardFS drivers for OpenNebula. This is a great chance to try out this amazing storage technology. To install this new drivers you can follow the guide on the github repository.
Another amazing addon was developed by a member of our community, Kristián Feldsam. With this addon you will be able to make backups of your qcow2 images inside OpenNebula. Read the post for more information
Cheering news coming from Virtuozzo. They have added support for OpenNebula. Now users will be able to manage their Virtuozzo Hyperconverged Infrastructure through OpenNebula. All the benefits of this synergy are described in this excellent post, written by, Stanislav Khalup, program manager at Virtuozzo.
As announced in our forum, one of our most experienced users, Rafael del Valle, has created PyOne, which is a fantastic implementation of OpenNebula's XLM-RPC bindings in Python. If you are interested in seeing how this works check this link.
Also this month, Valentina Zaccolo from the National Institute of Nuclear Physics in collaboration with INDIGO DataCloud, has published a very interesting post related to the implementation of a Fair Share Scheduler for OpenNebula. We already heard about it in our last OpenNebulaConf, but do not worry if you couldn't assist, this article is very explanatory and easygoing.
Our team is very excited to see these type of contributions which not only help OpenNebula, but all the users of the community. If you feel like you can help our community anyhow, do not hesitate to contact team or post directly in our forum.
Outreach
OpenNebula goes to the Netherlands! One more year we are doing the OpenNebulaConf2018 and this year it will take place in Amsterdam, one of the most modern cities in Europe. We are very excited about it because we will be presenting OpenNebula 5.6 with all its new amazing features and probably we'll be scooping some characteristics of OpenNebula 5.8.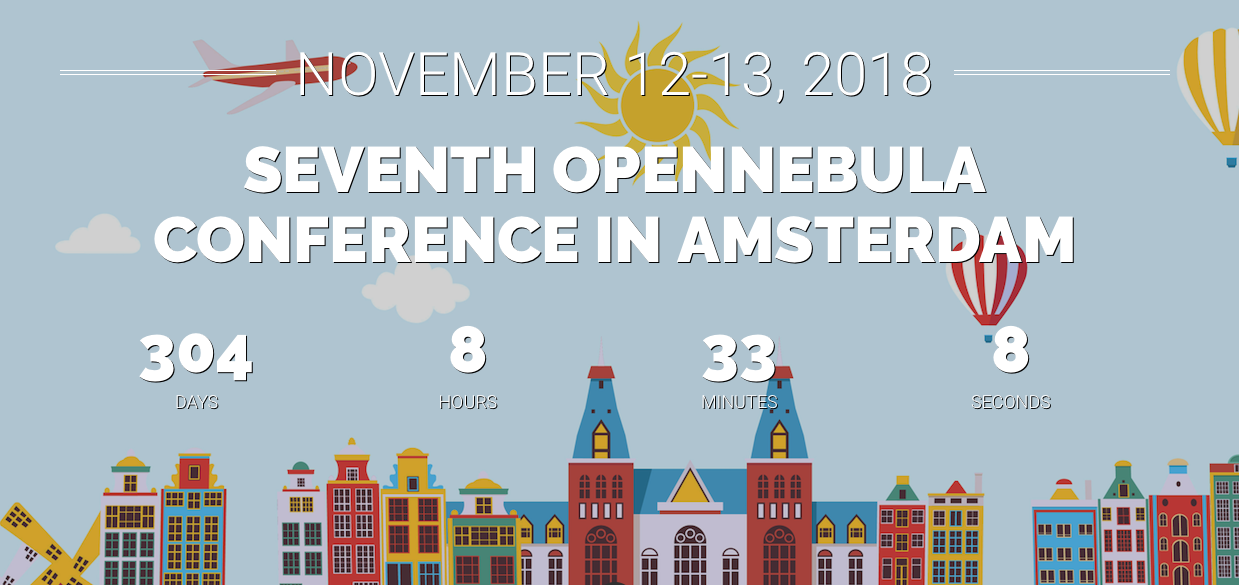 Countdown is on, the date chosen for this OpenNebulaConf2018 is November the 12-13, you can't miss the chance to come and enjoy our hands-on tutorials and listen to our community speakers which will talk about why they are in love with OpenNebula.
A quick reminder for all of you that have not attend past OpenNebulaConfs. If you are interested in coming to OpenNebulaConf2018 and want to see previous events, check this link and have a look at the videos, pictures, talks, tutorials, etc.
We will be updating this information in our OpenNebulaConf official website. In a few days we will also publish the TechDay and training schedule for 2018, stay tuned!