We want to let you know about what we are up to with the main news from the last month regarding the OpenNebula project, including what you can expect in the following months.
We have created a new user survey that will take you only 5 minutes to complete. As an open-source community, it is very important for us to have information about your deployment. Doing so you will have influence over the project and software direction, and will help us improve the support for most demanded infrastructure platforms and configurations.
Technology
OpenNebula 4.8 is steadily approaching the feature freeze phase, to start the certification process. The OpenNebula team is pretty serious about delivering a beta version of your favourite Cloud Management Platform in a couple of weeks!
This release will polish past features as well as address those left aside in OpenNebula 4.6 Carina. The main focus is twofold. On the one hand, OpenNebula 4.8 is going to address simplicity. OpenNebula is already by far in a unique position among its peers in simplicity: simple to install, simple to configure, simple to use. It is indeed one of the design principles behind OpenNebula, as explained in this post about the OpenNebula vision. The team is decided to keep this simplicity and to extend it. A good example of this is the extension of the Cloud Admin view, with support now for vDC administrators (see below a sneak peek), intended to make Virtual Datacenters easy to manage and consume. Check out the complete list of issues the team is working on for this upcoming release.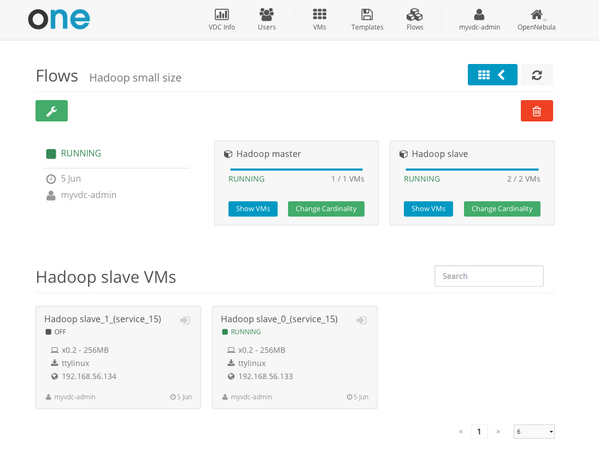 On the other hand, OpenNebula 4.8 will bring an important improvement to the hybrid model. Aside from the possibility to outsource VMs to Amazon EC2, this new release will bring the ability to manage VMs in both IBM SoftLayer and Microsoft Azure. We are excited to be collaborating with these two great companies. You can check here the announcement in the SoftLayer blog of the integration, and here is the branch with the prototype integration. The same plan applies to Microsoft Azure, a partnership will be announced soon and a prototype's code is already in the OpenNebula repository.
Also, and as part of our commitment with the latest stable version, OpenNebula 4.6.2 was released. This release comes with several bug fixes found after the latest release, the one worth highlighting being the security vulnerability in Sunstone. Thanks to Dennis Felsch and Mario Hei­de­rich from Horst Görtz Institute for IT-Security, Ruhr-University Bochum for telling us about it. You should upgrade your installation to prevent unauthorised access.
Last, but by far not least, we wanted to point the benefits of running OpenNebula versus vCloud. So if you are evaluating both alternatives to manage your infrastructure, we are sure you will find this post an interesting read. In a nutshell, using OpenNebula leverages existing VMware infrastructure, protecting IT investments, and at the same time avoids future vendor lock-in, strengthening the negotiating position of the enterprise.
Community
Feedback from the community has proven to be critical, specially this last month thanks to the vulnerability discovered by folks at Horst Görtz Institute for IT-Security, Ruhr-University Bochum. This feedback was crucial in releasing OpenNebula 4.6.2.
The community also excels at providing new and better ways to manage an OpenNebula cloud. This past month, a new plugin for Knife (a command-line tool that provides an interface between a local chef-repo and the Chef server) was released by our friends at Megam.
OpenNebula is proving steadily as a very good solution for hosting infrastructures. We traveled to Zagreb, Croatia, to be part of the presentation of the new OpenNebula cloud built by AVALON hosting. A fine press release with the CEO of Avalon, the IBM director of Croatia, and Microsoft MVPs, as well as members of the OpenNebula team. Also, folks from HostColor have announced this past month a new datacenter in Indiana running OpenNebula.
It is very important to keep the add-ons catalog up to date, that's why we deeply appreciate keeping them working with the latest versions of OpenNebula, like David Macleod did this month with the Infiniband (SR-IOV devices) support.
It is very pleasing as well to see that OpenNebula goes a long way into cloud computing research. Guys at MIMOS, the Malaysian national R&D center, are basing their cloud infrastructure in OpenNebula, using Ceph as the storage backend.
We are very proud of the OpenNebula community, as well as very happy to see that is a very healthy and supportive one, as proven by it's ever growing population.
Outreach
As usual, first things first, this year's OpenNebula Conference will be held in Berlin as well, 2-4 of December, 2014. If you want to repeat or find out how it is for yourself, save the date! The Call for Papers and early registration prices are open until the 15th of July, don't say we didn't told you!
Last month we organised two successful OpenNebula TechDays in both US coasts. We had the chance to share new features of OpenNebula 4.6 with the attendees and have them build a fully working private cloud in just a matter of hours, as well as interesting talks, ranging from PaaS solutions based on OpenNebula: Megam – Cloud orchestrator for OpenNebula, open hardware initiatives which are a great match for OpenNebula: OCP Open Rack, the renowned distributed object-store: Ceph for Cloud and Virtualization environments and more use cases. We want to give a big thanks to the hosts: TransUnion|TLOxp and Hyve Solutions for their amazing hospitality, organization and making these events a success! Upcoming TechDays include Timisoara in September and Barcelona in October, and they will be collocated with the CentOS Dojo.
Check out the OpenNebula presentation given this last month by Martin Alfke in the Hamburg German Unix User Group. Moreover, if you are fluent in German, do not miss the The Foreman and OpenNebula webinar given by Netways. Moreover, do not miss the talk given by our Project Director at Berkeley Lab, on bringing bringing private clouds to HPC environments with OpenNebula.
Members of the OpenNebula team were also present in the GigaOM: Structure 2014 in San Francisco, as well as the HostingCon 2014 in Florida.
Remember that you can see slides and resources from past events in our Events page. We have also created a Slideshare account where you can see the slides from some of our recent presentations.