Check out what kept us busy this June. This Newsletter contains the most worthy developments and events of the OpenNebula project and the community during this last month, and the plans for the upcoming months.
We want to remind our users that OpenNebula Systems, the company behind the OpenNebula Project and vOneCloud, has established a new subsidiary to oversee all business operations and to support the OpenNebula community in the U.S. If you are interested in supporting the US OpenNebula community or contact us, let us know.
Technology
The OpenNebula team is not fooling around with the 4.14 release. We are settling on a code name for the release (do you like 'Dark Horse'?), and meanwhile adding an impressive array of features. Probably the main highlight is the new snapshot management feature, that will let perform disk snapshots and maintain a history of them. The initial support would be only for Ceph (it is our storage backend of choice for medium to large deployments after all, read our reference architecture), and qcow2. OpenNebula will be aware of snapshot sizes, and allow to enforce quotas and also to report consumption via the accounting mechanisms. Pretty neat, is it not, hosting providers?
Another big highlight would be the inclusion of a new type of consumable, GPU. A VM would be able to consume GPUs, using PCI passthrough, to gain exclusive access to GPU PCI cards. Pretty neat, is it not, research institutions and supercomputing centers?
Sunstone is being reworking behind the scenes, and although final users will only notice minor changes in the GUI, rest assure that this is a very important feature for the future of Sunstone. Keep an eye on it!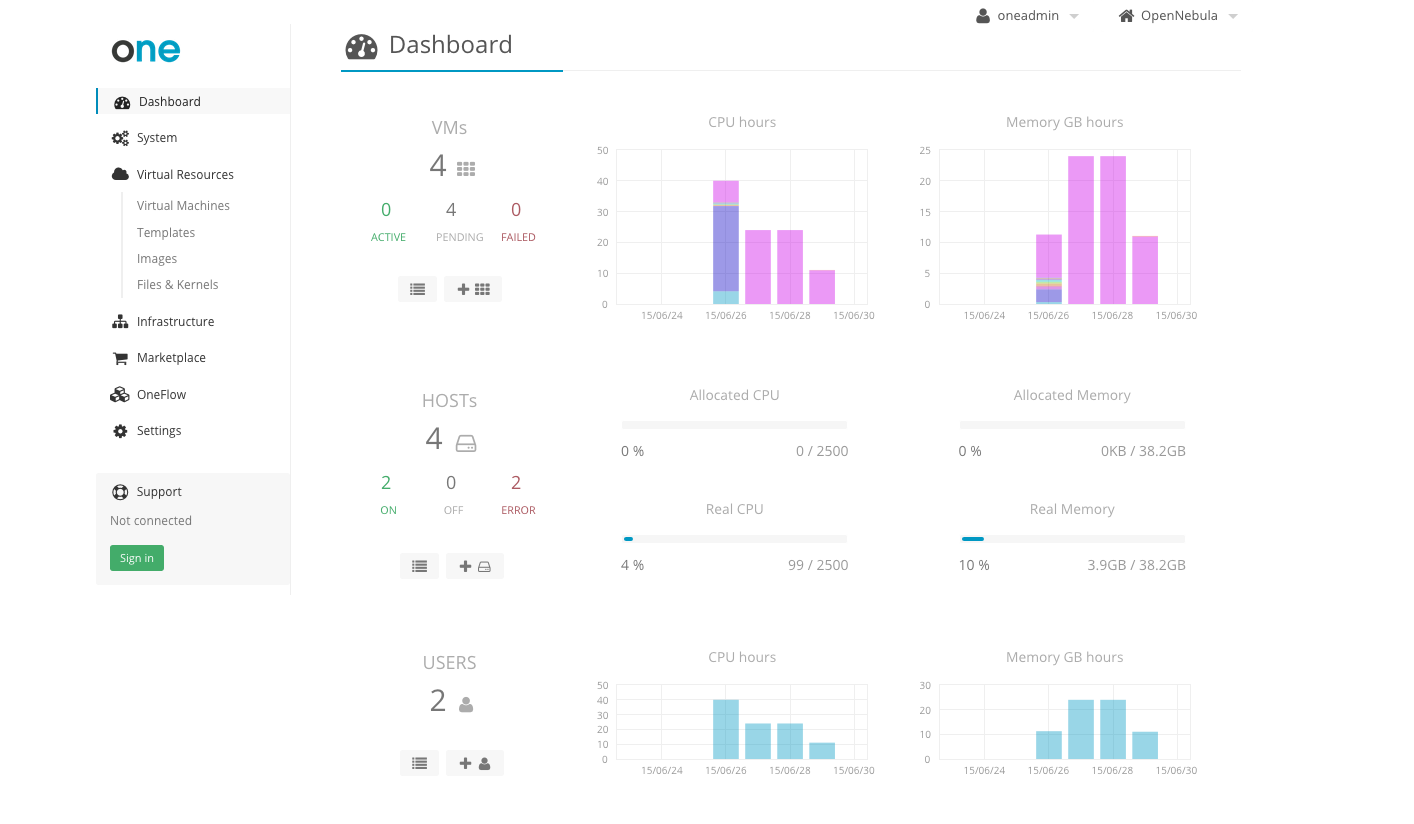 Other features we are working on is image resizing (finally), system datastore flush for maintenance, import VMs capabilities for hybrid hosts, improved fault management with the inclusion of new VM state transitions (no VM left behind), improvements in the network context management, and many more. As mentioned before, we are not fooling around with Dark Horse, be sure to be ready for the beta version due at the end of July.
This month, a new set of contextualization packages was also released, with several nifty additionals like the ability to pass scripts directly to be executed at boot time, without having to create them first in the files datastore.
A new version of the drop in replacement for vCloud, vOneCloud, was also released. vOneCloud 1.6 comes with several improvements, like capacity resizing, resource pool confinement, improvements in VNC, and more. Make sure you update using the awesome one click updated.
Community
Keeping a healthy community is key for an open source project. The OpenNebula community is growing every day, contributing new pieces to an already rich ecosystem.
For instance, StorPool integration with OpenNebula is performed as a new datastore driver in OpenNebula. OpenNebula persistent and non-persistent images are stored in a StorPool cluster, and OpenNebula controls and monitors the StorPool cluster. An important contribution worth noted is on the works, promising to bring LCX support to OpenNebula.
User stories are also good addition to a project credibility. OpenNebula has been around for a while now, but we still are moved by our users from time to time when they decide it is time to announce to the world they use OpenNebula in their infrastructures. For instance, like Teledata did this month.
OpenNebula it turned out to be the most mature and proven Cloud-Stack available – lacking of unnecessary complexity or unneeded overhead.
And it is also nice to see how OpenNebula is being recognised as a solid alternative to commercial virtualization software. In this case, as an alternative to vCloud Director.
OpenNebula API is also being consumed by other components of the ecosystems to create amazing things like automated power management on opennebula based infrastructures, like the new release of CLUES.
Outreach
The upcoming third edition of the OpenNebulaConf will be held in Barcelona this October 2015. Your company may be interested in the sponsorship opportunities for OpenNebulaConf 2015.We already have a number of sponsors, so if you are interested let us know as soon as possible. As platinum sponsors, we have PTisp; as gold sponsors ungleich (check out the post announcing it), NodeWeaver (check out the announcement) and XenServer; and as silver sponsors Runtastic and no-limit-network (announced here).
The agenda for the OpenNebulaConf 2015 is available, check out the high quality speakers. The agenda includes two keynote speakers:
This month the OpenNebula project organized an OpenNebula TechDay in Cambridge Massachusetts , at the Microsoft New England R&D Center, organized by the HPC & GPU Supercomputing Group of Boston and sponsored by Microway.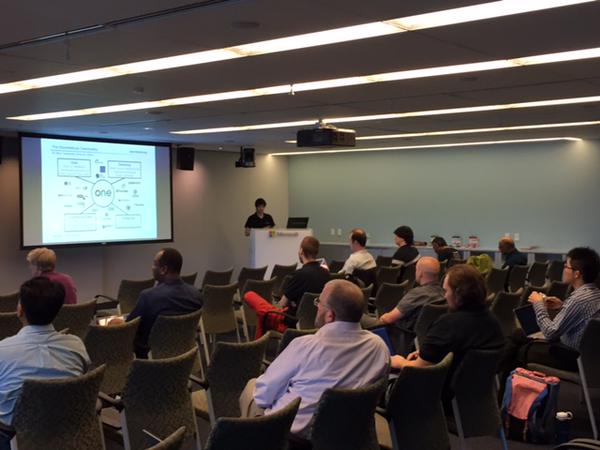 Next month, OpenNebula TechDays will be happening in Paris, France on the 8th of July, organized by IPPON Hosting. Two days after, on the 10th, another TechDay will happen in Ontario, Canada, this time organized by our long term users, BlackBerry. If you are interested in helping us organize a Cloud TechDay in your area, go ahead and contact us.
An excellent event developed in Bern last 16th of June, the Open Cloud Day. You can read here their article in ungleich blog, thanks guys for organizing this interesting event.
During the following months, members of the OpenNebula team will be speaking in the following events:
If you are interested in receiving OpenNebula training, check the schedule for 2015 public classes at OpenNebula Headquarters. Next public OpenNebula training will take place next 16th of June in Madrid. Please contact us if your would like to request training near you.
Remember that you can see slides and resources from past events in our Events page. We have also created a Slideshare account where you can see the slides from some of our recent presentations.