Check out what kept us busy this May. This Newsletter contains the most worthy developments and events of the OpenNebula project and the community during this last month, and the plans for the upcoming months.
We are proud to announce that OpenNebula Systems, the company behind the OpenNebula Project and vOneCloud, has established a new subsidiary to oversee all business operations and to support the OpenNebula community in the U.S. This is excellent news for the OpenNebula Project! Read the details in the OpenNebula Systems press release.
Technology
Winter is over, Spring is here, and everything is blossoming. And yes, that includes OpenNebula features! The team is busily working on the upcoming 4.14 OpenNebula release, as usual following the roadmap driven by its users, via feature request or even the Fund a Feature program.
OpenNebula 4.14 will add an exciting new snapshot management feature, that will let perform disk snapshots and maintain a history of them. The initial support would be only for Ceph, as it is our storage backend of choice (have you read our reference architecture? now is the chance!)
Sunstone is undergoing a major refactor, since its structure has been left untouched for far too many releases. We are proud to say that now all the components of OpenNebula have clean code and best programming practices! Of course everything has room for improvement, and we did our best in this release for your favourite cloud web interface. Adding new features and polishing the interface is going to be easier than ever now, so expect a big boost in Sunstone for future releases.
A long awaited featured, widely demanded by users, was related to datastore maintenance. Migrating running VMs from one system datastore to another, in order to take offline one datastore or simply to free some space from it will be possible in the upcoming 4.14 release. Rejoice cloud admins!
Image resizing has also been in our backlog for too long, and finally we found the needed resources to develop it. We think this is a very important feature for OpenNebula users and admins, try it out and let us know if this is what you were looking for.
4.14 will have a plethora of new features and improvements, like an improved fault management with the inclusion of new VM state transitions (no VM left behind), improvements in the network context management (more flexibility at the time and place of defining network attributes, … . Make sure you try out the beta release, due in a few weeks.
Community
We love our community. Seriously. Keep it up guys. Want a taste? Check this excellent contribution, detailing the needed steps to create an OpenNebula marketplace image. And when we say detailing, we really mean it. Great post! Also, a great contribution itself to the marketplace! A VyOS image for OpenNebula to achieve complex network topologies for your VM services.
We are very excited about uCloud, Unity Technologies new OpenNebula cloud. uCloud is a state of the art cloud, with authentication and network federation linking three different datacenters based on SoftLayer bare metal, configured for cloud bursting and prepared to scale to support thousands and even millions of users as Unity Technology requires. Read more details on this post we prepared to show the world what can be achieved in little time with OpenNebula, and also in the post the gentle folks at unity have prepared, called Agnostic Cloud Management (we like!).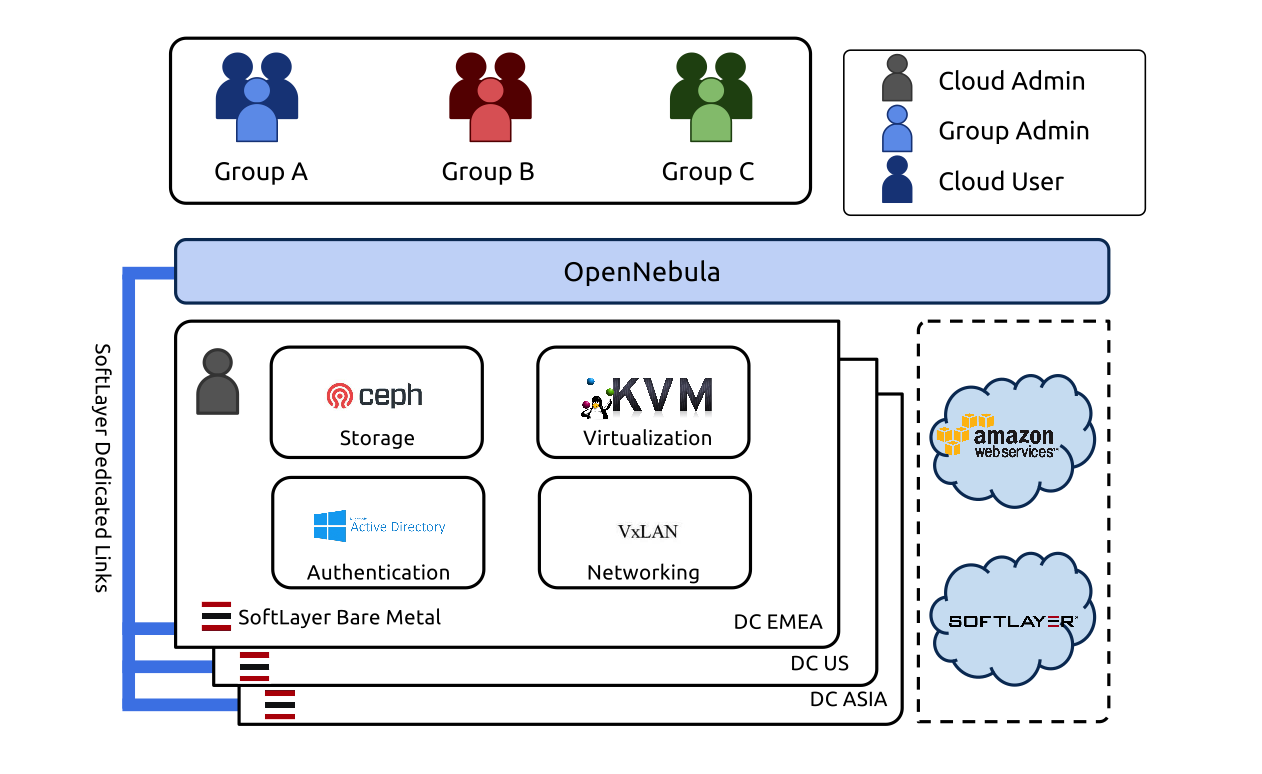 Fun is always welcome in our community. The team choked in laughter after seeing this tweet from Carlo Daffara (kudos to your friends).
The Barcelona OpenNebula user group is very active, spreading the ONE word this month in the Suoders event, with interesting talks around the technology.
Serious matters are welcome as well. Our Terradue partners gave this talk at the EFIConf15 on Hybrid Cloud Strategy. Worth going through the slides.
What is the best way to move out of Amazon Web Services (AWS) or other public cloud services?
Well, according to iSpot.tv the answer is OpenNebula. Learn the reasons and the approach taken by them in this article.
The community is always contributing back. This month, it provided for instance gems to make OpenNebula a provider for Vagrant, and daemon for getting monitoring data from OpenNebula's XML-RPC API and storing them to InfluxDB. Also, a very interesting Elastic load-balancing & high-availablitY Wired network Architecture. It comes packed with features, so if you are looking for complex network set ups is a must read. Moreover, a new version of knife plugin for OpenNebula is also available thanks to Megam.
A beta release of CLUES (energy management system for Cloud infrastructures) that supports OpenNebula was also released this month.
Outreach
The upcoming third edition of the OpenNebulaConf will be held in Barcelona this October 2015.You are still in time until the 15 of June for getting a good price deal for tickets.
Also, your company may be interested in the sponsorship opportunities for OpenNebulaConf 2015.We already have a number of sponsors, so if you are interested let us know as soon as possible. As platinum sponsors, we have PTisp; as gold sponsors ungleich (check out the post announcing it) and XenServer; and as silver sponsors Runtastic and no-limit-network.
The agenda for the OpenNebulaConf 2015 is available, check out the high quality speakers. The agenda includes two keynote speakers:
We are organizing a number of Cloud Technology Day events in Boston and Chicago at the end of June, and in Paris on the 8th of July. If you are interested in helping us organize a Cloud TechDay in your area, go ahead and contact us.
During the following months, members of the OpenNebula team will be speaking in the following events:
It is worth highlighting that the OpneNebulaConf sponsors ungleich will help spreading the word in Bern, Switzerland, next 16th of June in the OpenCloud Day.
If you are interested in receiving OpenNebula training, check the schedule for 2015 public classes at OpenNebula Headquarters. Next public OpenNebula training will take place next 16th of June in Madrid. Please contact us if your would like to request training near you.
Remember that you can see slides and resources from past events in our Events page. We have also created a Slideshare account where you can see the slides from some of our recent presentations.