We are happy to announce that the new version of OneKE—our OpenNebula Kubernetes Engine for KVM— has recently obtained the CNCF certification. This milestone is particularly timely given that this latest update of the OneKE virtual appliance supports Kubernetes 1.27, showcasing our commitment to staying at the forefront of cloud native advancements 🚀
OneKE, based on SUSE Rancher's RKE2, provides a comprehensive set of features to streamline the deployment and administration of Kubernetes clusters on top of private or hybrid OpenNebula clouds. With OneKE, users can take advantage of its remarkable native capabilities, including:
Multi-master readiness
Canal CNI networking
Longhorn distributed storage
Traefik Ingress Controller
MetalLB load balancer
These features work in harmony to deliver seamless cluster orchestration, enhanced network connectivity, reliable distributed storage, efficient traffic routing, and load balancing, all within a single, cohesive solution that works across various environments, be it on-premise, on the public cloud, or at edge locations.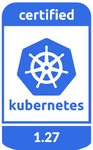 As part of the Certified Kubernetes Conformance Program, vendors are invited to submit conformance testing results for review by the CNCF, which formally certifies conformant implementations. Most of the world's leading enterprise software vendors and cloud computing providers have Certified Kubernetes offerings. This program gives partners and end users the confidence that when they use a Certified Kubernetes product like OneKE they can rely on a high level of common functionality with other Kubernetes distributions.
Have a look at the webinar we had a few weeks ago with our colleagues from SUSE Rancher, where you can learn more about RKE2 and Longhorn, and also watch a technical demo about how to easily deploy Kubernetes clusters on a hybrid OpenNebula environment using the official OneKE Virtual Appliance available on the OpenNebula Public Marketplace. Enjoy! 🤓
🇪🇺 This event has been co-funded by the Smart Networks & Services Joint Undertaking (SNS JU) under the European Union's Horizon Europe research and innovation program through Grant Agreement 6G-SANDBOX – 101096328.