The OpenNebula team is pleased to announce the immediate availability of the final version of OpenNebula 4.12, codename Cotton Candy. This release ships with several improvements in different subsystems and components. For the first time, OpenNebula will be able to generate cost reports that can be integrated with chargeback and billing platforms, and also presented to both the administrators and the end users. Each VM Template defined by the Cloud administrator can define a cost per cpu and per memory per hour.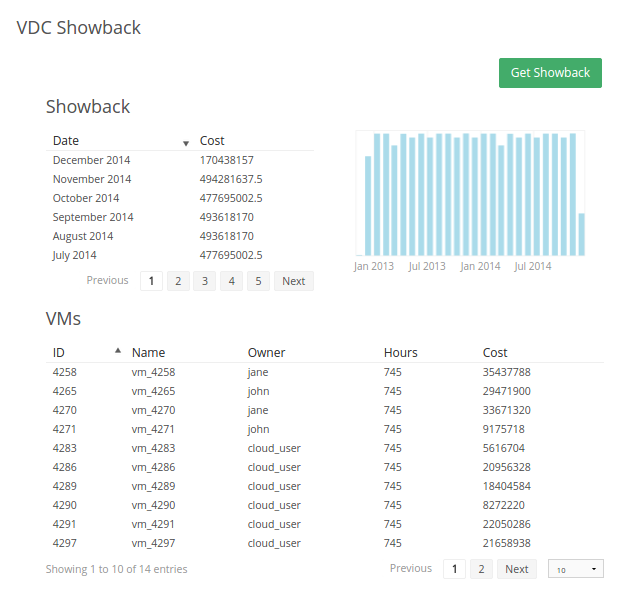 Starting with Cotton Candy, Virtual Datacenters are a new kind of OpenNebula resource with its own ID, name, etc. and the term Resource Provider disappears. Making VDCs a separate resource has several advantages over the previous Group/VDC concept, since they can have one or more Groups added to them. This gives the Cloud Admin greater resource assignment flexibility.
In addition to the well known VNC support in Sunstone, OpenNebula 4.12 includes support to interact with Virtual Machines using the SPICE protocol. This feature can be enabled for any Virtual Machine just checking the option in the input/output section of the Template creation form.
Networking has been vastly improved in 4.12, with the addition of Security Groups, allowing administrators to define the firewall rules and apply them to the Virtual Machines. Also, Virtual Extensible LAN (VXLAN) is a network virtualization technology aimed to solve large cloud deployments problems, encapsulating Ethernet frames within UDP packets, and thus solving the 4096 VLAN limit problem. Cotton Candy is fully capable of managing VXLANs using the linux kernel integration.
Important new features related to the newly introduced vCenter support are available in OpenNebula 4.12: the ability to import running VMs and networks, including the attach/detach NIC functionality, a new cloud view tailored for vCenter, VM contextualization support and reacquire VM Templates with their logo and description.
Finally, several improvements are scattered across every other OpenNebula component: the possibility to flush and disable a system datastore, improvements in Sunstone for better user workflow, and many other bugfixes that stabilized features introduced in Fox Fur.
As usual OpenNebula releases are named after a Nebula. The Cotton Candy Nebula (IRAS 17150-3224) is located in the constellation of Ara.
This is a stable release and so a recommended update. It incorporate important improvement since 4.10 and several bug fixes since 4.12 Beta. Be sure to check the compatibility and upgrade guides. We invite you to download it and to check the QuickStart guides, as well as to browse the documentation, which has also been properly updated.
Security Groups were funded by BlackBerry, and network extensions to the vCenter driver by Echelon, in the context of the Fund a Feature Program.
Thanks the community members and users who have contributed to this software release by being active with the discussions, answering user questions, or providing patches for bugfixes, features and documentation.
More information