We want to let you know about what we are up to with the main news from the last two months regarding the OpenNebula project, including what you can expect in the following months.
Technology
The OpenNebula team released OpenNebula 4.10.2 last month. There were several affected components, ranging from drivers to the OpenNebula core as well as different Sunstone views. On the security side, a vulnerability in the xmlrpc server was patched, thanks to Dennis Felsch and Christian Mainka for reporting it. Many other bugfixes and minor improvements were made to your favorite CMP. We would like to thank Echelon for making vCenter networking support possible in OpenNebula 4.10.2 through the Fund a Feature program.
Aiming at not missing a beat (not ever!, we just reached the 10 thousand commits mark in OpenNebula), the team also released recently the beta version of OpenNebula 4.12. We think you will enjoy the new additions, specially the SPICE support in Sunstone, as well as the Virtual Data Center redesign. Also, showback capabilities are included in 4.12, OpenNebula will report resource usage cost, enabling the integration with chargeback and billing platforms, the possibility to flush and disable a system datastore, the introduction of Security Groups, allowing administrators to define the firewall rules and apply them to the Virtual Machines, the ability to use VXLANs in your OpenNebula infrastructure, and many more. Moreover, important new features related to the newly introduced vCenter support are available in OpenNebula 4.12: ability to import running VMs and networks, including the attach/detach NIC functionality, a new cloud view tailored for vCenter, VM contextualization support and reacquire VM Templates with their logo and description.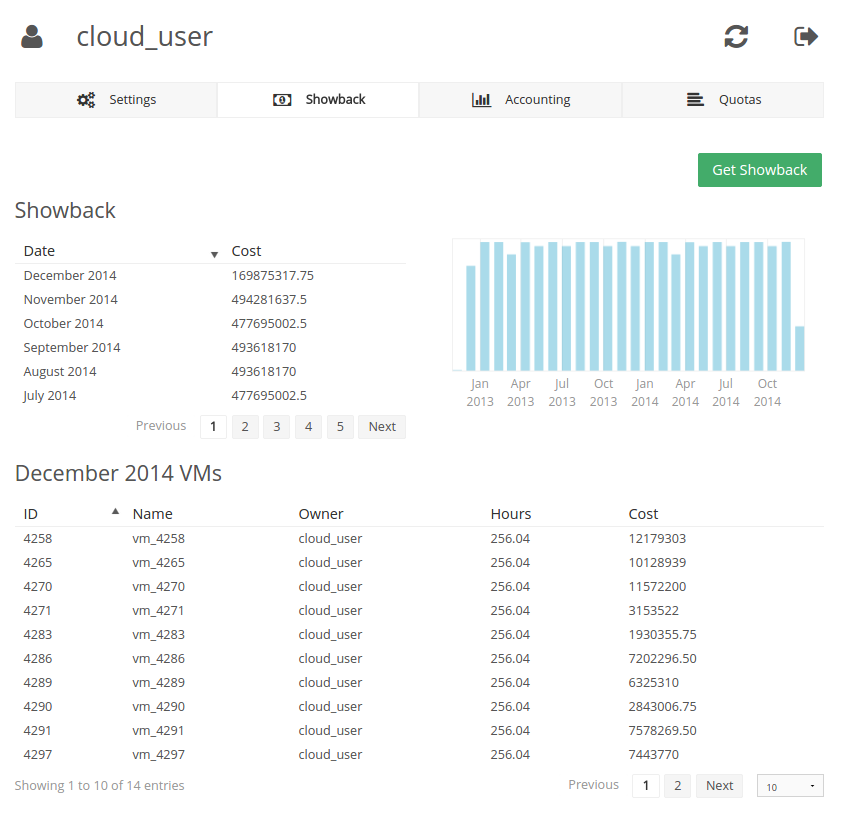 If you ever wondered how to build a network overlay between two OpenNebula sites, or between your OpenNebula powered datacenter and any of the supported public clouds (Amazon EC2, MS Azure, IBM SoftLayer), then you are in for a treat. OpenNebula is going to participate in BEACON, the flagship European project bringing SDN and NFC advances to federated cloud networking. The Project is set to pave the road towards the true start of a revolution in cloud networking, developing the building blocks to enable next-generation network functionalities within and across data centers and cloud sites. This will foster the integration of OpenNebula and the SDN OpenDaylight, which we believe is very good news. It is also in line with the results of the European Commission Workshop on Global Cloud Experimental Facilities, placing OpenNebula on networking into the cloud.
But OpenNebula 4.12 is not the only important release of 2015 to date, vOneCloud 1.2 release also hit the road recently! If you haven't heard yet, vOneCloud is an OpenNebula distribution optimized to work on existing VMware vCenter deployments, easing the deployment of an enterprise-ready OpenNebula cloud in just a few minutes in VMware environments managed by familiar tools such as vSphere and vCenter Operations Manager, enabling cloud provisioning, elasticity and multi-tenancy features. vOneCloud 1.2 comes with new features -it is worth highlighting the automatic import of virtual machines running in a vCenter instance into vOneCloud, with zero downtime- as well as new components -like the Control Panel, a web interface that eases the configuration of vOneCloud services and enables one click smooth upgrades to newer versions-.

Community
The OpenNebula Project decided to take a step forward and change the good old mailing list to a new discourse forum as the vehicle for community support. This was a well meditated decision which we hope pleases the community, but we will also keep an open ear for alternatives!
The OpenNebula community is very engaged one and never sleeps! Check out this server for recording VM and Host monitoring traffic. Feedback on product flaws (like we receive in the mailing list and now in the new support forum) is crucial for the project. But also very important for the project is the positive feedback, like these received in twitter: blush number one and double blush number two. Keep on keeping on!
Members of the dev team get bored from time to time (not much though, too much work), a come up with amazing stuff for the community like this integration of OpenNebula and Latch.
Pushing OpenNebula to its limits is fun to watch. Like launching 100 CoreOS VMs in 3'21" -2 seconds per VM-. Woah, awesomeness should have a speed limit!
Outreach
After the second edition of the OpenNebula Conference, we are already preparing for the upcoming, third edition in Barcelona, October 2015. Interested? You are still in time for getting a good price deal for tickets. If you want to share your OpenNebula experiences, the is open as well until the end of March. Moreover, your company may be interested in the sponsorship opportunities for OpenNebulaConf 2015.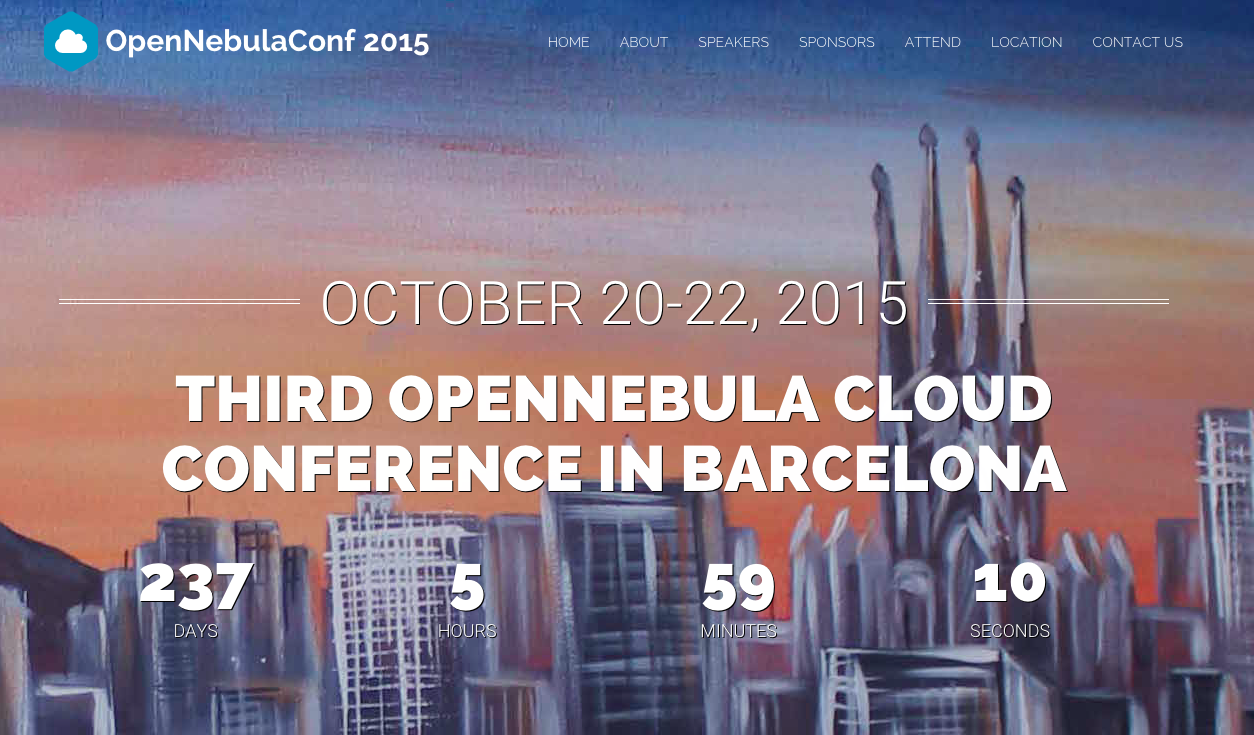 Recently, a spanish speaking video sessions were recording capturing user experiences regarding OpenNebula, called Jornadas Rediris. If you are fluent in Spanish, check the recordings because there were really good contents and insights.
We are also fostering a number of OpenNebula Technology days in several cities across the world. We will start with the Prague in the Czech Republic this 25th of March, and we plan to follow with other cities including Chicago, Dallas and Dublin. Send us an email or send it to the community to discuss the mailing list if you are interested in hosting a TechDay event.
During the following months, members of the OpenNebula team will be speaking at the following events:
We want to highlight the strong presence the OpenNebula project will have in the Cloud Expo Europe 2015, this 11th and 12th of March in London. OpenNebula will sponsor one of the corners of the Open Cloud & Developer Park. Besides several members of the OpenNebula Team, partners that add value to OpenNebula will be present, like viApps, CloudWeavers as well as OpenNebula Systems, the company behind OpenNebula. If you are in London, come round for some special OpenNebula talks!
If you are interested in receiving OpenNebula training, check the schedule for 2015 public classes at OpenNebula Headquarters. Please contact us if you would like to request training near you.
Remember that you can see slides and resources from past events on our Events page. We have also created a Slideshare account where you can see the slides from some of our recent presentations.