OpenNebula 6.0 'Mutara' is now available for download! 🚀 Kudos to all those members of the OpenNebula Community who have contributed to improve and test this amazing new version! 👏 We are really excited to announce a release that comes with a significant number of new functionalities, among which you'll find the cool edge computing features developed in the context of our ONEedge initiative. They are designed to help IT organizations deploy true hybrid and multi-cloud environments that avoid vendor lock-in, reduce operational costs, expand service availability, and enable new ultra-low-latency applications ⚡
'Mutara' is the first stable release of the new OpenNebula 6 series. Its main highlights are:
A powerful distributed cloud architecture for OpenNebula that is composed of Edge Clusters that can run any workload—both virtual machines and application containers—on any resource—bare metal or virtualized—anywhere—on a cloud provider or on-premises. This hyperconverged edge cloud solution maximizes workload performance and availability, and comes with a native 3-tier storage architecture that simplifies and speeds up the deployment of containers and services across edge locations 🌎
A fully featured command line interface and a modern, slick web interface—FireEdge—to easily manage public cloud and edge providers and the seamless provisioning of OpenNebula's Edge Clusters. You can quickly expand on-demand your OpenNebula cloud with third-party resources thanks to this point and click interface and create an "Edge as a Service" environment in just a few minutes! 🤩
A first set of templates and drivers to expand your OpenNebula cloud using AWS and Equinix Metal resources, creating Edge Clusters based on KVM, LXC and/or Firecracker 🔥
The new support for Dockerfiles and a revamped Marketplace for VM templates, which now is able to store service templates, which considerably improves user experience in the execution of complex container workflows, multi-tier services and management of CNCF-certified Kubernetes clusters on the edge 🤹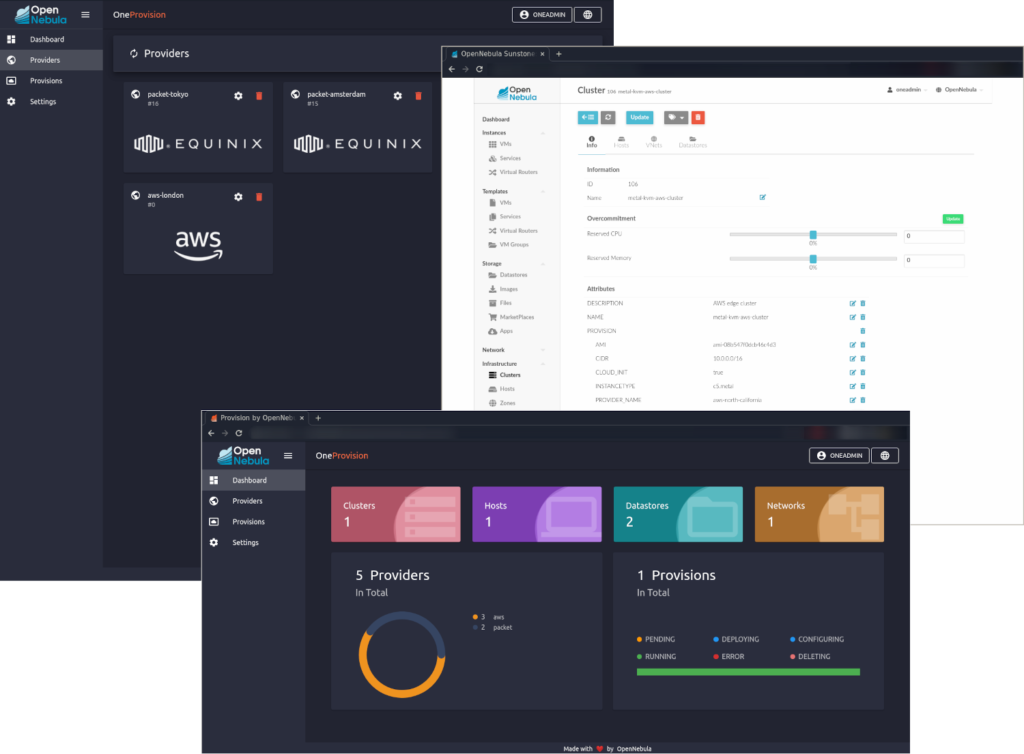 This new version comes with a number of additional improvements:
There have been multitude of improvements in Sunstone: revamped VNC dialogs, asynchronous operation warnings, extra information for OneFlow services, NUMA placement for VMware VMs, etc. Additionally, a new FireEdge server is now shipped with OpenNebula, enabling new functionality in Sunstone—OpenNebula's WebUI: auto refresh for VM and host states, VMRC console access for VMware VMs, Guacamole VNC/SSH and RDP, and more 🖥️
Support for VM Backups, periodically save the data of your VMs in a remote storage location set up as a private marketplace ↩️
Several OneFlow improvements, mostly related to the life cycle management of OneFlow Services, both in the engine and the GUI 🤖
Hypervisor driver improvements like vSphere 7 support and additional VM tuning parameters for KVM. OpenNebula 6.0 also features a new driver for LXC system containers, easing the use of containerized apps across platforms 📦
PS – Following our tradition, this version's codename refers to a nebula, in this case the Mutara Nebula, an interstellar dust cloud located in the Mutara sector of the Beta Quadrant. In 2285, it was the site of the epic battle between the USS Reliant (commanded by the infamous Khan Noonien Singh) and the USS Enterprise (commanded by Captain James T. Kirk), which ended [SPOILER ALERT!] with the detonation of the Genesis Device and the USS Enterprise making a miraculous last-second escape thanks to the dramatic self-sacrifice of Mr Spock—as seen in Star Trek II: The Wrath of Khan 🖖
---
Watch the Release Webinar
The webinar was held on April 14, 2021, where we were joined by our Engineering Team to showcase the capabilities of OpenNebula "Mutara" 6.0 along with an interactive demo where we deployed Kubernetes at the Edge.
What to expect from this webinar:
An overview of the amazing new features that OpenNebula 6.0 'Mutara' brings along, including its new provisioning tool for managing resources from the public cloud and edge providers, the new support for Kubernetes deployments at the edge, and the new features for managing dynamic multi-tier services based on VMs and application containers.
A demonstration showing how to easily set up an Edge-as-a-Service environment in just a few minutes using AWS and Equinix Metal resources, and how to deploy Kubernetes clusters on the edge.
An introduction to the OpenNebula Enterprise Edition and the Managed Cloud Services available for Corporate Users to simplify the upgrading and maintenance of OpenNebula clouds in production environments.