"In 2016 the organization decided to migrate its private cloud infrastructure from VMware to an open source solution, adopting OpenNebula as the new cloud management platform and Ceph as the underlying object storage system."
Some weeks ago, the OpenNebula team invited me to participate as a speaker at the 10th Zabbix Summit (Riga, Latvia). This has been the first time I've taken part in this great open source event, and also, the first time for me to give a presentation, on stage, in front of hundreds of people! Thanks to everyone at OpenNebula and Zabbix for making this experience really silky smooth 🤓
I traveled to Riga in early October to present how we are using Zabbix to monitor our OpenNebula private cloud infrastructure at the Flemish Department of Environment and Spatial Planning. To give you a brief overview, as part of the Flemish Government we take care of things like policy-making for spatial planning, environmental and building permits, impact assessments, and environmental regulation enforcement.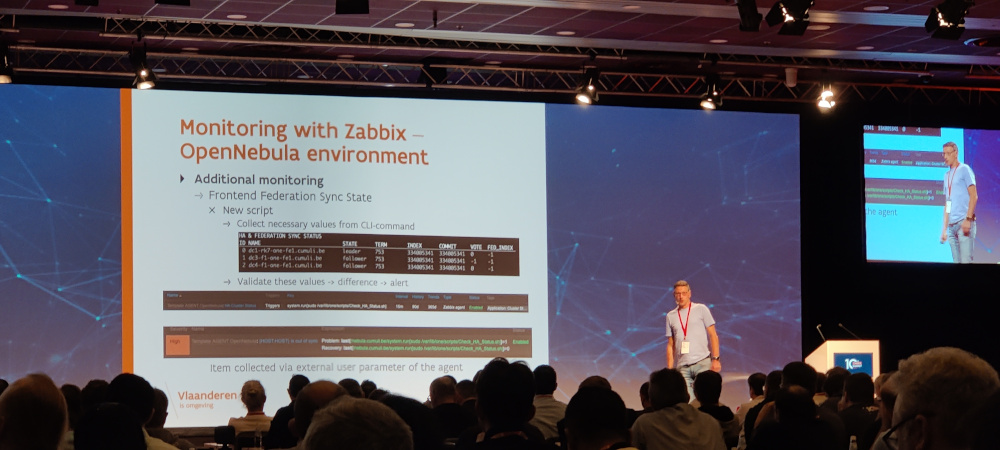 In 2016 the organization decided to migrate its private cloud infrastructure from VMware to an open source solution, adopting OpenNebula as the new cloud management platform and Ceph as the underlying object storage system. Nowadays, this infrastructure supports the work of a team of more than 50 developers, the management of a HA dual data center setup with two availability zones per data center, and the automation of the life cycle of over 2200 virtual machines—including more than 500 deployments per week.
The challenges we had in the past were that we had a huge number of virtual machines which needed to be managed by a rather small technical team. The infrastructure was also very complex—to say the least—and there was a lot of room for human error. There was little to no self-service for the development team, which meant that if they wanted to do a deployment they had to go and ask the infrastructure team, a process that quickly led to scalability problems. There was also a lack of visibility that made it very difficult to assess what was happening in our environment. Because of this complex infrastructure and the need to use manual intervention, recovering options after a disaster were rather limited, for instance.
OpenNebula has its own monitoring mechanism, which is executed at configured interval times for hosts, VMs, and so on. With the help of OpenNebula CLI commands, we can get the states and metrics of the Frontends, Hosts, state of VMs, used CPU, etc. Integrating Zabbix into our OpenNebula environment has helped us expand those native monitoring capabilities. After modifying the script to our needs, we were able to make the necessary configurations and get things working great between these two open source technologies. As you can see below. we have created a dashboard that is used by our team to monitor all the kinds of alerts we receive from our data centers.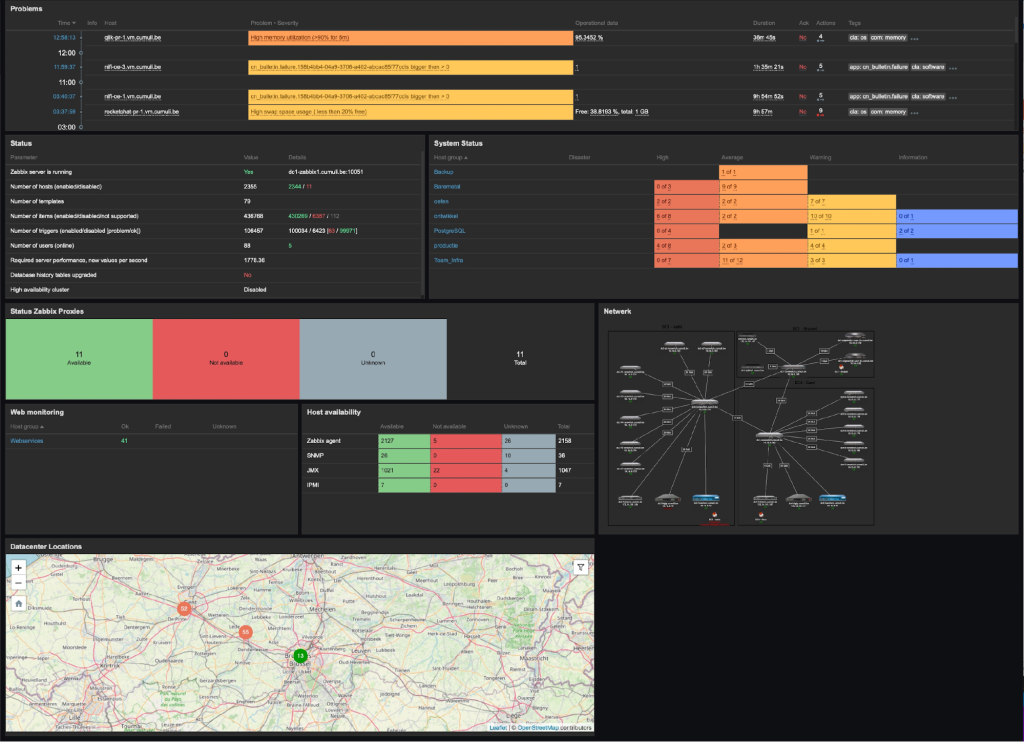 We are really happy with OpenNebula, and the ease with which we can handle such deployments has made us believe in the software even more. Our next step? We are looking forward to testing a future official Zabbix driver for OpenNebula! And if you want to watch the full presentation, have a look at the video below and send me your feedback ⬇️ Thank you!
ℹ️ If you want to learn more about how the Flemish Government and other public and private organizations are using OpenNebula, visit our collection of Case Studies at OpenNebula.io/case-studies