It's been a fully packed year in the OpenNebula project and in the cloud computing field. The community is as healthy as ever and is driving your favourite Cloud Management Platform (CMP) to its consolidation as a real, enterprise-ready and open source alternative to transform datacenters into private clouds.
OpenNebula is really vendor-neutral, there is no hype, just a focus on real-life needs, developing the best technology, and serving our users. We think it is important to clearly state what "open", "simple", "scalable", and "flexible" mean for us. Mostly because, as you well know, terms like "open-" and "open-source" are used by many vendors as a marketing tool to lock you into their own version or distribution of a hyped open-source software.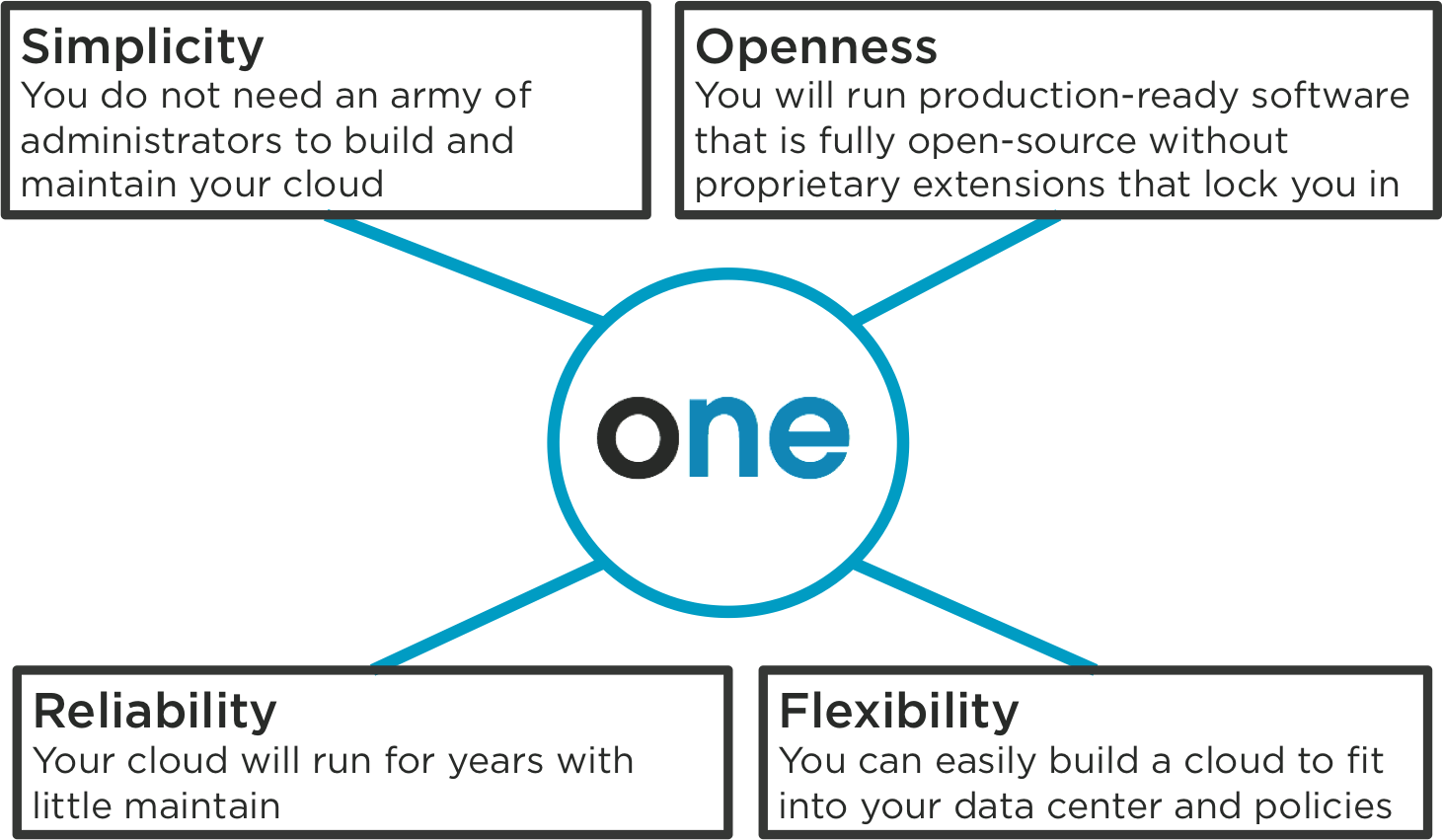 We are also proud of being counted among the Cloud Computing pioneers. These two papers present the original internal design and architecture of the Eucalyptus and OpenNebula cloud management platforms, the very first two open source CMPs.
With 2014 coming quickly to a close, we'd like to review what this year has meant for the OpenNebula project. You have all the details about the great progress that we have seen for the OpenNebula project in our monthly newsletters.
Solving Real Needs in Innovative Ways
Three major releases were published during this past 2014: 4.6 Carina, 4.8 Lemon Slice and 4.10 Fox Fur. Moreover, three maintenance versions were released to fix bugs and polish features. Several maintenance versions of AppMarket were also released.
One of the most relevant features introduced by 4.6 Carina was the ability to create Federations of several OpenNebula instances, and their subsequent partition into Virtual Datacenters, by bounding a group of users to a set of hardware resources: the OpenNebula provisioning model is now considered mature. Also, Carina brought a new Cloud View Portal and support for OVA imports directly to an OpenNebula cloud.
The focus of 4.8 Lemon Slice was simplicity, with several improvements to the Cloud View portal (an important key in the provisioning model) like the addition of the VDC Admin View, based as well on the simplicity designs of the self service portal. The hybrid model was also extended with support for IBM SoftLayer and Microsoft Azure public clouds, and changes in the OneFlow and OneGate made possible sharing service information among VMs. Virtual Networks underwent a thorough redesign: definitions are no longer restricted to the fixed and ranged model, but rather they can include any combination of ranges to accommodate any address distribution.
4.10 Fox Fur was the latest major release of 2014, and it was a very special one, since it featured a little revolution in shape of vCenter support. It is the first OpenNebula release that allows to automatically import an existing infrastructure, since the new vCenter drivers allow to import Clusters and Virtual Machines from a vCenter installation, significantly smoothing the set up curve. Also, Fox Fur introduced an integrated tab in Sunstone to access OpenNebula Systems support and login token functionality.
We would like to thank to all code contributors and sponsors, and especially to Produban, BlackBerry and Echelon for funding several features this last year through the Fund a Feature program. We look forward to your contributions to code development!.
The New vOneCloud
4.10 Fox Fur brought VMware vCenter support to OpenNebula, and it was the seed for a new product by the OpenNebula Team: vOneCloud, a virtual appliance for vSphere that transforms an existing vCenter deployment into an automated, self-service private cloud in a few minutes. The appliance is based on OpenNebula, every component is fully open-source and has been certified to work in enterprise environments.
vOneCloud exposes a multi-tenant, cloud-like provisioning layer, including features like virtual data centers, self-service portal, or hybrid cloud computing to connect in-house vCenter infrastructures with public clouds. vOneCloud seamlessly integrates with running vCenter virtualized infrastructures, leveraging advanced features such as vMotion, HA or DRS scheduling provided by the VMware vSphere product family.
2014 saw the first stable release of vOneCloud, which we believe is going to transform the way numerous VMware-based data centers perform their IT processes.
Interesting right? Try it out, it takes very little time and it is not intrusive. We look forward to your feedback!.
A Vibrant Community of Users
We've been rapidly growing our vibrant community of users who are supportive, engaged, and opinionated about the direction of OpenNebula ever since. Many of them have contributed new integrations with other platform components in the data center like IBM Storwize V7000 SAN, salt-cloud, Infiniband (SR-IOV devices), Bacula, Chef Kitchen, .NET API, Nodejs, Cloud-init,  Ansible or The Foreman – just to name a few.
We are proud to confirm that the number of downloads from our repositories continue doubling each year. There are tens of thousands of deployments around the globe and OpenNebula is parked in some of the biggest organizations out there including Industry and Research leaders. This year we performed a new Cloud Architecture Survey to know about the types of OpenNebula cloud deployments and their main architectural components.
We would like to thank all our users! It is out of scope to name all new users, but we want to give a wholeheartedly warm welcome to those new users that shared their experiences through our blog: Runtastic, Avalon, China Mobile, Rentalia and BIT.nl. If you are using OpenNebula, we want to hear from you! We look forward to having more details about your deployment and experiences!. You are very welcome to contribute your integrations and experiences by writing a post in our blog or submitting your integration to the OpenNebula Add-on Catalog.
Spreading the Word
Our biggest event in 2014 was undoubtedly the OpenNebula Conf! Held in Berlin, and organized by Netways, at early December.  It featured lots of very interesting users: RedHat, Runtastic, Deloitte… Check out the videos and, more importantly, the amazing feedback gathered by the team from the OpenNebula users. This is what makes OpenNebula unique, it's down-to-earth, user-driven model.
This year the team was very busy spreading the OpenNebula word in several events. Important events with OpenNebula representation were CeBIT 2014, FLOSS UK 2014, several CentOS Dojos (like for instance this one in Brussels, jointly with Fosdem 2014), CloudScape VI, Cloud Expo Europe, Future Internet Assembly, Closer 2014, EGI Community Forum, GigaOM Structure, HostingCon, LOADays and many, many more! We want everyone at least to have the chance to know about what we think is the easiest to use, most powerful and definitely most enterprise ready open source CMP!.
A series of events crafted by OpenNebula are the OpenNebula TechDays. Probably the most relevant ones this year happened in both US coasts: Florida and San Francisco hosted by TransUnion|TLOxp and Hyve Solutions. Other relevant TechDays took place in Europe: Timisoara by CloudBase and Unified Post, Santiago by Agasol, Ede by BIT.nl, Barcelona by CSUC, Almendralejo by CENATIC… and much more to come in this 2015!.
We want to thank all organizations that hosted a TechDay in 2014 for their amazing hospitality and making these events a success. We are organizing the schedule of TechDays for future months, send us an email or send it to the community discuss mailing list if you are interested in hosting a TechDay event. We also look forward to proposals to create a user group in your area.
***
We think it is impossible to stress too much or too often the importance of our community. THANK you all (users, developers, integrators, cloud architects, all of you!) for helping us building a great cloud management platform that solves real world problems.
We'd also like to take this opportunity to wish you happiness and prosperity in 2015 to you and your loved ones!.
On behalf of the OpenNebula Project.