Latest news from the OpenNebula project, highlights from the community and the dissemination efforts carried out in the project this past month in this monthly edition of your favourite cloud management platform's newsletter.
June is around the corner! The OpenNebulaConf US will take place on June 19-20 in Cambridge, Massachusetts. You can already check the agenda with keynotes by Akamai, Telefonica and Harvard, and still benefit from the early bird registration until 12th of May.
The following OpenNebula TechDays are drawing a lot of attention. Madrid (hosted by Telefonica), Sofia (hosted by Storpool) and Barcelona (hosted by CSUC) registrations are almost full, check the agendas if you are interested in attending.
Technology
OpenNebula new major release is almost in feature freeze, and the numerous new additions are being stabilized. The vCenter driver is getting a major revamp in terms of storage and network management (check out more details in this article), non persistent disks and storage quotas, as well as network creation, mean an important boost in vCenter support. These new features will enhance OpenNebula provisioning model over vCenter based infrastructures, increasing the already wide range of use cases that can be implemented.

OpenNebula HA configuration in the front-end has been possible for quite a while. It currently relies on external components to ensure this HA, but the team decided that we may as well go all the way and implement HA natively in the OpenNebula front-end, implementing a consensus algorithm directly in the 'oned' core. The key improvement is the easier setup of the HA and the reduction of third party dependencies (no fencing, no corosync needed) and even more importantly, much less painful (in fact, completely ) failure recovery. Extensive testing is now performed on this functionality so you can add yet another 9 in your OpenNebula cloud availability!
More exciting features in 5.4 are: VM to VM and VM to Host affinity/antiaffinity using VM Groups, image persistency selection, modifiable semantics for permissions, IPv6 non SLAAC Address Ranges, Linked Clones support, improvements in monitoring drivers and much more!
Check out in the project's development portal all the things we are still working on.
Community
Building a ecosystems is instrumental in the success of a open source project. Thanks to people interested in OpenNebula, the amount of use cases that can be built with OpenNebula keeps growing and growing.
For instance, Devuan support is now a reality in OpenNebula, with support packages that ensures a proper contextualization of this novel and refreshing linux distribution.
It is always with pleasure hearing how people learn about OpenNebula, and realize that we'd been making cloud computing easier for you for quite a while now. Also, and as always, we love to see our friends at NodeWeavers being so supportive all over this last years. Kudos!
We would like to thank everyone that is actively supporting new OpenNebula users (or more seasoned users) in our support forum. Your actions are extremely useful for the adoption of OpenNebula around the globe!
An indicator of the health of the development community is the number of open pull requests in the OpenNebula GitHub page. We do our best to review and incorporate those aligned with the OpenNebula roadmap. Thanks!
Outreach
The first US edition of the OpenNebulaConf is happening this 2017, as one of two OpenNebulaConf editions this year, one in US and the other in Europe. The US edition will take place on June 19-20 in Cambridge, Massachusetts, and the european edition will be held in Madrid, Spain, on October 23-24.
The next editions OpenNebula TechDays events of 2017 are shaping up as special ones for the agnda and expected turnout. Madrid (hosted by Telefonica), Sofia (hosted by Storpool) and Barcelona (hosted by CSUC) registrations are almost full, check the agendas if you are interested in attending. We will be publishing details about the venues shortly, we just leave here a picture of the Madrid venue by Telefonica which is in a privileged location.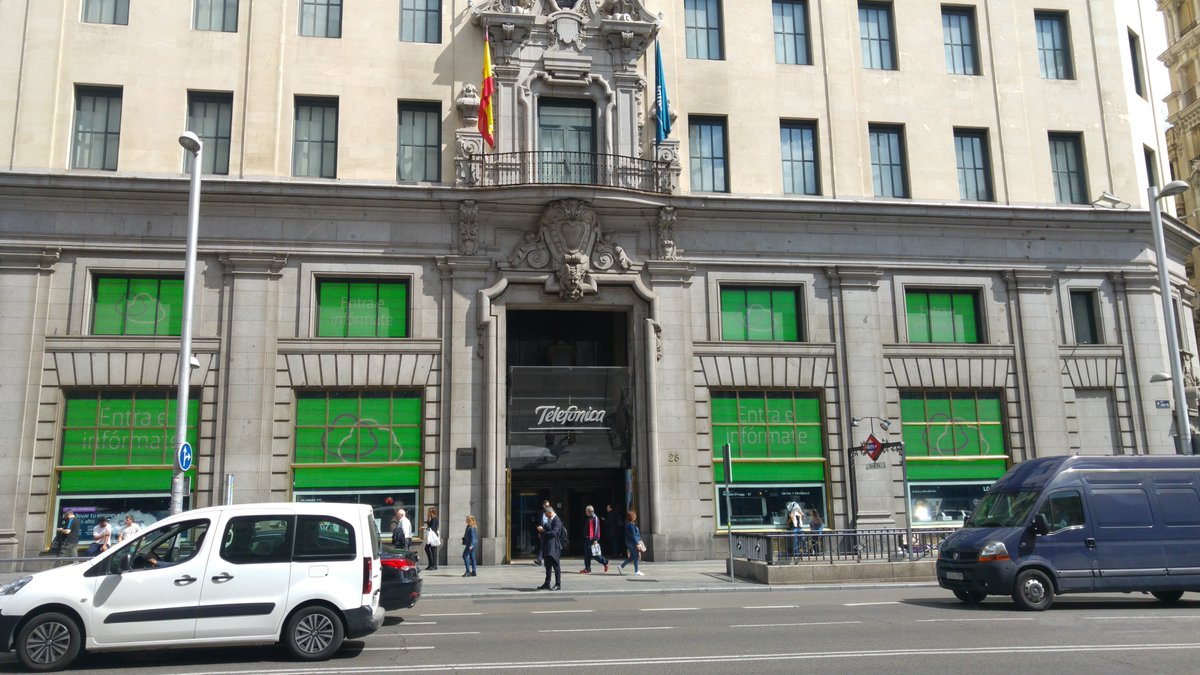 OpenNebula was present at the Enterprise at OSEN meetup, where people learn best practices as well as share with others their successes and failures with building open source products.
The OpenNebula team is going to feature a booth in both VMworlds this year. If you are going to attend, do not forget to come by the OpenNebula booth to see a live demo of the latest stable version of your favourite CMP:
VMworld 2017 US, August 27-31, Las Vegas, Mandalay Bay Hotel & Convention Center
VMworld 2017 Europe, September 11-14, Barcelona, Fira Gran Via
Also, check out the list of official training from OpenNebula Systems for this year. If you are new to OpenNebula, or want to improve you knowledge with an in-depth OpenNebula admin course, those are the dates and locations you need to keep in mind.
Remember that you can see slides and resources from past events in our Events page. We have also created a Slideshare account where you can see the slides from some of our recent presentations.