We want to let you know about what we are up to with the main news from the last month regarding the OpenNebula project, including what you can expect in the following months.
We have created a new user survey that will take you only 5 minutes to complete. As an open-source community, it is very important for us to have information about your deployment. Doing so you will have influence over the project and software direction, and will help us improve the support for most demanded infrastructure platforms and configurations.
Technology
This summer month of August has been the host for the new, shiny and latest release of OpenNebula: 4.8 Lemon Slice. Did you try it out? We would love to hear your feedback, so we have time to include possible changes in the next maintenance release. You can reach us through the user mailing list, give it a spin!
This new version of OpenNebula comes with several goodies that we would like to highlight. Sticking with our vision of bringing simplicity to cloud management, this release comes with improvements in the recently added Cloud View portal, now with the ability to control flows, as well with a new interface designed for Virtual Datacenter administrators (VDCAdmin View).
Another important addition happened in the domain of cloudbursting: support for two new public cloud providers (Microsoft Azure and IBM SoftLayer) has been added, widening the range of possibilities to offload VMs in case the local infrastructure is saturated. Moreover, Virtual Networks underwent a thorough redesign, now their definition is no longer restricted to the fixed and ranged model, but rather they can include any combination of ranges to accommodate any address distribution. Dig in to see all the nuts and bolts!
"OpenNebula 4.8 is helping us fulfil one of the most important needs of our users: a simple and unified deployment cycle in all of our environments, including a transparent hybrid cloud integration with the main public cloud providers. I would like to thank C12G for their Fund a Feature program," said Daniel Concepcion, IT Managing Director at Produban.
"By offering support for Microsoft Azure in OpenNebula 4.8, we're further simplifying the developer experience across Microsoft's private, public and hosted cloud platforms," said Gianugo Rabellino, Senior Director of Open Source Communities at Microsoft Open Technologies, Inc. "The Azure drivers in OpenNebula are certified to ensure compatibility, providing developers with a solution that will work now, and in the future."
So now is time to stand back and let you ride the Lemon Slice, let us know how is doing. Meanwhile, we will be busy (as always!) carefully planning the roadmap for the next stable release (yes, we are relentless!). Curious on how we define the roadmap? Take a look at this page, where you can also find how to contribute to the list of features that will be tackled in this next release.
Community
Even for a traditionally quiet month as it is usually the case with August, the OpenNebula community hasn't stop buzzing. It's really nice to have you there folks.
A nice OpenNebula Cookbook for Chef was released by Vaamo. These recipes go a long way for deploying and setting up a cloud infrastructure based on OpenNebula.
It is worth also pointing out that OpenNebula scored 3rd in the Top IaaS Open Source projects, in a survey conducted by The New Stack and Linux.com, as presented recently in the CloudOpen in Chicago. We want to point out that, according to this, OpenNebula is also the 1st vendor-free IaaS Open Source project, as well as the 1st non-US project of its kind. Way to go OpenNebulers!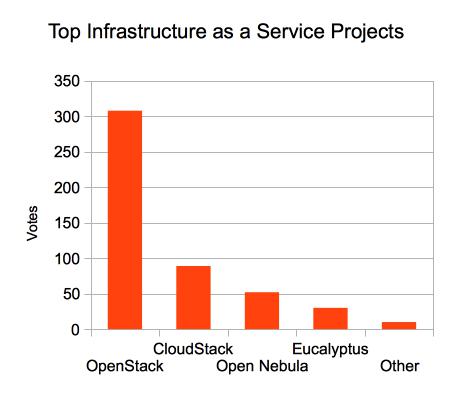 It is also nice to become aware of more business powering their solutions with OpenNebula. And if they top it with an explanation of why they chose your favorite CMP, then kudos and let us wish all the best.
The community being great can also be deduced from excellent posts such as the one by AZNS, covering with great detail the datacenter federation capabilities of OpenNebula, including internal design, deployment recommendations and, overall, perfectly grasping the philosophy of this new feature.
Feedback from the community has started trickling. And seriously, we want to thank all of you for this, it is an essential part of the process that makes OpenNebula a mature technology as it is today. For instance, we love to be aware of any member of the community becomes aware of a new functionality (we blush!) , but, even more than this, we appreciate all the detailed bug reports done through any of the channels, being Twitter, the OpenNebula users mailing list and the development portal. Also, extensive testing and benchmarking as performed by key members of the community is more than welcome, keep it up!
Outreach
This year's OpenNebula Conference, to be held in Berlin 2-4 of December, 2014 is approaching fast. The final agenda is now available at the conference page. This years will offer the chance to learn how folks from PuppetLabs, E-Post, Deloitte and many other companies are using OpenNebula. Moreover, check out the venue for the evening event, lush isn't it?. If you want to repeat or find out how it is for yourself, save the date and register!.
Members of the OpenNebula team participated in August in a Centos Dojo in Cologne. Also, a Centos Dojo was held in Paris, and we also participated there. Check out what went on on those events.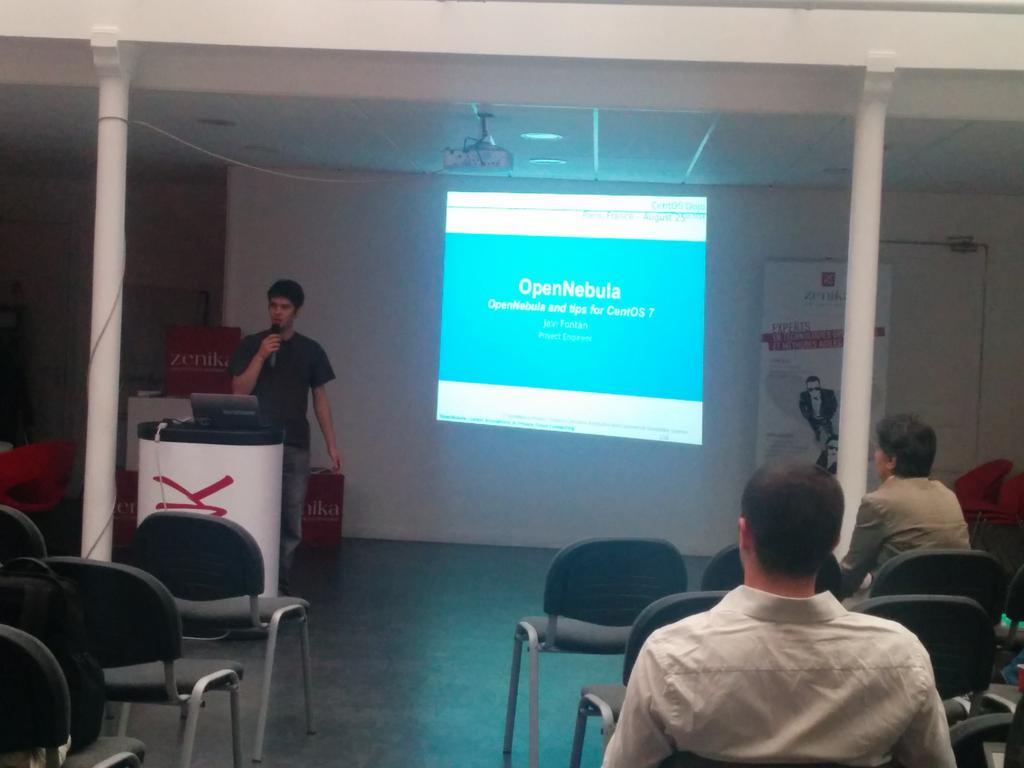 We have upcoming TechDays in future months, if you are interested in OpenNebula you can check the project page to find out if we are travelling somewhere near you: Timisoara, Barcelona, Chicago, Aveiro, Munich … and many more to come! As a bonus, both the Timisoara and Barcelona TechDays will be jointly held with the CentOS Dojo.
Remember that you can see slides and resources from past events in our Events page. We have also created a Slideshare account where you can see the slides from some of our recent presentations.