We want to let you know about what we are up to with the main news from the last month regarding the OpenNebula project, including what you can expect in the following months. This month's newsletter is slightly overdue because the team has been 100% dedicated to the release.
We have created a new user survey that will take you only 5 minutes to complete. As an open-source community, it is very important for us to have information about your deployment. Doing so you will have influence over the project and software direction, and will help us improve the support for most demanded infrastructure platforms and configurations.
Technology
This past month, the OpenNebula team had only one, well defined focus: a new stable release. After one beta version, the team is very proud of the release of OpenNebula 4.8, codenamed Lemon Slice. This release brings significant improvements in different aspects. Sticking with our vision of bringing simplicity to cloud management, this release comes with improvements in the recently added Cloud View portal, now with the ability to control flows, as well with a new interface designed for Virtual Datacenter administrators (VDCAdmin View).
The hybrid model has been one of the principal actors of Lemon Slice. Support for two new public cloud providers (Microsoft Azure and IBM SoftLayer) have been added, widening the range of possibilities to offload VMs in case the local infrastructure is saturated. The hybrid model in OpenNebula enables a centralized management of both local and remote resources for the cloud administrator, and a transparent consumption of these resources by the end user. With these two new additions, OpenNebula is increasing the possibilities to build powerful, robust, cost and performance efficient cloud infrastructures across administrative domains and public cloud providers.
The OneFlow component also has been improved, specially OneGate, making sharing service information among VMs possible. Flows are now easier than ever to build and consume, since details like the virtual network the flow are going to use are defined later by the user, so the administrator doesn't have to deal with all the possible combinations.
Moreover, Virtual Networks underwent a thorough redesign. Definition of virtual networks are no longer restricted to the fixed and ranged model, but rather they can include any combination of ranges to accommodate any address distribution. Moreover, end users can now reserve a range or IP addresses for their own use at a later time.
Finally, several improvements are scattered across every other OpenNebula component: improvements in quotas management, multi boot available through Sunstone, availability of Windows contextualization packages, new raw device mapping datastore, better Ceph drivers, possibility to clone images across datastores …. ladies and gentlemen, you are in for a treat.
Community
This month has been specially interesting for the movement in the OpenNebula community. Most noticeable, without doubt, is the announcement by two computer industry giants such as Microsoft and IBM of their collaboration with the OpenNebula project.
Microsoft announced in the OSCON 2014 their willingness to tightly collaborate with OpenNebula in order to build Microsoft Azure support within your favourite Cloud Management Platform.
On the other hand, IBM SoftLayer announced in their blog their support for extending OpenNebula hybrid model to be able to outsource VM workload to the SoftLayer cloud. Their interest comes from existing SoftLayer users that seek to complement their public cloud with in house private clouds run by OpenNebula:
Some of our largest customers have already begun using OpenNebula to manage their hybrid cloud environments, so official support for the SoftLayer cloud in OpenNebula is a huge benefit to them (and to us)
Needless to say, we are really excited about this collaborations: building hybrid clouds with OpenNebula is now richer and more powerful than ever.
The community is determined to make the OpenNebula team happy with these little pearls: OpenNebula 4.6.2 cloud running on ARM board of Android TV stick. We want to give a big thanks from here to Carlo Daffara and Vincent V.d. Kussen for their intensive testing, pushing OpenNebula to its limits. Appreciate that! We also appreciate mini tutorials to start using OpenNebula, like this one.
Special thanks are due to the Terradue folks for .NET API to the OpenNebula world. Also, it is very interesting the integration between OpenNebula and Bacula proposed by Rentalia.
Check out the comparative made by Bitergia in the OSCON about the OpenNebula project and its codebase, it is pretty interesting.
We want to thank the community for their feedback, which has proven to be a very important asset turning the beta 4.8 version into the stable Lemon Slice that has been just released. You are the real MVP!
Outreach
As usual, first things first, this year's OpenNebula Conference will be held in Berlin as well, 2-4 of December, 2014. The final agenda is now available at the conference page. This years will offer the chance to learn how folks from PuppetLabs, E-Post, Deloitte and many other companies are using OpenNebula. If you want to repeat or find out how it is for yourself, save the date and register!
OpenNebula Project Director gave several seminars on cloud computing Berkeley and Stanford this last month. Also, members of the OpenNebula team participated in July in a Centos Dojo in Cologne.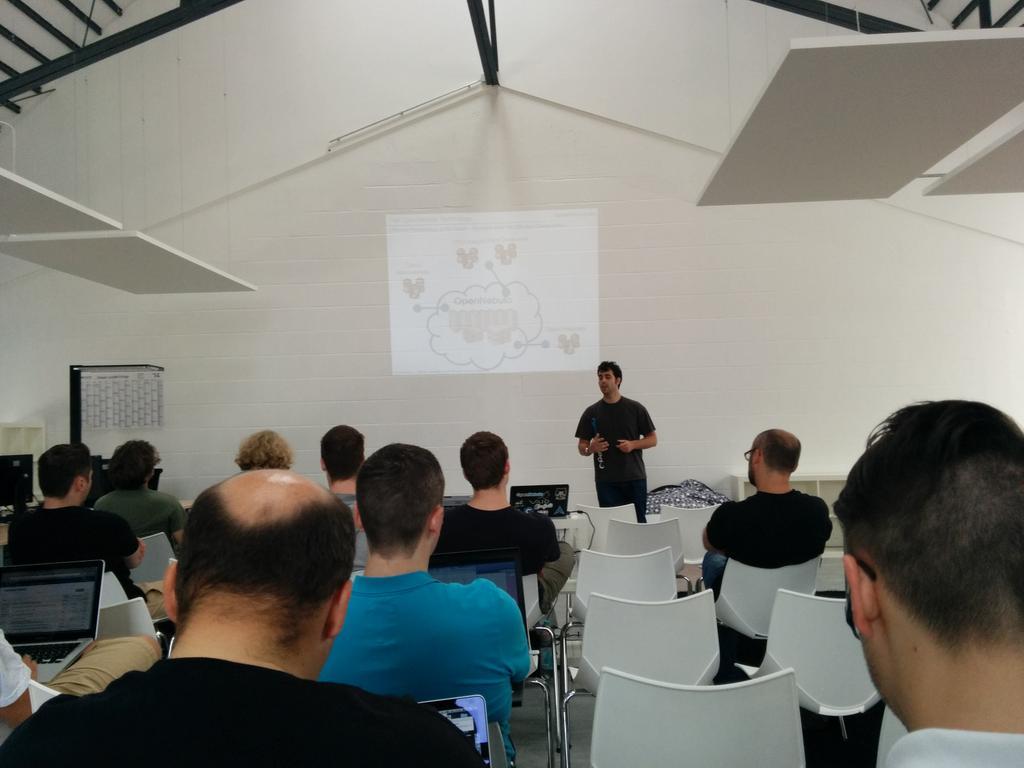 We have upcoming TechDays in future months, if you are interested in OpenNebula you can check the project page to find out if we are travelling somewhere near you: Timisoara, Barcelona, Chicago, Aveiro … and many more to come!!
Remember that you can see slides and resources from past events in our Events page. We have also created a Slideshare account where you can see the slides from some of our recent presentations.