Check out the highlights of the OpenNebula project this last month regarding technology, community and outreach in this monthly newsletter of your favourite cloud management platform.
The agenda for the OpenNebulaConf EU 2017, in Madrid this October have been announced, including BlackBerry, Trivago, Runtastic and the Ministry of the Flemish community. Also, you can check the videos, pictures and slides of the OpenNebulaConf US 2017 in this post.
Technology
OpenNebula Medusa 5.4 is out in the wild, and the team is now analyzing carefully the feedback given by users to identify any issue with the release. So far things are looking good, the team will probably be releasing a 5.4.1 maintenance release in September to address the minor issues seen in the forum.
In Medusa, almost every component of OpenNebula has been reviewed to target usability and functional improvements, trying to keep API changes to a minimum to avoid disrupting ecosystem components. Three major features that are important to highlight follow.
An important focus has been on the vCenter integration, with an enhanced network and storage management. Also, new components have been added to improve the OpenNebula experience.
Full storage management. Non-Persistent images are now supported as well as volatile disks. OpenNebula is now aware of all VM disks and storage quotas can be enforced. Support for linked clones and Marketplace.
Full network management. It is now possible to create vCenter standard and distributed port groups and even vSwitches directly from within OpenNebula. You can assign a VLAN ID to a port group created by OpenNebula.
Improved monitoring. Up to two orders of magnitude of speedup.
An enhanced import process where naming limitations in imported resources has been removed and the ability to enable VNC automatically for Wild VMs.
Disk resizing, VM and Templates folder selection when a VM is deployed… and many more changes!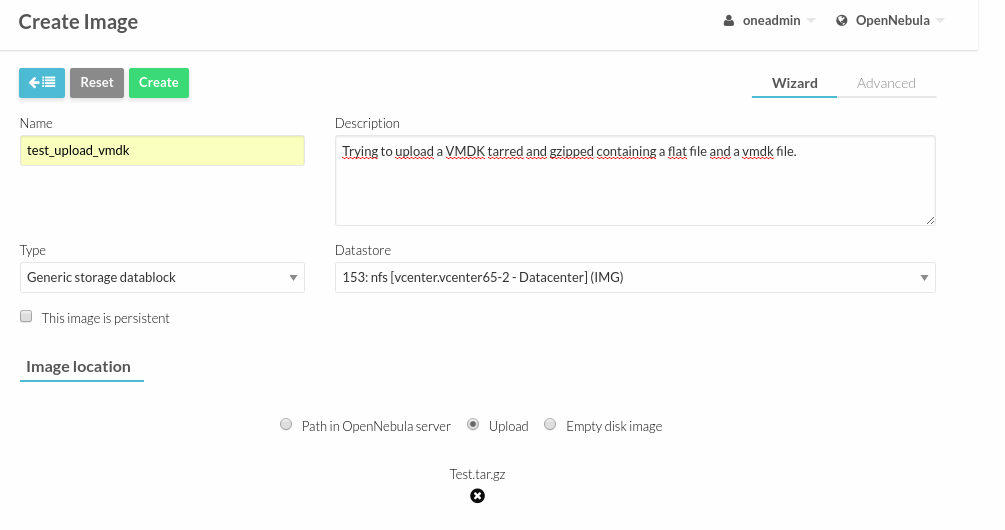 A new resource, the VM Groups, has been added to implement VM-VM and VM-Host affinity/anti-affinity rules. A VM group is a set of related virtual machines that may impose placement constraints based on affinity and anti-affinity rules. A VM group is defined as a set of Roles. A Role defines a VM type or class, and expressions to the VM Group can be added to define affinity between VM roles, or between VM and hosts. This ensures a dynamic approach to affinity/anti-affinity since new VMs can be enrolled to a particular Role at boot time, after the VM Group has been defined and other VMs added to it.
OpenNebula 5.4 brings to the table a native implementation of a consensus algorithm, which enables the High Availability deployment of the OpenNebula front-end without relying to third party components. This distributed consensus protocol provides fault-tolerance and state consistency across OpenNebula services.
And many other new features that can be checked out in the Medusa release notes.
The team is working now on a new release of vOneCloud, 3.0, which is going to bring all the excellence in vCenter management exposed by OpenNebula 5.4.
Community
Even in summer, the OpenNebula community does not go into vacation mode. It seems that it never sleeps
Spreading the word is a great support for the project, and it is very good news to learn how OpenNebula enables learning computer science and makes teachers jobs easier.
Software integrations with third party applications, like for instance this VDI (Disclaimer, tweet in spanish) really enriches the OpenNebula ecosystem.
Equally important are the maintenance of OpenNebula addons. Contributing an addon is great by all means, but maintaining it and extending the documentation, ie, keeping it alive, is what really makes it useful for future OpenNebula releases. This is why notices such as this new version of the LXDoNe or new documentation for the vCloud driver are very good news!
Outreach
The first ever OpenNebulaConf in the US was held this past June, in Boston to be precise. We had a lot of wonderful attendees and some really great speakers delivering really interesting talks and sharing their experiences. We would like to thank all attendees and speakers for their support. If you missed the conference, now you have a chance to watch the talks in the YouTube playlist, download the slides or take a look to the pictures of the conference.
The agenda for the next edition of the OpenNebulaConf EU that will take place in Madrid, Spain, this October. The conference will be packed with very interesting talks about the production use of OpenNebula, so make sure you register if you'll be on the area!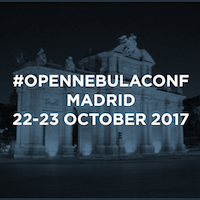 The next OpenNebula TechDay will happen in Vancouver after the summer break, the 1st of September, hosted by Best Buy. The event is almost full, so if you are in the area make sure you register a soon as possible, or risk missing the opportunity!
The OpenNebula team is going to feature a booth in both VMworlds this year. If you are going to attend, do not forget to come by the OpenNebula booth to see a live demo of the latest stable version of your favourite CMP:
VMworld 2017 US, August 27-31, Las Vegas, Mandalay Bay Hotel & Convention Center. Booth 1121.
VMworld 2017 Europe, September 11-14, Barcelona, Fira Gran Via. Booth E430.
Also, check out the list of official training from OpenNebula Systems for this year. If you are new to OpenNebula, or want to improve you knowledge with an in-depth OpenNebula admin course, those are the dates and locations you need to keep in mind.
Remember that you can see slides and resources from past events in our Events page. We have also created a Slideshare account where you can see the slides from some of our recent presentations.