Check out the highlights of the OpenNebula project this last June regarding technology, community and outreach in this monthly newsletter of your favourite cloud management platform.
This last month the OpenNebulaConf 2017 US took place in Boston, MA. Thanks to all the keynotes (Harvard, Telefonica and Akamai) and speakers, as well as to all the attendees that came to the Charles Hotel to share their OpenNebula experiences with us! Videos, slides and pics of the conference covering all the keynotes and talks will be published soon, stay tuned! The keynote speakers for the OpenNebulaConf EU 2017, in Madrid this October, have been announced, including BlackBerry, Trivago, Runtastic and the Ministry of the Flemish community.
Technology
OpenNebula 5.4 'Medusa' Beta 1 and Beta 2 have been released this past June, and now the team is working at full throttle on stabilizing. Your feedback is of the utmost importance in this regard, so if you have the time please download and test the latest Beta, and let us know about your feedback in the community forum or the development portal.
Medusa is the third release of the OpenNebula 5 series. Almost every component of OpenNebula has been reviewed to target usability and functional improvements, trying to keep API changes to a minimum to avoid disrupting ecosystem components. An important focus has been on the vCenter integration, with an enhanced network and storage management, support for linked clones, disk resizing, save as template functionality (this is a new addition working on Beta2) for vCenter VMs, disk save as functionality, automatic storage scheduling, storage quotas and many more! 5.4 Medusa takes a giant leap forward in vCenter support, bringing it up to speed with KVM VM management.
But there is more! A new resource to implement affinity/anti affinity VM-to-VM and Host-to-Host has been added to OpenNebula, the VM Groups. A VM group is a set of related virtual machines that may impose placement constraints based on affinity and anti-affinity rules.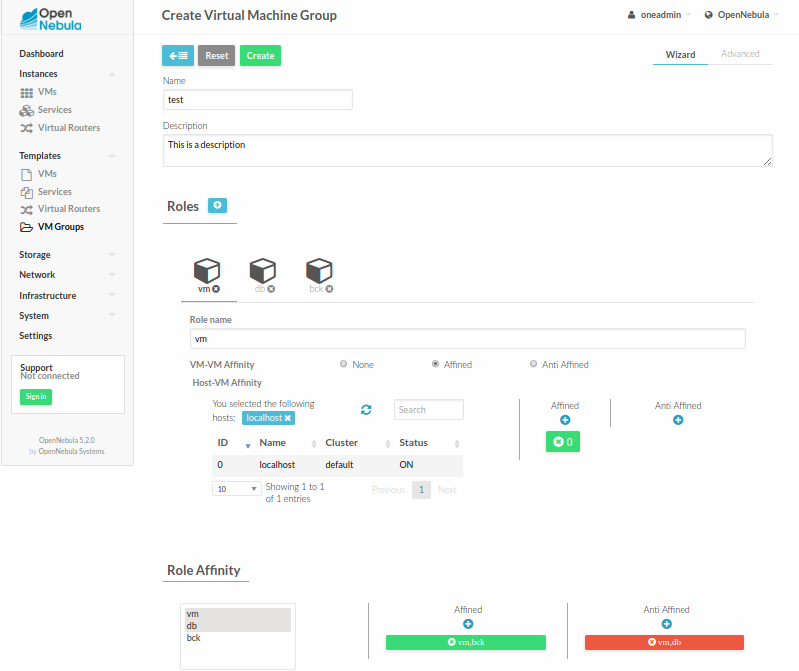 To top it all, OpenNebula 5.4 brings to the table a native implementation of a consensus algorithm, which enables the High Availability deployment of the OpenNebula front-end without relying to third party components. This new functionality of distributed system state is also used to implement OpenNebula federation. There are many other improvements in 5.4 like improved VM lifecycle, flexible resource permissions, live disk resizing, improved Ceph support, enhanced disk I/O feedback, showback cost estimate in Sunstone, flexible IPv6 definition, http proxy support for marketplace and many more!!
This OpenNebula release is named after the Medula Nebula, a large planetary nebula in the constellation of Gemini on the Canis Minor border. The OpenNebula team is now set to bug-fixing mode. Note that this is a beta release aimed at testers and developers to try the new features, and send a more than welcomed feedback for the final release.
This coming month of July is going to be very exciting as we believe it will set a new top mark on cloud management platform with the release of the stable 5.4 version of OpenNebula!
Community
So it seems that the OpenNebula community hasn't yet gone into vacation mode. This month it features outstanding contributions which enrich greatly the OpenNebula ecosystem.
The first highlight we want to make is this nifty android vulnerability scanner using OpenNebula and android emulators. The scanner leverages OpenNebula VM management capabilities to provision VM emulators and then uses ADB to connect and start the analysis. Very good work!
Next, a new version of the integration component for OpenNebula and cloudkeeper has been released. Cloudkeeper read image lists provided by EGI AppDB, parse their content and decide what cloud appliances should be added, updated or removed from managed cloud. During the addition and update cloudkeeper is able to download an appliance's image and convert it to the format supported by the managed cloud.
Learning how OpenNebula is being used in real case scenarios is very motivating. This is why the team is very excited with the OnLife Project by Telefonica, which aims to build a CORD implementation using OpenNebula to virtualize and advance the Central Offices which gives you guys internet connection. Cool, isn't it?
Also cool to learn how people spread the world, like this very interesting talk on OpenNebula and Ceph given in the Harvard IT Summit by the FAS Research Computing group.
If you are an OpenNebula newbie and english does not flow strongly on you, but you know french, check out this tutorial on how to install OpenNebula over a Debian OS.
It is always pleasant to receive praise such as this one, specially after releasing a Beta version, and also specially being a Beta as feature packed as Medusa 5.4 Beta. We are counting on you to unearth as many nasty bugs as possible before the final release! Please let us know through the community forum or the development portal about such findings. The call for translations of the Sunstone web interface to different languages is still open, check out the instructions on how to contribute to the translations. THANKS!
Outreach
This last month the first US edition of the OpenNebulaConf happened in Boston and it was a total success! Outstanding keynotes by Harvard, Akamai and Telefonica showed why OpenNebula is a good choice if you are thinking about running a production cloud environment and simplicity, robustness and innovative features are the key points you are interested about. The conference also featured talks from integrators and cloud admins working in real world use cases running OpenNebula clouds. Also, several educational talks from members of the OpenNebula team were given on host topics like Docker, vCenter integration, hybrid cloud and so on. We want to thank everyone that attended the conference and contributed to create such a productive atmosphere, as well as enjoyed the beer and nice food at the Grafton! We will be uploading the videos, slides and pictures very soon, stay tuned.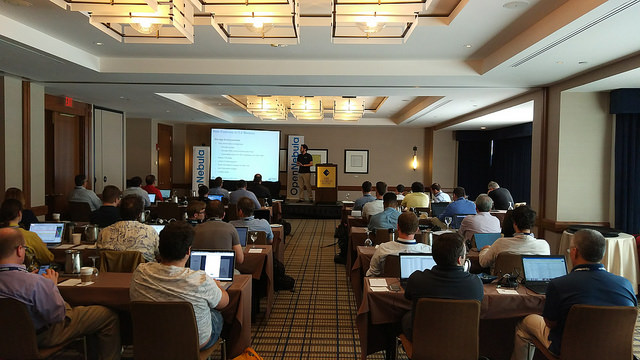 This year's OpenNebulaConf EU will take place in Madrid, Spain, this October. The keynote lineup has already been announced, and we will be publishing the agenda in a few days. The conference will be packed with very interesting talks about the production use of OpenNebula, so make sure you register if you'll be on the area!
The next OpenNebula TechDay will happen in Vancouver after the summer break, the 1st of September, hosted by Best Buy. The event is almost full, so if you are in the area make sure you register a soon as possible, or risk missing the opportunity!
The OpenNebula team is going to feature a booth in both VMworlds this year. If you are going to attend, do not forget to come by the OpenNebula booth to see a live demo of the latest stable version of your favourite CMP:
VMworld 2017 US, August 27-31, Las Vegas, Mandalay Bay Hotel & Convention Center
VMworld 2017 Europe, September 11-14, Barcelona, Fira Gran Via
Also, check out the list of official training from OpenNebula Systems for this year. If you are new to OpenNebula, or want to improve you knowledge with an in-depth OpenNebula admin course, those are the dates and locations you need to keep in mind.
Remember that you can see slides and resources from past events in our Events page. We have also created a Slideshare account where you can see the slides from some of our recent presentations.