This Newsletter is intended to OpenNebula users, developers and members of the community, and compiles the highlights of the OpenNebula project during this last month and what are the planned actions for the upcoming months.
Technology
The OpenNebula team released this month the latest stable release, 4.12 Cotton Candy. This is a stable release and so a recommended update for all production deployments. Cotton Candy comes with several improvements in different subsystems and components. OpenNebula is now able to generate cost reports that can be integrated with chargeback and billing platforms, and also presented to both the administrators and the end users.
Moreover Virtual Datacenters have been redefined as a new kind of OpenNebula resource. Making VDCs a separate resource has several advantages, for instance they can have one or more Groups added to them. This gives the Cloud Admin greater resource assignment flexibility.
Other perks of upgrading your installation to 4.12 include SPICE support, the excellent addition of Security Groups -allowing administrators to define the firewall rules and apply them to the Virtual Machines-, support for VXLAN, huge improvements in vCenter -import running VMs, network management, new vCenter cloud view, VM contextualization support, etc -,system datastore flushing, and many more minor features and important bugfixes. As usual, the migration path has been thoroughly designed and tested so updating to Cotton Candy from previous versions is a breeze. No excuses then for not bringing your OpenNebula to the latest state of the art in cloud management platforms!
Also this month a new release of vOneCloud, 1.2.1, the open replacement for VMware vCloud, was made available to the general public, meaning that all users without an active support subscription are able to upgrade through the Control Panel with a single click. If you are using vOneCloud 1.2, take this chance to get an improved version, including VLAN support through Sunstone, notifications of new releases, better log display at the Control Panel and more. And if you are still not using vOneCloud give it a try! We've packed 1.2.1 in an OVA for your convenience, just to keep you without excuses again 🙂
Community
We certainly love our community, and it seems like you love us back! We are very proud of having Runtastic among our users, and when they explain why they chose us, we feel elated. They started with OpenNebula using the virtualization management features, and are continuously evolving towards more cloudy features. Way to go!
Our newly-launched machines are automatically included into Chef, and start doing their work within a minute
Good to know that OpenNebula clouds are expanding, this means they are healthy clouds. Like this one by bpsNode, expanding to Miami and Dallas. We are also excited by awesome user stories like this one featuring Altus IT with Lenovo delivering IT infrastructures in Croatia using OpenNebula. Way to go!
How good is your Russian? If you are fluent, enjoy the reasons of why Yuterra chose OpenNebula and Ceph for its Private Cloud. Moreover, fluent in German as well? Check out this OpenNebula webinar then.
Spreading the word is also something we deeply value from our community, hence we want to welcome the newly born Barcelona User Group! If you are in Barcelona, check it out, you won't be disappointed. Also,we have like this example in FOSSAsia. And it is quite funny too, do not miss.
We love also this kind of feedback, how OpenNebula plays nice with other components in the ecosystem. Keeping our marketplace healthy and up to date is also kudos for the community, like this addition of ArchLinux to the catalog. Thanks!
A big thanks as well to all those members of the community that make possible to have a multi language Sunstone. This really foster adoption and we never could have done it without you! And last, but not least, it is very gratifying to see how OpenNebula helps build robust products like this one.
Outreach
After the second edition of the OpenNebula Conference, we are already preparing for the upcoming, third edition in Barcelona, October 2015. Interested? You are still in time for getting a good price deal for tickets. If you want to share your OpenNebula experiences, the call for papers is open as well until the end of this month, so the clock is ticking, do not miss the chance!. Also, your company may be interested in the sponsorship opportunities for OpenNebulaConf 2015.
This last month, the OpenNebula project proudly sponsored a corner of the Open Cloud & Developer Park at the Cloud Expo Europe. During two intense days, members of the team gave several talks about the OpenNebula philosophy, design and features in the Park's theatre. Also on board in the OpenNebula corner, our partners from CoudWeavers showed how OpenNebula do everything it does with a minimal footprint. The guys from viApps also did not missed the opportunity to be in a pod in the corner to tell the attendees about their integration and added value. OpenNebula Systems, the company behind OpenNebula, was also present in their own pod presenting vOneCloud, the product that turns your vCenter infrastructure into a private cloud. Also, Runtastic introduced us to the reasons why they chose OpenNebula over other Cloud Management Platforms, to build a cloud serving 50 million users. Impressive!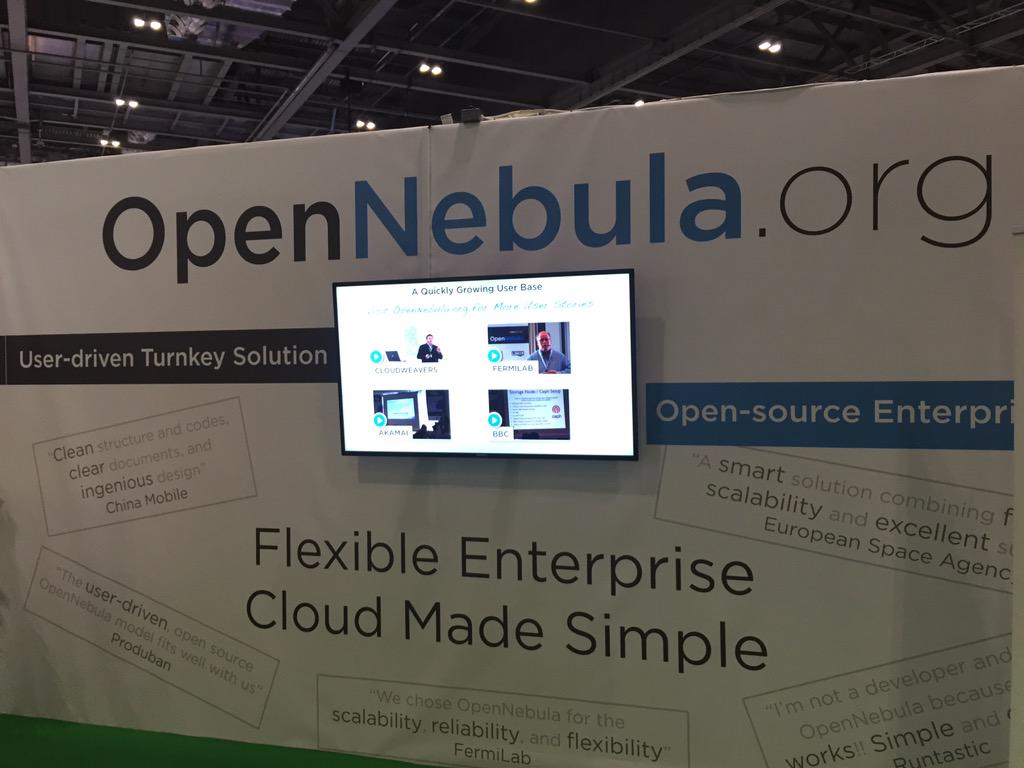 The TechDay in Prague was a total success, with a full house with high participating attendees and lots of juicy feedback. We plan to follow with other cities including Chicago, Dallas and Dublin. Send us an email or send it to the community discuss mailing list if you are interested in hosting a TechDay event.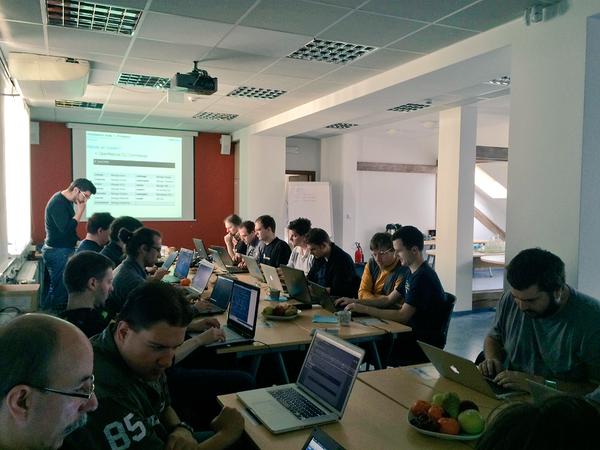 As you may know, OpenNebula is participating in the BEACON project, flagship European project in federated cloud networking, due to this members of the team traveled to Brussels for the NetFutures15, to find synergies with other research projects.
During the following months, members of the OpenNebula team will be speaking in the following events:
If you are interested in receiving OpenNebula training, check the schedule for 2015 public classes at OpenNebula Headquarters. Please contact us if your would like to request training near you.
Remember that you can see slides and resources from past events in our Events page. We have also created a Slideshare account where you can see the slides from some of our recent presentations.