If you want to keep up to date with the latest news from the OpenNebula project this past month, check out this monthly edition of the most innovative open source cloud management platform.
The OpenNebulaConf US 2017 will take place this month! This 19th an 20th part of the OpenNebula team will be in Cambridge, Massachusetts. You can already check the agenda with keynotes by Akamai, Telefonica and Harvard. Also, the keynote speakers for the OpenNebulaConf EU 2017, in Madrid this October, have already been announced, including BlackBerry, Trivago, Runtastic and the Ministry of the Flemish community.
Technology
OpenNebula 5.4 Beta is just around the corner! Codenamed Medusa, OpenNebula 5.4 is the third release of the OpenNebula 5 series. A significant effort has been applied in this release to stabilize features introduced in 5.2 Excession, while keeping an eye in implementing those features more demanded by the community.
As usual almost every component of OpenNebula has been reviewed to target usability and functional improvements, trying to keep API changes to a minimum to avoid disrupting ecosystem components. An important focus has been on the vCenter integration, with an enhanced network and storage management.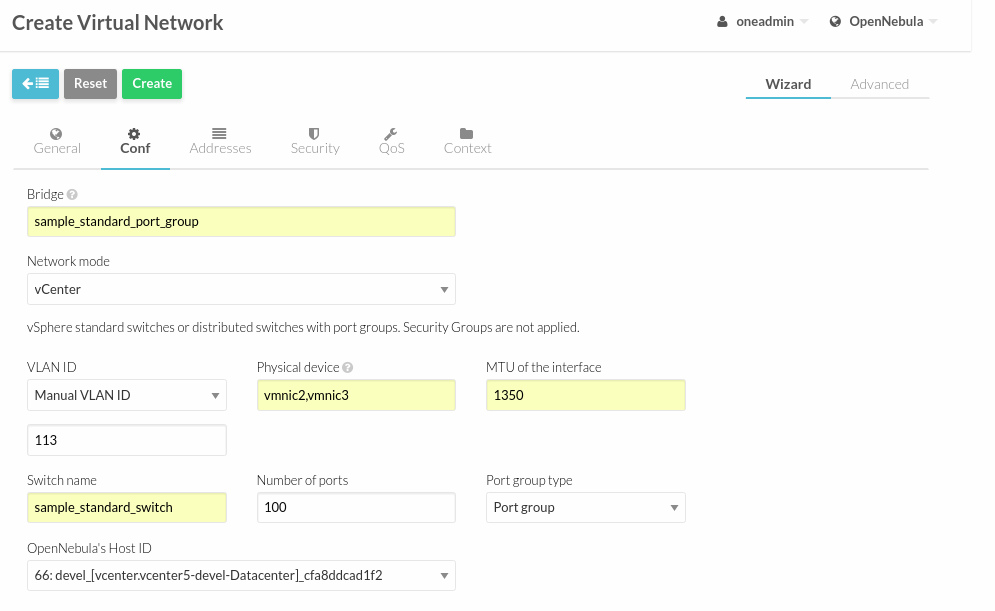 A new resource to implement affinity/anti affinity VM-to-VM and Host-to-Host has been added to OpenNebula, the VM Groups. A VM group is a set of related virtual machines that may impose placement constraints based on affinity and anti-affinity rules.
To top it all, OpenNebula 5.4 brings to the table a native implementation of a consensus algorithm, which enables the High Availability deployment of the OpenNebula front-end without relying to third party components. This new functionality of distributed system state is also used to implement OpenNebula federation.
There are many other improvements in 5.4:
like improved VM lifecycle
flexible resource permissions
live disk resizing
improved Ceph support
enhanced disk I/O feedback
showback cost estimate in Sunstone
flexible IPv6 definition
http proxy support for marketplace
purge tools for the OpenNebula database
resource group isolation
user inputs in OneFlow
and many many more features to enrich your cloud experience! We'll appreciate any feedback about the 5.4 Beta to iron out possible issues prior to the upcoming stable release.
Community
Maintaining an OpenNebula addon is not an easy task, but it is a crucial one for the success and widespread adoption of a third party component. Keeping up to date, and tested, against the latest OpenNebula version is of paramount importance to ensure its use by OpenNebula users. We want to bring you attention over the expertly crafted LXDoNe, and addon to enable OpenNebula on the management of LXD Containers. LXD is a daemon which provides a REST API to drive LXC containers. Containers are lightweight OS-level Virtualization instances, they behave like Virtual Machines but don't suffer from hardware emulation processing penalties by sharing the kernel with the host.
Our friends at Comsysto have published a very interesting article on how to build a Private Cloud infrastructure with OpenNebula. This efforts are very important for the community since they spread the word and help to present what OpenNebula is about under other perspectives, enriching the ecosystem.
With OpenNebula we can build a simple and robust infrastructure that is focused on users needs and not on vendor specifics. Upon basic setup, user's can already benefit from the installation because OpenNebula enables the user to be self-sustained and not to depend on System administrator or vendor to create and manage their VM's. It is easily scalable and it can be installed on top of most hardware.
It is also very satisfying to learn how fellow developers chose OpenNebula to build their Continuous Integration infrastructures, like this fine article by the Qt folks.
Two thumbs up to all the OpenNebula advocates that support new OpenNebula users (or more seasoned users) in our support forum and in the IRC channel at freenode (#opennebula). You are a great asset to this project!
We do our best to review and incorporate those PRs aligned with the OpenNebula roadmap. We are grateful for the numerous contributions that help stabilize and enhance the OpenNebula software.
Outreach
The first US edition of the OpenNebulaConf is due in two weeks! Specifically, this June 19-20 in Cambridge, Massachusetts. There are a few places left if you are willing to attend, but you should register fast! The european edition will be held in Madrid, Spain, on October 23-24.
We had three very successful OpenNebula TechDays this past month of May. The first one was based in Madrid and hosted by Telefonica, featuring interesting talks about the use of OpenNebula in large enterprises. The TechDay in Sofia hosted by StorPool was oriented to integrations and interesting use cases on top of OpenNebula. The Barcelona TechDay hosted by CSUC, with a great turnout, was focused to the usage of OpenNebula in academic fields to foster research. Thanks a lot to those who came to the TechDays and for the organizers for hosting them!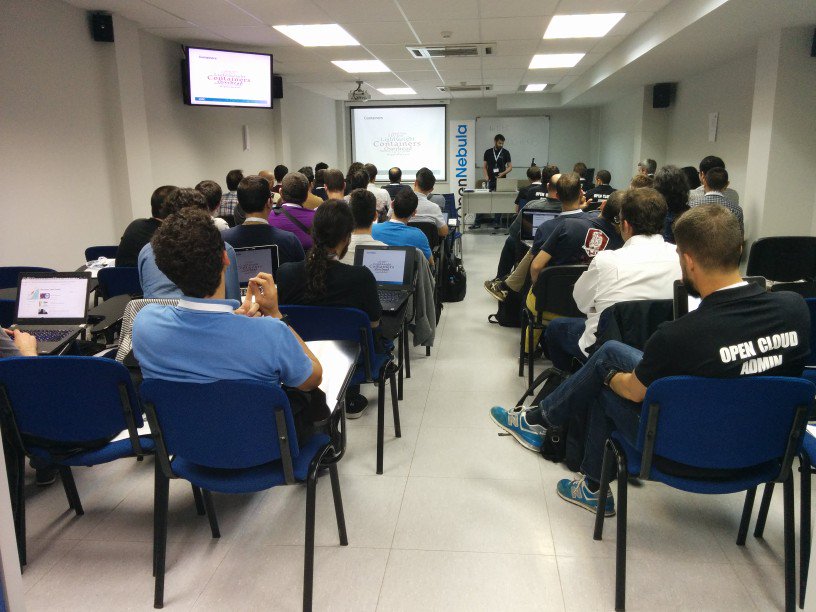 The OpenNebula team is going to feature a booth in both VMworlds this year. If you are going to attend, do not forget to come by the OpenNebula booth to see a live demo of the latest stable version of your favourite CMP:
VMworld 2017 US, August 27-31, Las Vegas, Mandalay Bay Hotel & Convention Center
VMworld 2017 Europe, September 11-14, Barcelona, Fira Gran Via
Also, check out the list of official training from OpenNebula Systems for this year. If you are new to OpenNebula, or want to improve you knowledge with an in-depth OpenNebula admin course, those are the dates and locations you need to keep in mind.
Remember that you can see slides and resources from past events in our Events page. We have also created a Slideshare account where you can see the slides from some of our recent presentations.