Check this Newsletter to find out the what kept us busy this month: latest developments, events and future plans for the upcoming months.
The third OpenNebulaConf was a great success. Great location, great people, great experiences exchange an great food! Check the Outreach section for the aftermath and stay tuned because in a few days we will publish the photos, slides and videos of the presentations.
Technology
Autumn is here! Leafs are falling, rains from time to time and it's getting cold. So the OpenNebula team has decided to lock themselves up and prepare a worthy maintenance release for Great A'Tuin, the 4.14.2. It will come with a lot of bugfixes and several features. But don't worry, we will be extra careful to ensure compatibility, specially taking into account that it is a maintenance release after all.
For instance, 4.14.2 will bring improvements in the hybrid connectors the ability to substitute PUBLIC_CLOUD attributes á la context, extract monitoring information (CPU and Networking) from EC2 Virtual Machines through the use of CloudWatch and User Data for EC2 will be available as a Sunstone user input (that is requested from the end user at the time on instantiating a Virtual Machine).
4.14.2 will also bring important improvements to vCenter integration. Large scale deployments will benefit from the pagination of vCenter import dialog, as well as multi-cluster VM templates. An important addition is also the integration with VMware guest customization, which leverages the guest OS support for customization that traditionally exists on VMware infrastructures.
Also, Sunstone will bring good news for developers, with accommodations to ease third party integrations, like the improvement of the mechanism to add external tabs. You can check the complete list of changes in the development portal.
We see the benefits in Docker, and want to help our admins to deploy their favorite Docker shipped appliances in their OpenNebula infrastructures. That's why we have integrated OpenNebula within Docker Machine. This allows you to experience the best of both worlds: by using Docker with OpenNebula developers will use Docker transparently, but OpenNebula admins can control where these VMs are executed.
The AppMarket is getting its share of love, and a new version will be published in a few days with full compatibility with OpenNebula 4.14.2, as soon as the maintenance release is out.
The team has also released a new version (1.8) of vOneCloud. This new release of the appliance, based on a tailored version of OpenNebula 4.14 Great A'Tuin to ease the provisioning of resources from vSphere based infrastructures, comes packed with exciting new features, like the ability to configure the deletion of disks after finishing the VM lifecycle, friendly VM display name in vCenter, better naming on resource import and improvements in the Control Panel to further configure the vOneCloud appliance.
Community
The OpenNebula community was busy this month attending the OpenNebula Conference. But those that couldn't make it, where also active in other ways.
Our friends at BlackBerry announced recently announced a new chef driver for OpenNebula. This driver comes with additional chef resources to manage OpenNebula: templates, images, vnets and leases!
Also worth noting that our friends and OpenNebula users at Harvard are hard at work designing their OpenNebula based infrastructure. It will definitely work!! People are also growing fond of vOneCloud, and lot of new users are coming due to our participation in the VMworld. More details in the next section.
One very important aspect of software development is maintenance. We understand this in the OpenNebula project, and do our best to keep a steady release cycle, provide a migration path and, specially, keep backwards compatibility. For this reason, we appreciate that our add-on ecosystem follows the same principles, like the lxcone set of drivers, that recently announced a new version.
Outreach
The third OpenNebula Conference was a great success! We love our community, seriously guys, you rock big time. Three days packed with interesting talks and great experiences exchange in the 'hall track'. A great set of sponsors showed their integrations and use of OpenNebula, and their added value. We hope you liked the organization and the venue, and of course, the choice of food and places for the social events. We had a blast organizing it, and all the team feels it was a productive event for the attendees. Let's hope we are right, we are willing to see you next year! We would like to take this opportunity to also thank our Platinum Sponsors PTisp and StorPool; Gold Sponsors ungleich (check out their summary of the conference), Xen Server and NodeWeaver; and Silver Sponsors Runtastic and No Limit Network.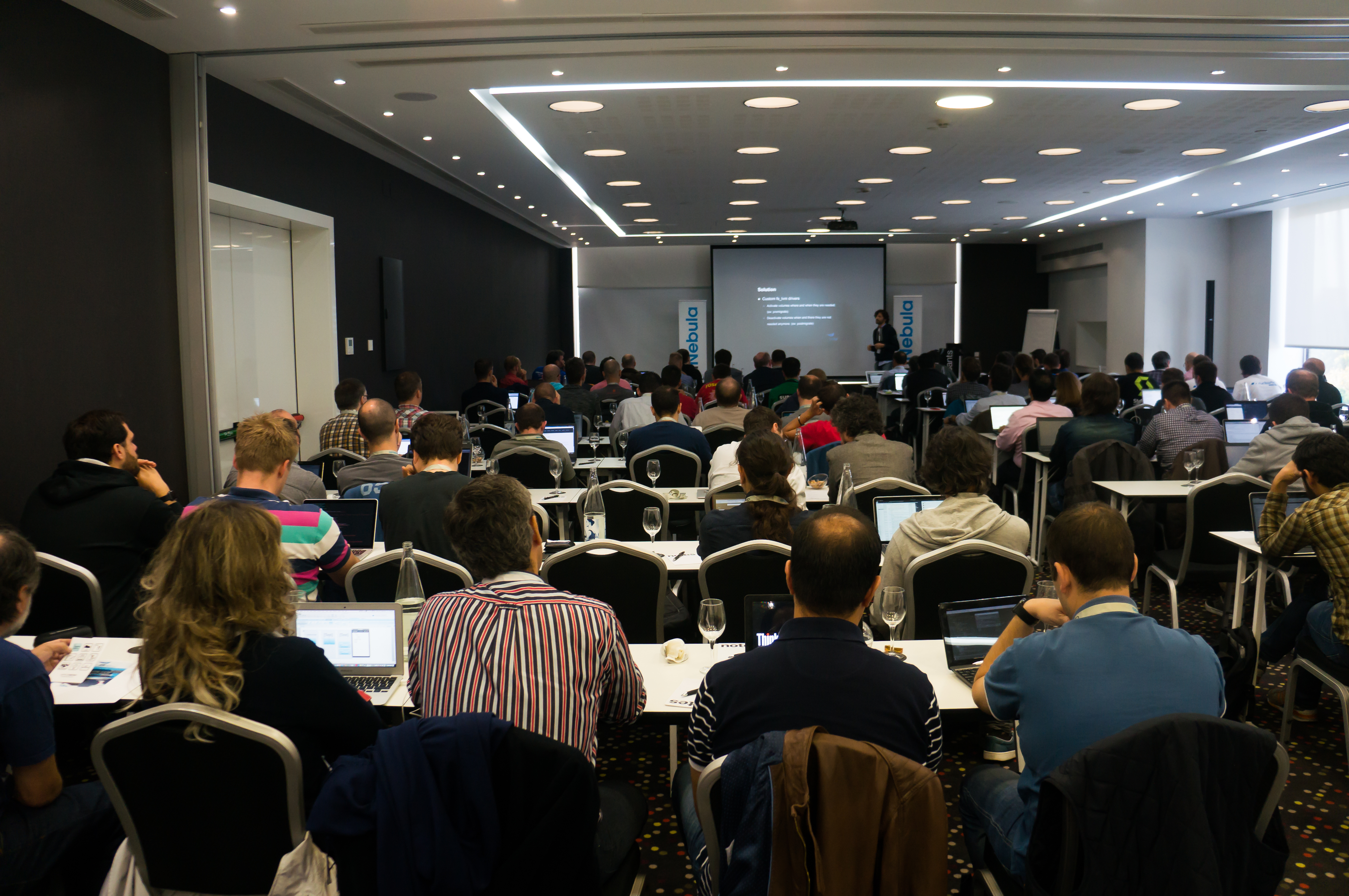 We uploaded the slides of the talks and you can find here the pictures of the conference. Check out the great keynotes of Unity and Runtastic, the to-the-point (as always) and hugely amusing talk by Carlo Daffara, the BlackBerry lightning talk … a wealth of information if you are running or planning to run an OpenNebula cloud. Videos will be available soon, stay tuned!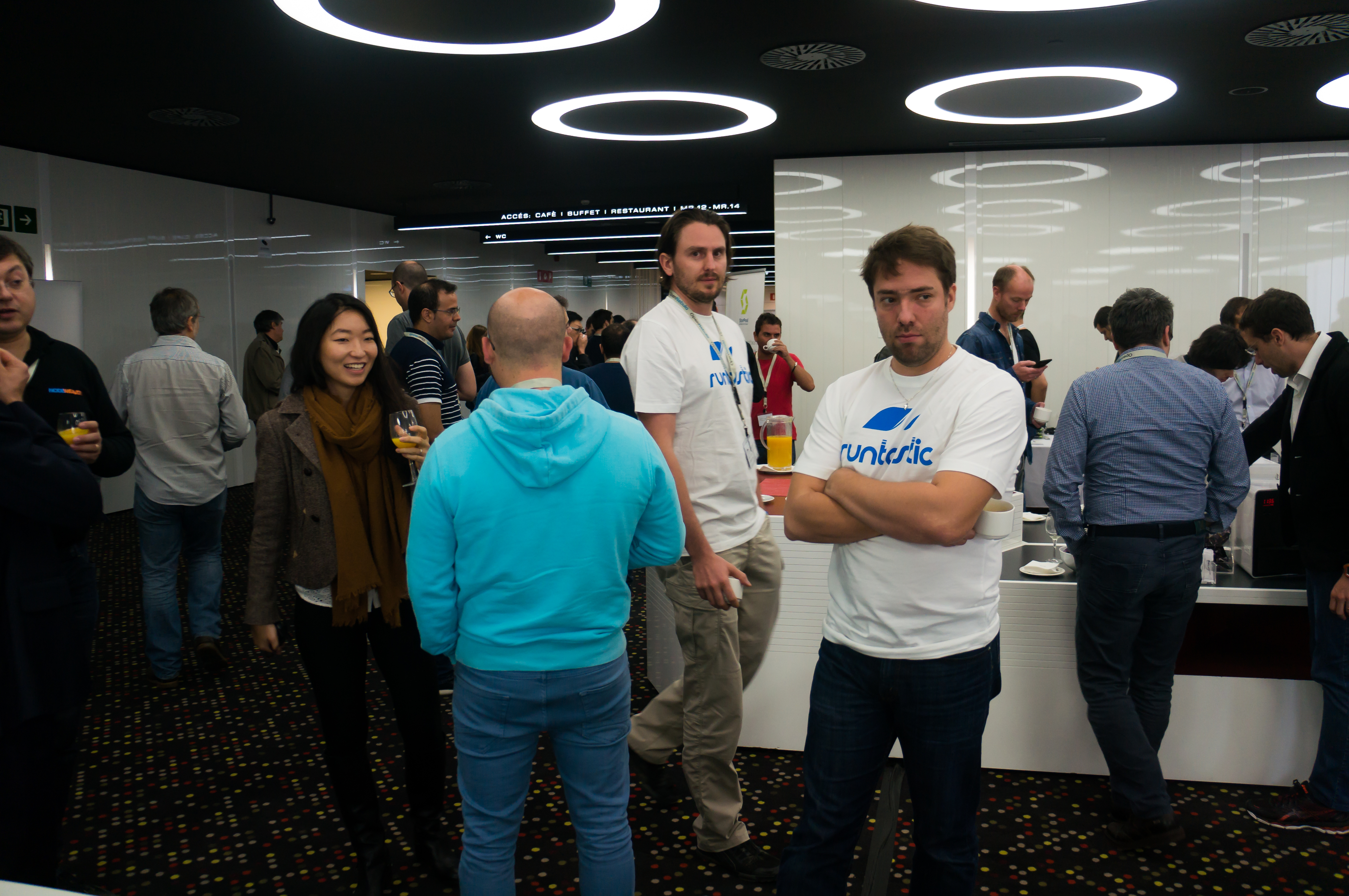 Colocated with the OpenNebula Conf was a new edition of the CentOS Dojo. Check out the agenda, you can find the slides and videos of the talks in the CentOS wiki.
The team was also present in the VMworld Europe 2015 in Barcelona. A great event, where we introduced vOneCloud 1.8, the open replacement for vCloud director. It was awesomely well received, we hope it accommodates a wide range of use cases.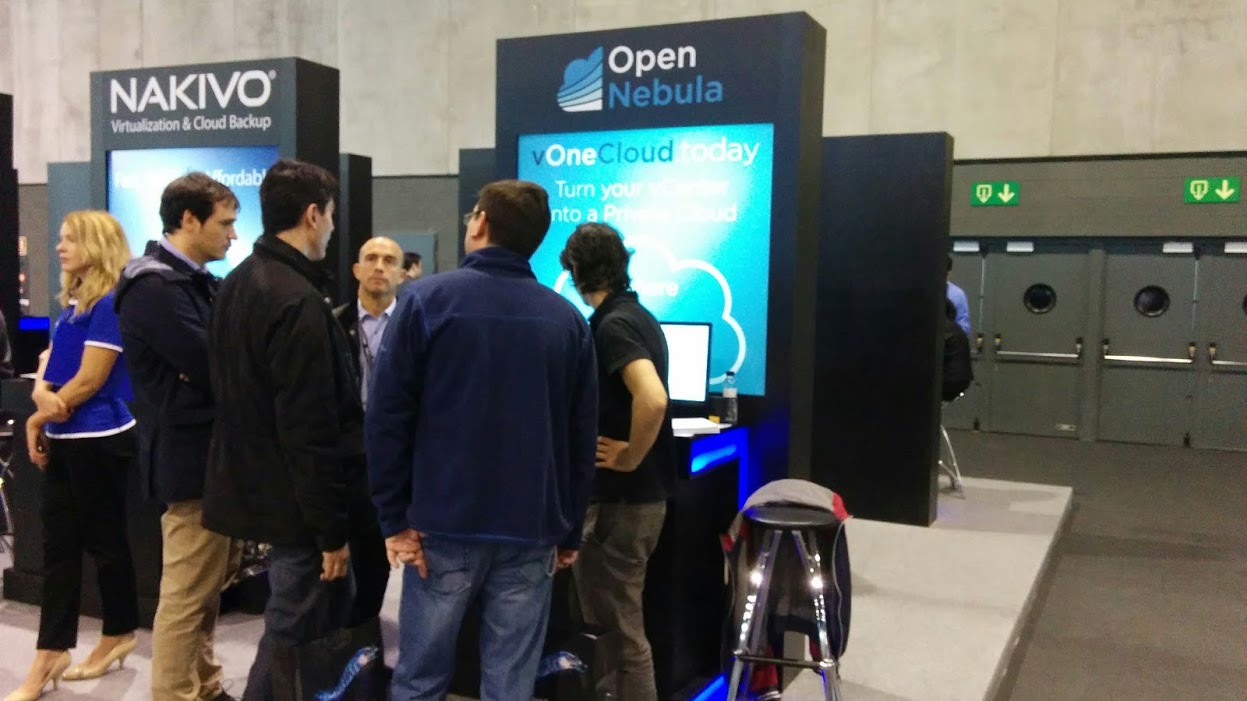 If you are interested in receiving OpenNebula training, check the schedule for 2015 public classes at OpenNebula Headquarters. Next public OpenNebula training will take place next 15th of December in Madrid. Please contact us if your would like to request training near you.
Remember that you can see slides and resources from past events in our Events page. We have also created a Slideshare account where you can see the slides from some of our recent presentations.