OpenNebula 6.8 'Rosette' is the fifth stable release of the OpenNebula 6 series. This version of OpenNebula focuses on features to improve the end-user experience as well as to optimize the use of the HW resources in KVM-based infrastructures.
⭐ The first highlight of the 6.8 release is the addition of Virtual Datacenter (VDC) and User tab to FireEdge Sunstone. We're diligently transitioning from the trusted Ruby Sunstone, which has been the face of OpenNebula for over a decade, to FireEdge Sunstone. This new interface not only replicates most of the functionalities of its predecessor but also introduces new features. For instance, the User tab now encompasses Accounting and Showback information, available in various chart formats. Additionally, the Quotas subtab has been revamped for clearer information presentation.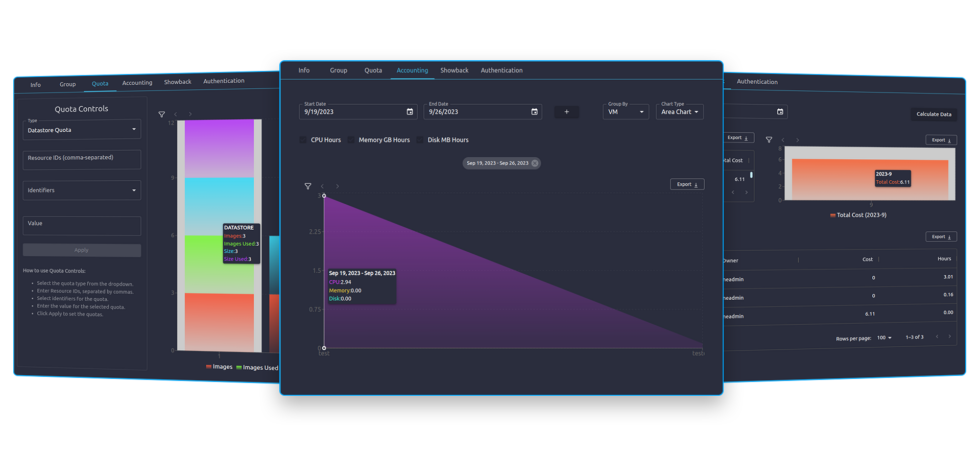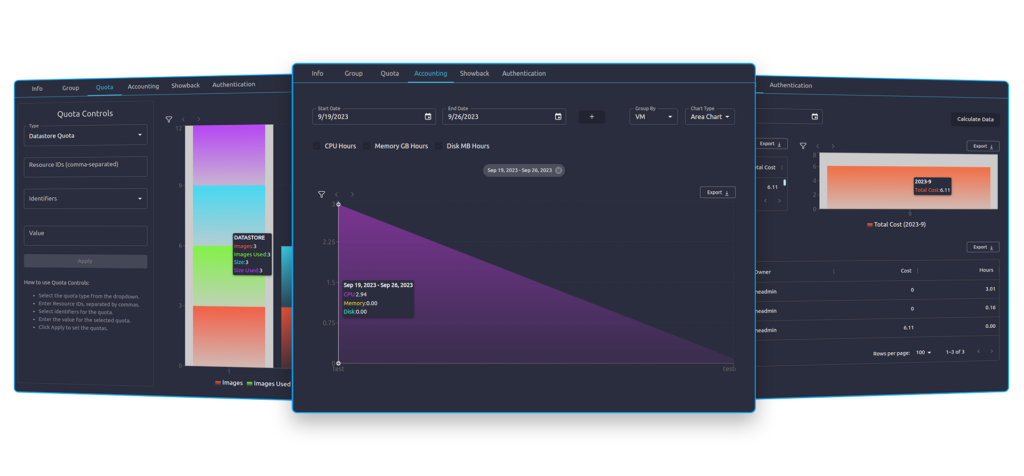 ⭐ The second highlight is related to Backup functionality. The introduction of Backup Jobs simplifies multi-VM backup operations, allowing for a cohesive backup strategy. This feature provides a streamlined approach to backup schedules, retention, and filesystem freeze mode. It also offers real-time monitoring of backup operations, ensuring minimal disruption to ongoing tasks.
⭐ Lastly, the KVM drivers have seen numerous improvements. Users can now fine-tune CPU flags, specify the io_uring driver for disks, customize video devices for VMs, and set default timers to boost Windows performance. Many of these options are accessible via Sunstone.
As a bonus, the scheduler can be now configured to reach out to an external module (with a well-defined REST API) to get recommendations on initial VM placement. The motivation behind this new feature is to be able to integrate OpenNebula with different Machine Learning modules that can optimize different metrics to optimize a given criteria or set of criteria: reduce energy consumption, reduce latency with respect to end user, reduce overall infrastructure cost, etc. Check below to learn what other goodies, and bug fixes, made it into OpenNebula.
As usual, OpenNebula 6.8 is named after a Nebula. The Rosette Nebula (also known as Caldwell 49) is an H II region located near one end of a giant molecular cloud in the Monoceros region of the Milky Way Galaxy. The open cluster NGC 2244 (Caldwell 50) is closely associated with the nebulosity, the stars of the cluster having been formed from the nebula's matter.
OpenNebula 6.8 'Rosette' is considered to be a stable release and as such it is available to update production environments 🚀
We'd like to thank all the people who support the project, OpenNebula is what it is thanks to its community! Please keep rocking.
🇪🇺 Part of the new functionality in OpenNebula 6.8 'Rosette' has been funded by the COGNIT Project through the European Union's Horizon Europe research and innovation programme, under Grant Agreement 101092711 – SovereignEdge.Cognit (2023-2025).