ℹ️ Visit OpenNebula.io/mastering-containers for detailed notes and guidance on how to use OpenNebula to deploy Kubernetes clusters and orchestrate containers at the edge.
In early May we announced that we had incorporated K3s as a new virtual appliance available to all OpenNebula users. K3s is a CNCF-certified, lightweight Kubernetes distribution especially designed for resource-constrained environments, which makes it ideal for edge and IoT deployments. Originally developed by Rancher Labs, K3s was accepted by the CNCF as a Sandbox project in mid-2020. It is distributed as a single binary (<100MB) and with minimal external dependencies, but it provides powerful features such as a local storage provider, a service load balancer, a Helm controller, and the Traefik ingress controller.
OpenNebula is a powerful, but easy-to-use, open source Cloud & Edge Computing platform that helps you deploy Kubernetes and K3s clusters on-premises, on the cloud, or at the edge. Thanks to the updated K3s Virtual Appliance, already available from our Public Marketplace, OpenNebula users can easily provision multi-node K3s clusters at the edge, with the possibility of configuring a self-registration of those same clusters onto their existing Rancher environment. This new feature allows users to easily automate large-scale Kubernetes deployments using OpenNebula and then manage applications at scale on any infrastructure (on-prem, on a public cloud, or at the edge) using tools like Rancher Fleet for your GitOps workflows.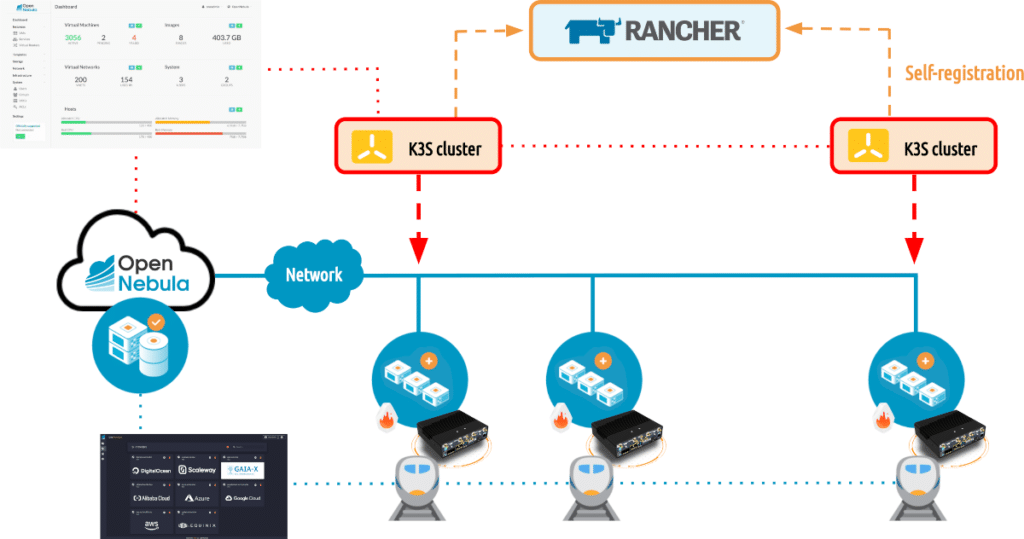 Watch a demo! 🚀
You can see a demonstration of these new features in the talk we presented at SUSECON Digital 2021 along with OpenNebula's new partner FullStackS, in which we showcased how a technical solution based on combining OpenNebula, Firecracker, K3s, and Rancher provides an innovative approach for leveraging Kubernetes edge deployments at scale 😉