We are opening the Call for Hosts for the OpenNebula TechDays 2018!
The OpenNebula Cloud TechDays are day-long educational and networking events to learn about OpenNebula.  Join our technical experts from OpenNebula by OpenNebula Systems for a one-day, hands-on workshop on cloud installation and operation. You'll get a comprehensive overview of OpenNebula and will be equipped with the skills to take this back to your company and implement right away.
The OpenNebula TechDay events are targeted at
Cloud architects
Data center admins
Systems admins and integrators
DevOps architects
Solutions architect
The emphasis is to deliver an education oriented event, with local speakers and users to come together to share stories from their experiences using OpenNebula.
OpenNebula TechDays started in March 2014 and we've celebrated already 28 TechDays in the Netherlands, Belgium, Spain, United States, Romania, Czech Republic, France, Canada, Malaysia, Bulgaria, Germany and Ireland. They have been hosted by organizations like:
BestBuy
Telefonica
BIT.nl
Transunion
HYVE
Microsoft
BlackBerry
Harvard University
Netways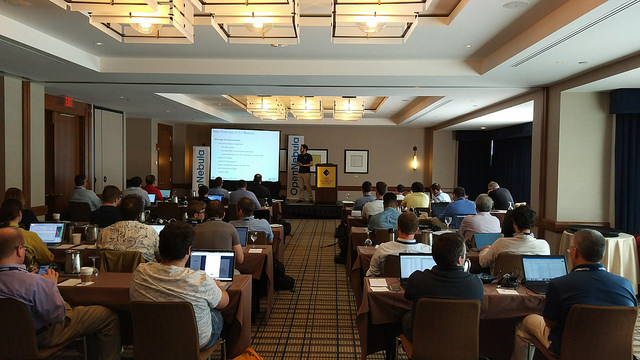 Do you wish to become a TechDay host for 2018? It's very easy, drop by the TechDays guidelines and form, and get in contact with us, we only require that you provide a room with enough capacity for the attendees and some essential materials (wifi, projector, etc…). Deadline for this call is December 15, 2017.
Thanks!