May 2019 OpenNebula Newsletter contains the highlights of the OpenNebula project and its Community throughout the month.
Technology
This past month we had some "spring cleaning" to do, starting with giving our OpenNebula Marketplace a bit of a face-lift. We've taken our established repository of appliances and have provided a fresh interface to let you explore with ease.
Additionally, the OpenNebula Systems team has been heads down working on additional features to be included in the upcoming 5.10 release. One which may be of specific interest is the work we are doing to extend our current hooks mechanism. The idea is to extend it to handle additional common use cases, like being able to hook on API calls, as well as providing better feedback on execution. The team is also working on a NUMA-aware scheduler. Thanks to the new extensions, the scheduler will plan the allocation of VM's so they can better exploit the underlying hypervisor topology. You will also be able to guide the capacity allocation by selecting different NUMA policies so VM's will either share or not share hypervisor CPU's with other VM's.
We continue to highlight the advanced capabilities and integration that OpenNebula provides for addressing edge computing use cases with our recent launch of the ONEedge.io website. This site will become a growing resource for the evolving OpenNebula features that address the mounting use cases on the edge.
Community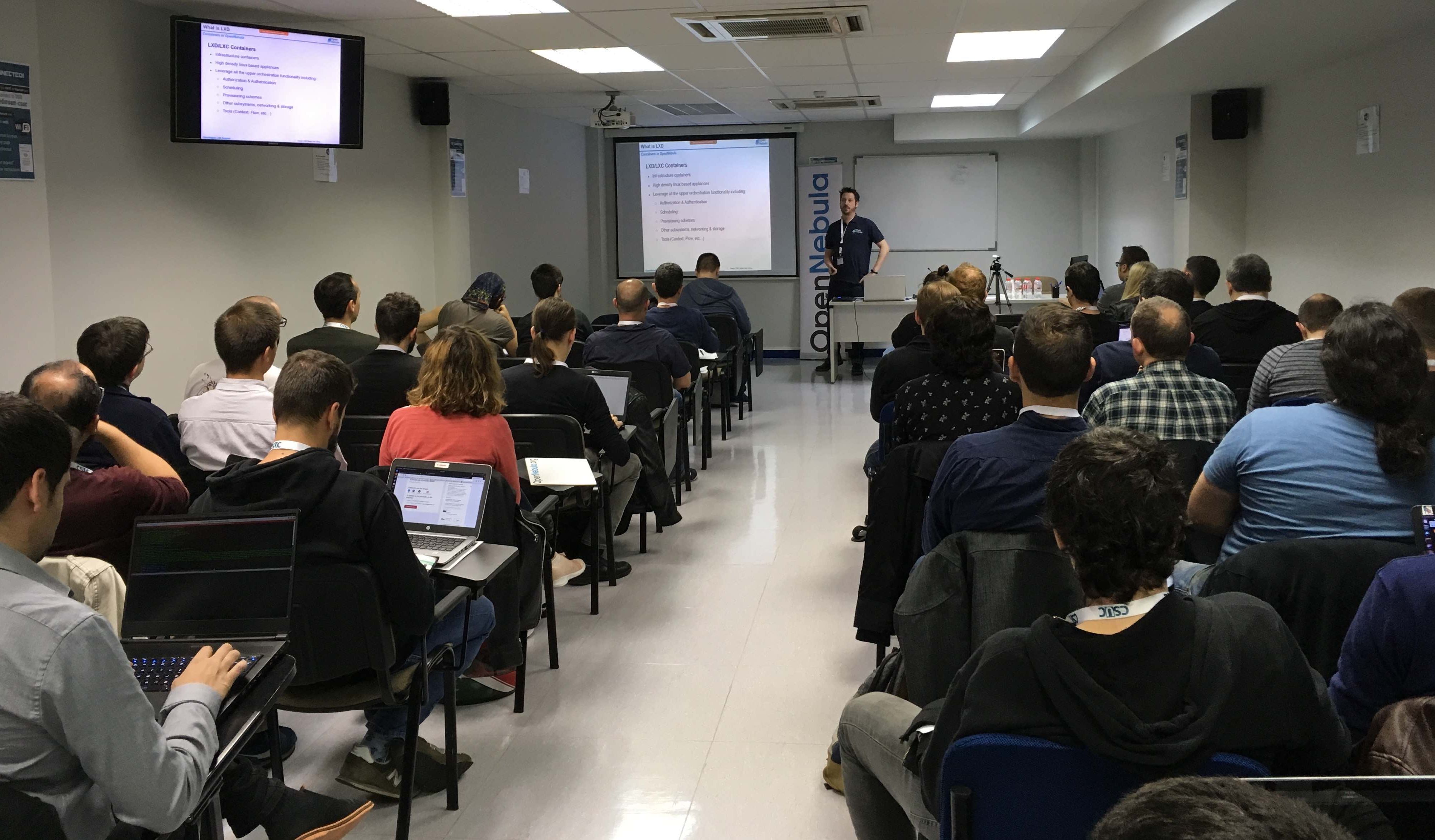 This month we gathered with folks from the user community and held two OpenNebula TechDays. Our first one was held in Barcelona, Spain, where we were hosted by CSUC and generously sponsored by Huawei. We carried out our Hand-On Tutorial, as well as providing a deep-dive into LXD support in OpenNebula v.5.8. And we had a packed agenda of speakers from the community sharing their insight and unique perspectives. Check out details with included presentations.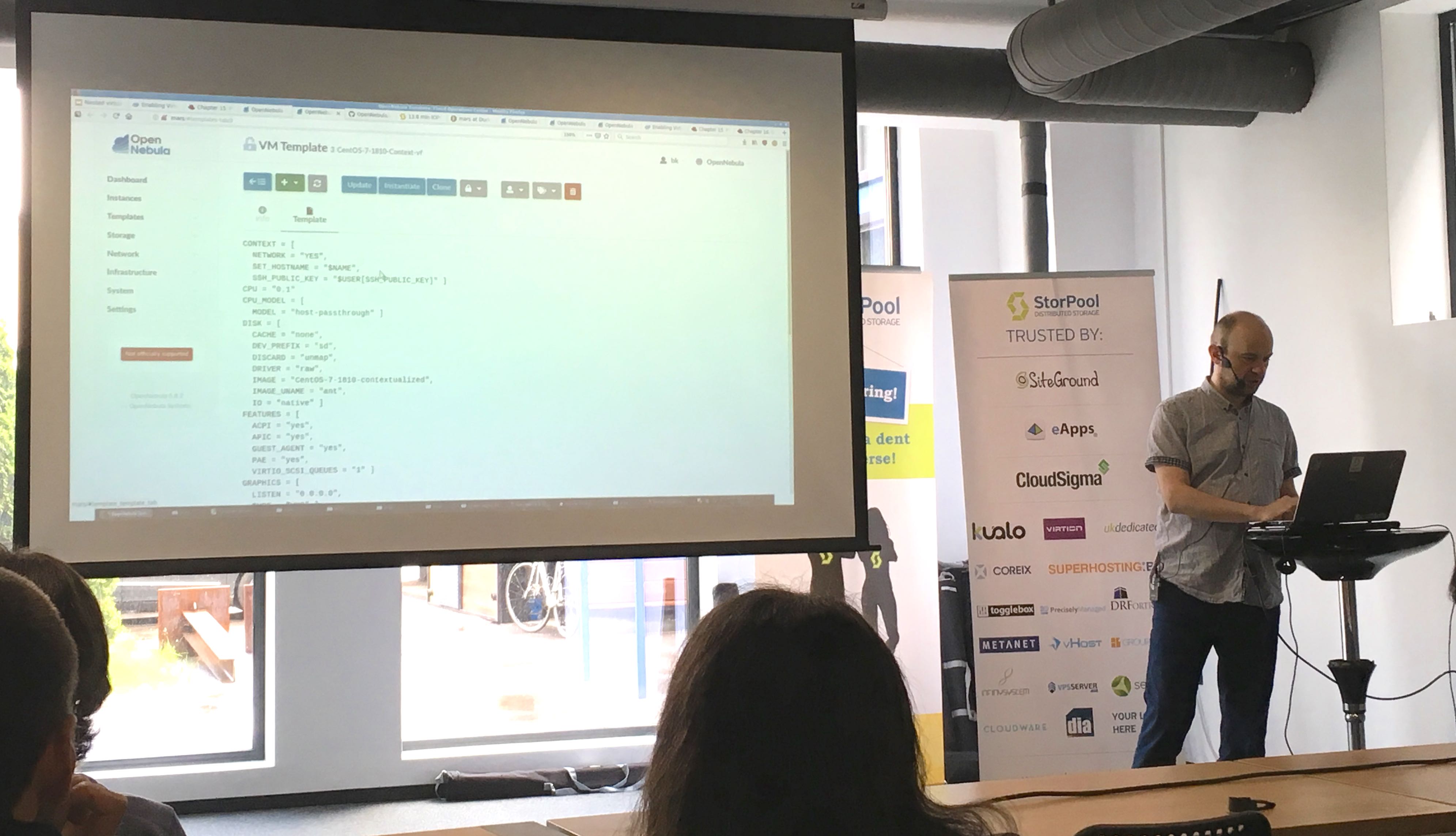 We also held a TechDay in Sofia, Bulgaria, where we were hosted by StorPool, and heard from OpenNebula users in the community, discussing topics including Cloud Disaggregation, Nested Virtualization, and learned some nuggets from a few "success stories". Check out the details with included presentations.
ARGO-ICT provided and inside look into how they are using OpenNebula, why they have chosen it out of the crowded market of solutions, and how they are reaping benefits from its scalability and automation. If you're looking for a comprehensive run-down of why OpenNebula stands out for its simplicity, take a look at this post.
Our local communities are beginning to grow, as well, as an "OpenNebula Boston" Meetup Group was recently established. The intention here is to create self-sufficient, local communities to foster communication and collaboration for those interested in OpenNebula. We will work together with you to set up some more in the near future.
Outreach
OpenNebulaConf 2019 is approaching quickly! The Call for Presentations has closed, and we are now wrapping up the final details of our agenda. We've got some interesting things lined up, and a bunch of fresh, new ideas to ensure that this year's conference packs a solid punch. Don't miss out on the Early Bird pricing, and join us in Barcelona, Spain on October 21-22, 2019.
Stay Connected!