Welcome to our monthly newsletter! 👋 Sign up now to get timely updates on new releases, community events, tutorials, workshops, webinars, cool hacks, and much more!
Technology
What an exciting month it's been here at OpenNebula Systems, especially for our corporate users and customers! A big thanks to our Engineering Team for releasing OpenNebula 6.4.4 Enterprise Edition, our latest LTS Maintenance Release. This version comes with new support for CentOS, Amazon Linux, and OpenSUSE marketplace images.
But that's not all… we just released version 6.6.2 Enterprise Edition a few days ago! This STS Maintenance Release comes with many new features and fixes. Among other novelties, it introduces the ability to pin the virtual CPUs and memory of a VM to a specific host NUMA node… not bad, right?
🐬 For all the Kubernetes enthusiasts in our community, we've got exciting news for you! An updated version of the OpenNebula Kubernetes Engine (OneKE) is already available on our Public Marketplace. Built on the solid foundations of Kubernetes 1.27, SUSE Rancher's RKE2, and Longhorn, you can now easily deploy our CNCF-certified OneKE virtual appliance across your on-premise, hybrid, and edge clouds. Dive right in and let us know your thoughts!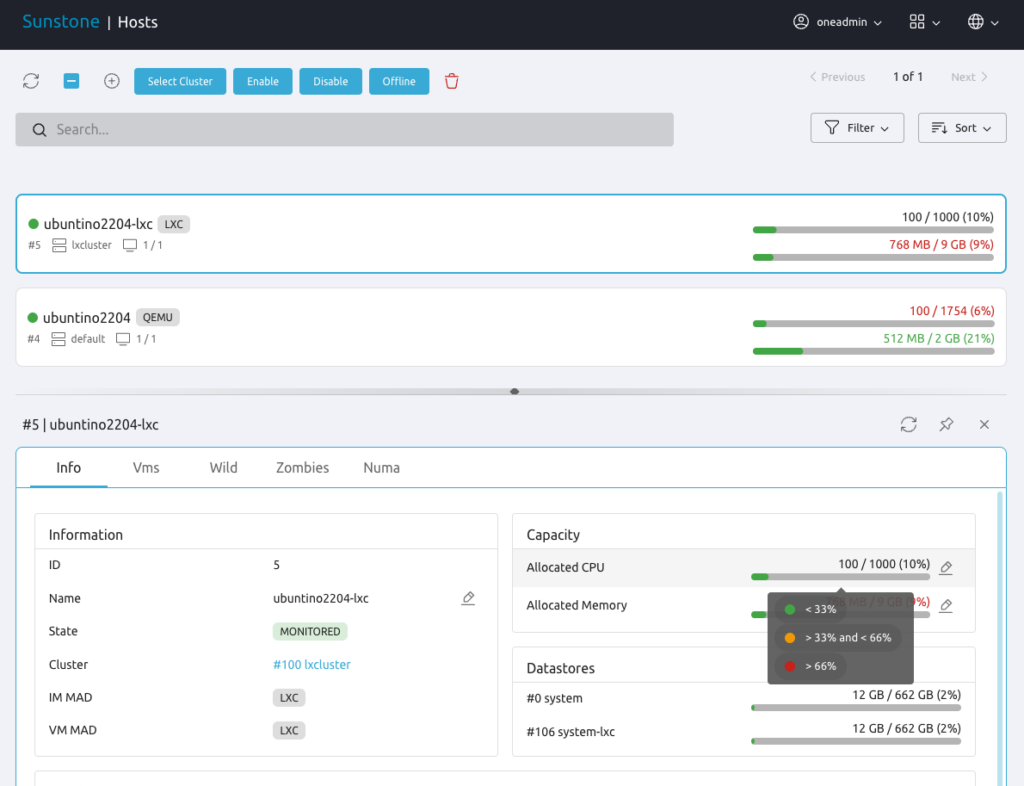 📡 MESSAGE FROM THE ENGINEERING DECK
FireEdge Sunstone keeps its good pace and firmly advances as a full-fledged web interface for OpenNebula. The latest 6.6.2 EE introduces remote authentication -- hello, single sign-on! -- improvements in the host tabs, better NUMA exposure, revamped Scheduled Actions dialogs, and much more! As usual, we will deeply appreciate your feedback, let's shape together this unique window to the cloud! 🖖

Community
First of all, please join us in welcoming our new Open Source Community Manager: Francisco Picolini! He's geared up to nurture and grow our vibrant OpenNebula community, fostering a collaborative environment where innovation thrives 🚀
And another exciting update: a new screencast showing our recent integration with Prometheus is live! Dive into our comprehensive video tutorial where we explore the new monitoring capabilities in OpenNebula EE, adding data sources, configuring the alert systems, and leveraging the fresh Grafana dashboards. Enjoy!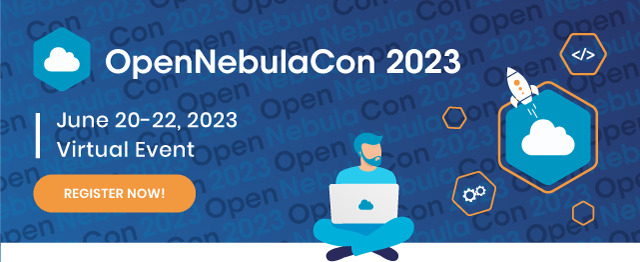 Outreach
We're still basking in the afterglow of TechDay Madrid, which took place on May 8. It was a day dedicated to Open Source for Next-Generation Edge Clouds, and we're ecstatic about the success of this event, in which, among others, we were joined by representatives from large system integrators like Indra, UST, and Deloitte. A huge thank you to all participants! 
Moving on to the OpenNebula Conference 2023, the wheels are in motion and we are happy to announce that the agenda for the event is now ready! With more than 40 speakers from 30 different participating organizations, sessions cover many trending topics around open source cloud and computing, including Automation, Monitoring, Kubernetes, Telco Cloud, Backups, SDS, and much more 🤩 Don't miss this unique opportunity!