Be up to date with this monthly newsletter of the OpenNebula project with the latest advances in in the technology, community work and the dissemination efforts carried out in the project this past month.
As you may know, the first ever US edition of the OpenNebulaConf will take place on June 19-20 in Cambridge, Massachusetts. The final keynote lineup will be announced shortly. The call for presentations is open through March 17 and the very early bird registration is available through March 20.
Our first release of the software was 9 years ago. Find our vision of these past years in this post.
Technology
OpenNebula 5.4 is approaching fast its first beta release. The vCenter driver is undergoing a major refactoring, and the storage and networking aspects, as well as import mechanism are getting a whole pack of new functionality. Other important functionality that will make it into 5.4 is: linked clones, vSphere 6.5 support, public and private marketplaces, new cache mechanism that means performance enhancements, and much more!
But not only vCenter is getting its share. More general functionality is also in the works, with exciting new possibilities like defining VM Groups to implement affinity and anti affinity rules for VM deployment. This enables multiple use cases in which the colocation (or not) of VMs between them or with particular hosts is relevant. This added to the improvement in permissions definition -giving more flexibility to who can execute what-, enhanced history logging, image persistency selection, general Sunstone improvements and many more means that 5.4 is going to be special release indeed, which we believe will bring much joy to cloud admins and users alike.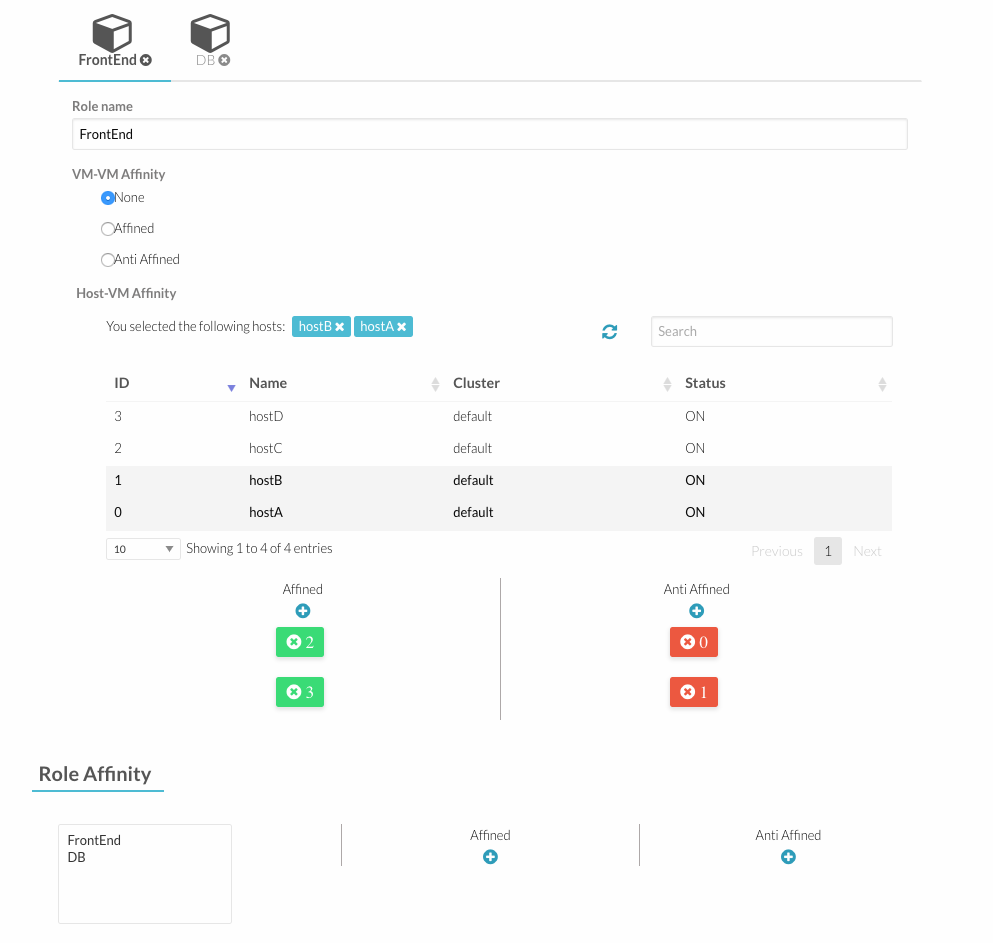 Check out in the project's development portal all the things we are still working on.
Community
Saying that the OpenNebula community excels is an understatement. The ecosystem keeps getting richer thanks to amazing contributions such as this one. LXDoNe is an active project based on an add-on that allows OpenNebula to manage LXD containers. It contains a virtualization and monitoring drivers, and it feature life cycle control: deploy, shutdown, restart, reset, suspend and resume containers.
It is a fact that the OpenNebula technology has a broad adoption, not only in US and Europe, but all around the globe. This is an important step towards standardising OpenNebula as the de facto Cloud Management Platform for IaaS infrastructures that strive for simplicity and innovative features. This is why it is of the utmost importance the huge work made by people all around the world to spread the OpenNebula word to different countries. We want to share with you some of the recent efforts in different languages:
Also, we want to salute our friends at NodeWeavers with their brand new 11 release. Also nice to note that OpenNebula is now featured in siftery!
Outreach
The first release of OpenNebula was 9 years ago!. We are very proud of the path we walked these past 9 years, and are very happy of all the use cases OpenNebula has powered so far.
Nine years ago, in February 2008, OpenNebula announced the first open-source management software for deploying private and hybrid clouds, and released one of the most transformative platforms for innovation in the cloud.
The first US edition of the OpenNebulaConf is happening this 2017, as one of two OpenNebulaConf editions this year, one in US and the other in Europe. The US edition will take place on June 19-20 in Cambridge, Massachusetts, and the european edition will be held in Madrid, Spain, on October 23-24. If you are wondering what the OpenNebulaConf looks like, check the post with the material of 2016 OpenNebulaConf. The call for presentations for the US edition is open through March 17 and the very early bird registration is available through March 20.
The OpenNebula Cloud TechDays are events designed to learn about OpenNebula with a hands-on workshop on cloud installation and operation, and presentations from community members and users. From the list of TechDays for 2017, the first one is happening this year in Prague this 7th of March. Other TechDays happening this year are: Nuremberg, Madrid, Sofia, Barcelona, ,Vancouver, San Francisco, Ede, Hluboka, New York and Almendralejo.
The OpenNebula team is going to feature a booth in both VMworlds this year. If you are going to attend, do not forget to come by the OpenNebula booth to see a live demo of the latest stable version of your favourite CMP:
VMworld 2017 US, August 27-31, Las Vegas, Mandalay Bay Hotel & Convention Center
VMworld 2017 Europe, September 11-14, Barcelona, Fira Gran Via
Also, check out the list of official training from OpenNebula Systems for this year. If you are new to OpenNebula, or want to improve you knowledge with an in-depth OpenNebula admin course, those are the dates and locations you need to keep in mind.
Are you looking to get into the cloud professionally? If you are looking to work in an agile environment to develop new features and integrations and participate in the upstream community, this is your chance. Check out the OpenNebula Systems vacancies if this is the case, we are currently interested in a Community Specialist.
Remember that you can see slides and resources from past events in our Events page. We have also created a Slideshare account where you can see the slides from some of our recent presentations.