This Newsletter contains the most worthy developments and events of the OpenNebula project and the community during this last month of July, and the plans for the upcoming months.
We want to remind our users that OpenNebula Systems, the company behind the OpenNebula Project and vOneCloud, has established a new subsidiary to oversee all business operations and to support the OpenNebula community in the U.S. If you are interested in supporting the OpenNebula community in the US, let us know.
Technology
The team has released the first Beta of OpenNebula 4.14 'Great A'Tuin'. We hope you enjoy using it as much as we did developing it. The new features and usability improvements present in this new release couldn't have been without our community support and feedback. We want to thank you all for your contributions to make OpenNebula as mature and reliable as it is today. Every little helps!
One of the most interesting new features for cloud users and administrators is the ability to create and maintain a tree of VM disks snapshots, for Ceph an Qcow2 backends. Also important, the ability to save VMs into VM Templates for later use greatly improves the usability of OpenNebula based clouds, to which also adds the much better state management of VMs for recovery from failures.

There are many other improvements in 4.14, like a more flexible context definition of network attributes; the ability to import running VMs not launched by OpenNebula from all the supported hypervisors (including the hybrid ones, for instance now it is possible to manage through OpenNebula Azure, SoftLayer and EC2 VMs launched through their respective management portals);the possibility to cold attach disks and network interfaces to powered off machines (which complements the hot attach functionality); improvements in accounting to keep track of disk usage; better logging in several areas; the ability to pass scripts to VMs for guest OS customization; and many others. A great effort was put in this release to help build and maintain robust private, hybrid and public clouds with OpenNebula.
There are some features the team is still polishing and decided not to include in the Beta1- For instance another major feature is the ability to resize an existing disk for all the supported OpenNebula backends. If your VM needs more disk space than the one provided by the images used for its disk, you can now set a new size prior to instantiate the VM, OpenNebula will grow the disk and the guest OS will adapt the filesystem to the now bigger disk at boot time. The disk space won't be an issue anymore. To support this feature, a new set of context packages has already been released so you can start preparing your images for disk resizing.
Another huge feature to support HPC oriented infrastructures is the consumption of raw GPU devices existing on a physical host from a Virtual Machine. A new type of consumable has been defined in OpenNebula and taken into account by the scheduler. VMs can now request a GPU, and if OpenNebula finds one free resource of type GPU available, it will set up the VM with PCI passthrough access to the GPU resource.
Channels to help people try out OpenNebula is a hassle-free way are key to foster adoption of OpenNebula. The OpenNebula project is well aware of this, so it has teamed up with Microsoft to offer a new OpenNebula Sandbox in the Azure Marketplace. Currently you can try out 4.12.1, but we will update as usual all the SandBoxes to Great A'Tuin as soon as the stable version is out.
Community
Summer is upon us, and this does not prevent the OpenNebula community to keep contributing to the rich ecosystem. Since the Beta1 is out, we want to make a call for feedback. Please install in a test environment Great A'Tuin, and let us know through the community forum. It is your feedback what makes OpenNebula user friendly, so thanks in advance!.
For the team working in the cloud trenches, comments like this one are like a blow of fresh air that keep us going, stronger, towards cloud excellence. Thanks!
Contributions to the OpenNebula ecosystem are always great news, to enable integrations with new components, develop new functionality and ease the day to day cloud operation. But if they are maintained such as this nodejs binding for the OpenNebula API, then we are talking about quality ecosystem. Excellent contribution.
Extensions to the OpenNebula contextualization system are also always good news, like this new contextualization package for Gentoo written as an Ansible playbook.
Another great contribution enables OpenNebula to manage LXC containers. LXC is a userspace interface for the Linux kernel containment features. It lets Linux users easily create and manage system or application containers. With this amazing contribution OpenNebula can deploy LXCs with the intrinsic improvements in performance. The new addon includes motorization and virtualization drivers, kudos to Sergio Vega and José Manuel de la Fé for their contribution.
Outreach
The upcoming third edition of the OpenNebulaConf will be held in Barcelona this October 2015. The Conference is a great opportunity to meetup and share your OpenNebula experiences with the community. Your company may be interested in the sponsorship opportunities for OpenNebulaConf 2015. If you are interested, you can apply with this form. StorPool just joined as Platinum Sponsor. We would like to take this opportunity to also thank our Platinum Sponsor PTisp; Gold Sponsors ungleich, Xen Server and NodeWeaver; and Silver Sponsors Runtastic and No Limit Network.
The agenda for the OpenNebulaConf 2015 is available, check out the high quality speakers. The agenda includes two keynote speakers:
July was a hectic month in terms of OpenNebula TechDays: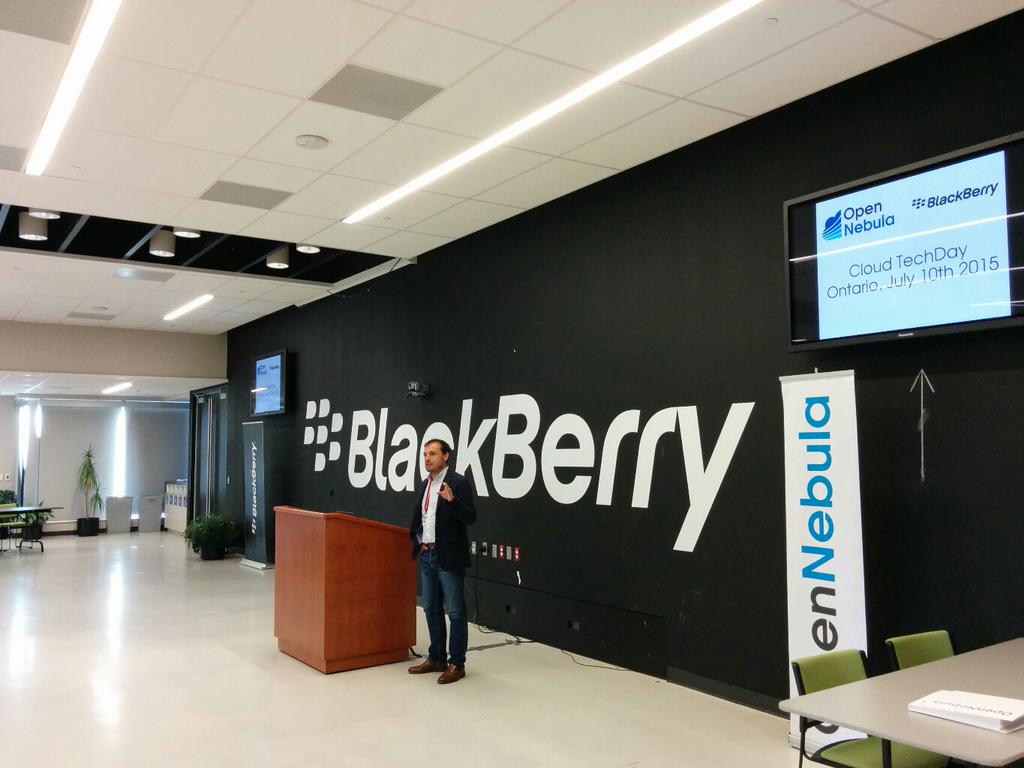 You can read more details about the presentations here. If you want to host a TechDay in your area, let us know.
An excellent event was also carried out in France, the SophiaConf2015. Check out the OpenNebula presentation given by members of TAS Group France on why they chose OpenNebula for their infrastructure, very interesting (warning: you need to understand french!).
During the following months, members of the OpenNebula team will be speaking in the following events:
If you are interested in receiving OpenNebula training, check the schedule for 2015 public classes at OpenNebula Headquarters. Next public OpenNebula training will take place next 15th of September in Madrid. Please contact us if your would like to request training near you.
Remember that you can see slides and resources from past events in our Events page. We have also created a Slideshare account where you can see the slides from some of our recent presentations.