Have a compact view of OpenNebula state by reading this monthly newsletter. Current development stages and overviews of following events are summarised in this document to keep our customers and community up to date.
This month OpenNebula travelled to Sofia and Barcelona for two splendid Technology Days. For this and more event related information go to the Outreach section of this newsletter.
For the OpenNebulaConf EU 2018, Amsterdam we are glad to announce some of the keynote speakers like Jonathan Grahl from King.com, German Gutiérrez from Booking.com, and Yordan Yordanov from Inoreader and we opened a Call for Presentations so that you can send us your suggestions for talks.
Technology
Facing the last weeks for the release of the new version of OpenNebula, the team is hardworking on bug fixing and fine tuning the software, so you can just sit and enjoy the experience of deploying and managing your own public, private or hybrid cloud.
For this reason we launched another hotfix release, OpenNebula 5.4.12 with minor bug fixes regarding importation of vCenter resources.
Now everything is ready for the release, we cannot wait much longer for you to try out all the new features coming with version 5.6 of OpenNebula. However we still need to do some testing in order to bring you a proven, trusty and stable software.

Community
We need you!!
Our software is widely used around the world, thus OpenNebula needs to speak all the languages possible for the good of the community. For this purpose we have launched a Call for Translations to which any of you can contribute in a really simple way. Read more about how to contribute in this short post with more details.
Now lets see some of the greatest contributions made by many of you. This month we have amazing news, keep reading!
What if we tell you that in next versions of Ansible you will have full integration for OpenNebula modules, with which to deploy VMs, create Hosts and Images? Well, this is not science fiction, it is a reality now!!!
Thanks to the work of the great Rafael del Valle and members of the Nordeus team, like Milan Ilic, we can say Ansible supports OpenNebula modules. This will make your infrastructure automation process a bed of roses. Ilic Milan has written this amusing article describing how to use Ansible to automate OpenNebula. Here you will find more detailed information of the functions you can use inside each module. It is indeed a good summary of the new OpenNebula modules inside Ansible.
One good example of this is shown by Digital Repositories on this tweet, where they tell how they use Ansible and OpenNebula for deploying VMs and automating processes on their own private cloud. You can see the work done and contribute to this modules in Ansible's Github page.
We try to be updated with latest libraries and technologies to keep OpenNebula powerful and useful to our community. This is why we encourage you to demand new features through our forum or openning new issues in the Github repositories. For example @tobx and @jpfoures in our forum, demanded the integration of the new IOPS bursting option included in newer versions of QEMU libraries and we decided to include it for OpenNebula 5.6. You can find this love story in this forum thread 😉
Of course we have limited resources for developing all your demands, however as in this case, we are constantly listening to your demands and analyzing the viability for their development.
If you feel like you need some specific feature and you want it to be developed by our team you can follow this guide and contribute to the OpeNebula Project.
Outreach
Getting things ready for OpenNebulaConf EU 2018, Amsterdam. Stil there is some place for speakers, if you wish to have a talk in this event check the Call for Presentations. Any suggestion is welcome and will be listened to joyfully. Remember that early-bird registration is available until 15th of September, don't miss the chance to get a 20% discount in your tickets.
OpenNebulaConf EU, Amsterdam 2018 is sponsored by StorPool and Linbit as Platinum Sponsor and Virtual Cable SLU as Silver Sponsor. There are still spots available to get the most of OpenNebulaConf 2018 by joining our Sponsor Program. Read more about how to sponsor and th benefits here.
This month OpenNebula has travelled to Sofia and Barcelona to have two wonderful TechDays in which we have conduct a free Hands-on tutorial for the attendees.There, everyone was able to see OpenNebula in action and play with some of the basic functionalities of the software. This way participants could get an overall picture of OpenNebula's potential and its infinite possibilities.
Sofia's OpenNebula Technology Day had great acceptance in Bulgaria, the event was a complete success thanks to the team of StorPool which organised a full equipped TechDay in which StorPool, OpenNebula and Inoreader shared knowledge and some of the latest integrations and developments. You can find all the slides following this link, under the Agenda section.
Just a week after OpenNebula was ready for the action again, this time in Barcelona thanks to the organiser CSUC and the sponsor Huawei. Share, learn and discover were the three verbs that better describe this pleasing experience. Attendees could enjoy a full day of talks describing use cases regarding OpenNebula, experiences and ,of course, a free Hands-on tutorial.
We hope you had a good experience just like we had.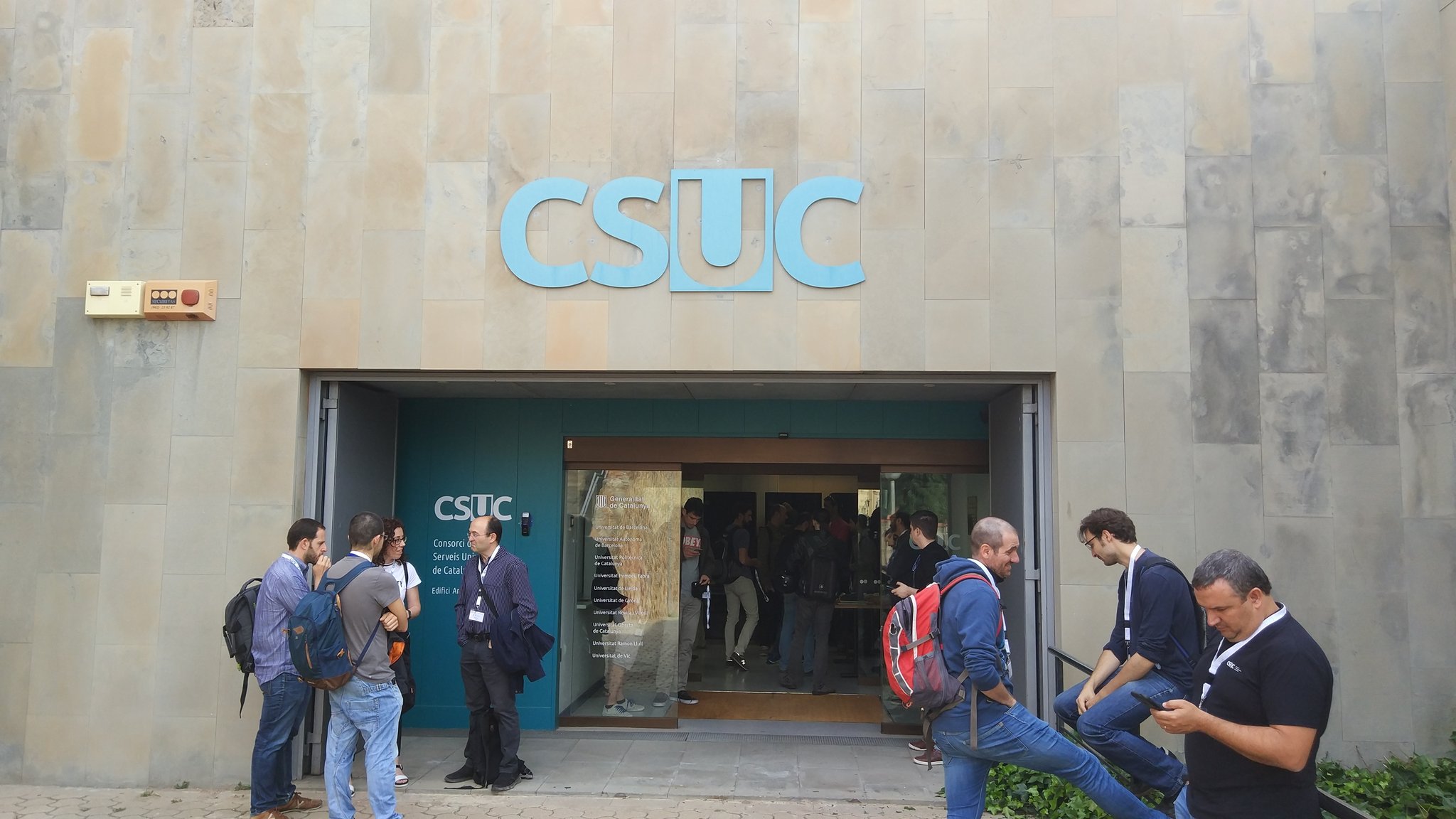 Our good partners from LINBIT have decided to host another TechDay in Frankfurt, date will be the 26th of September, 2018. It is the first time OpenNebula goes to Frankfurt and we are sure it will be an enlightening experience for us and for all of you attending.
We have created a website for the Technogoly Day and as soon as we have the agenda ready we will publish it here.
And for our community in the US west coast, Hitachi Vantara is hosting a in Santa Clara, CA, on the 30th of August, 2018.
This was all for the month of May, be aware that we have important releases in the upcoming days so stay tuned!