Learn what kept the OpenNebula team busy this last month of November, the project activity, latest news, advances in the technology, community work, and the dissemination efforts carried out.
You can check the material of the OpenNebulaConf 2016 on this blog post, including pics, slides and videos of the keynotes
We are looking for Cloud Developers and a Community Specialist to join our team, check this for more details.
Technology
Team is working hard on the next release, 5.4. An emphasis is given in vCenter integration, but also great advances are being worked upon on other areas:
Live disk resize operation, not only at boot time but while the VM is in running state
Full network management in vCenter, including the ability to create Networks and distributed vSwitches
Full storage management in vCenter, including resize and non-persistent images. This will effectively move the vCenter integration
Allow Folder definition for VMs in vCenter
Virtual Machine save for vCenter
Native HA for the OpenNebula controller
Affinity/Anti Affinity schedule options for VMs
Fine grain ADMIN and MANAGE VM operation assigment
More detailed history information, including user information
Many Sunstone goodies!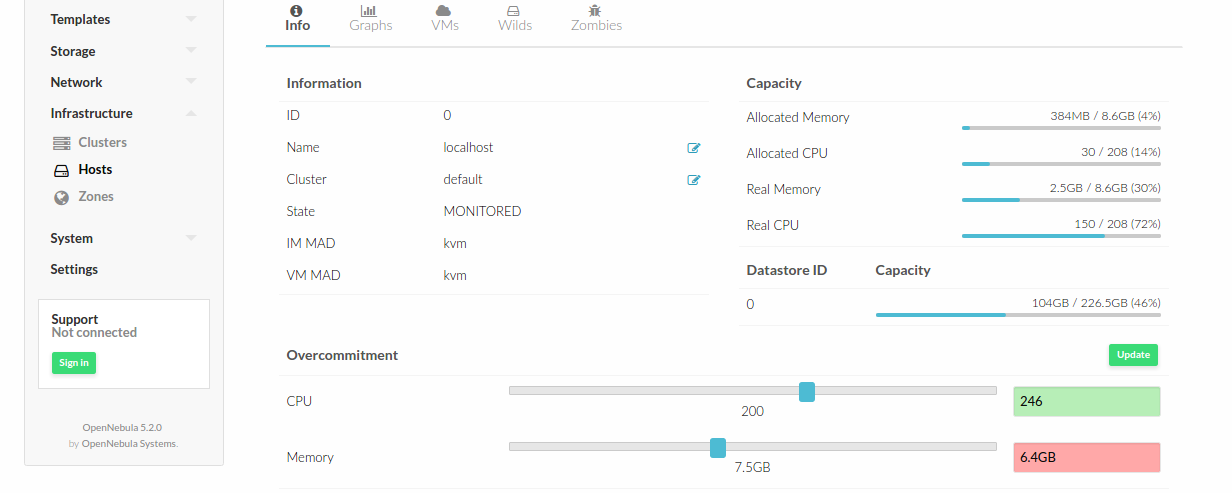 …and many more features related with Sunstone, Database, upgrade path and more OpenNebula subsystems. We are working to make OpenNebula 5.4 the most useful and robust OpenNebula release to date!

Also, an update of the VMware Cloud Reference Architecture was published. The update includes latest features in OpenNebula releases, like:
OpenNebula now allows to upload, clone and delete VMDK files.
VM importing workflow has been greatly improved through Sunstone, making it easier to import your existing workload into OpenNebula.
Resource pools defined in vCenter are supported by OpenNebula so available memory and CPU can be partitioned. When launching a VM from OpenNebula, a resource pool can be selected automatically or the user can choose one.
When a VM is instantiated from a VM Template, the datastore associated can be chosen. If DRS is enabled, then vCenter will pick the optimal Datastore to deploy the VM.
and much more!
Community
After the Conference hangover (both literally and figuratively), the community has been as active as ever.
We are restructuring the OpenNebula add-ons to keep track of those add-ons that are not longer maintained and we discourage the use of. If you are an add-on maintainer, give us a shot in the forum so we know about it.
As we always emphasize, it is very encouraging and important for an open source project to receive messages publicly like this.
Excellent summaries about OpenNebula, like the one that we recommend reading in this blog post, are a great way to spread the OpenNebula word. Kudos!
OpenNebula is a free and open source software solution for building clouds and for data centre virtualisation. It is based on open technologies and is distributed under the Apache License 2. OpenNebula has features for scalability, integration, security and accounting. It offers cloud users and administrators a choice of interfaces.
Another, and even more important, effort by our users can be seen in this blog post by Fuze, detailing their production use of OpenNebula and how it powers the infrastructure that boost their business. We are immensely proud and grateful for this information guys!

Currently, Fuze Private Cloud has a central OpenNebula deployment in a data center in the eastern part of the US. This fault tolerant OpenNebula deployment is configured to connect and manage Fuze data centers across US East/ West, Australia, Asia, and Europe.
By the way, we are taking care of the infrastructure that runs our web page, development portal, marketplace … we appreciate your patience. If you notice anything strange, let us know.
Outreach
The OpenNebulaConf 2016 has been a real success with awesome keynotes including usage of OpenNebula in Akamai and Telefonica. Also, it featured high quality tutorials and excellent workshops, which were very well received, as were the first day tutorials. Make sure that you attend next year to either the basic or the advanced one, they are a real bonus of the conference!
To sweeten your way to next year's Conference, and to recap the contents of the different keynotes and lightning talks, we published a post with the material of 2016 OpenNebulaConf. Check out the YouTube channel, download the slides from the slideshare account or take a look to the pictures of the conference. Enjoy.
We will also be defining shortly the TechDays for 2017. Stay tuned if you are interested to host an OpenNebula event!
The OpenNebula team is growing at a fast pace. Are you looking to get into the cloud professionally? If you are looking to work in an agile environment to develop new features and integrations and participate in the upstream community, this is your chance. Check out the OpenNebula Systems vacancies if this is the case, we are currently interested in Cloud Developers and Community Specialists.
Remember that you can see slides and resources from past events in our Events page. We have also created a Slideshare account where you can see the slides from some of our recent presentations.