Belated due to the OpenNebulaConf, here's our monthly newsletter, with the main news from the last month, including what you can expect in the coming months.
Technology
The OpenNebula team is readying the next release, OpenNebula 4.4. We can advance cool features like support for multiple system datastores, improved Open vSwitch integration, better xmlrpc concurrency, support for IP reservations and many other nice improvements. Check the development portal for the full set of features and bugs to be dealt with for OpenNebula 4.4.
One of the most useful (and most difficult to implement, at the same time) feature would be multiple group functionality, with an approach mimicking that of unix groups. Please check this blog post to get a peek on the upcoming feature. Moreover, driver enhancements are also underway like for instance, improved hybrid support for EC2. Expect lots of new enhancements to the unique OpenNebula hybrid cloud model: higher performance, more robust and effective monitoring, etc. Also, the implementation of the EC2 API in OpenNebula to build public clouds will be greatly improved: snapshotting, tags and improved describes. Ceph drivers will also be revisited to fix bugs.
Many of our users asked how to configure OpenNebula for High Availability of the front-end. We've created a step by step guide on how to achieve this configuration for production environments.
Community
OpenNebula wouldn't be the same without the feedback from its amazing community. The development portal is always buzzing with new bug reports and patches from open bug tickets.
Help with package maintenance is always more than welcome. For instance, Shawn Starr's contribution announced in twitter is a great contribution to the project, since its fosters the distribution of OpenNebula by giving better support in the Fedora distribution. In the same line, we are extremely grateful to Robert Schweikert for his excellent maintenance of the openSUSE OpenNebula package.
It's always nice to learn that also other open source friendly projects like CentOS. This month we learned that CentOS distro test infrastructure is powered by OpenNebula 4. Yay, way to go, CentOS!
Awesome users lead to awesome contributions. We'd love to hear about stretching OpenNebula functionality to limits beyond its original design (ie, things we never thought about). Check out Carlo Daffara running Android under KVM using OpenNebula (with ARM emulation and OpenGL). Another even more important contribution by Carlo has been summarised by him in this blog post, on how to provision virtual desktops using OpenNebula.
We also want to give a warm welcome to two new technology partners, Terradue and Viapps, which enrich the OpenNebula family integrating with it and providing new, enriched functionality.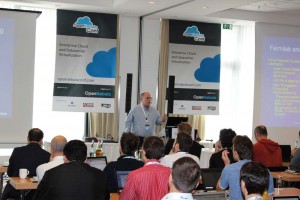 Outreach
Last month we held the first OpenNebula Conference, based in Berlin between the 24 and 26 of september. The conferenced served as a meeting point for OpenNebula cloud users, developers, administrators, builders, integrators and researchers and an unique opportunity for discussion and collaboration with other projects.
We are very proud of the conference, where the speakers were of very high quality and with spot-on topics, and the hallway track was marked with very interesting OpenNebula use cases. And it is not only us saying so! Check these GigaOM and Euro Nova posts.
You can check out the slides used for the tutorial given the day before the actual conference kick off. Recordings of the conference talks, as well as PDFs, are being readied as this is being written and will be available during this week, so stay tuned to the OpenNebulaConf web page!
Next year's conference will be held in Berlin as well, 2-4 of December, 2014. If you want to repeat or find out how it is for yourself, save the date!
Moreover, we love (and blush from) the attention OpenNebula gets by the European Commission: "OpenNebula has played an important role in driving and supporting the transition to cloud computing and thus accelerating the pace of innovation in Europe"
This past month a number of events were participated by OpenNebula project members or OpenNebula power users:
A very interesting event to held in the following following month is the C12G organised CentOS dojo. Next month, November 8, in Madrid, Spain, a very good array of speakers (including CentOS director and OpenNebula developers) will shed light on OpenNebula, clouds and CentOS, at the C12G Labs HQs.
Remember that you can see slides and resources from past events in our Events page. We have also created a Slideshare account where you can see the slides from some of our recent presentations.