The OpenNebula project activity this last month including the latest news, advances in the technology, the excellent community work and the dissemination efforts carried out.
The OpenNebulaConf 2016 happened this last week, and has been a total success! We'll be uploading the video recording, slides and nice pics soon, stay tuned! We are looking for Cloud Engineers and Developers, as well as a Community Specialist, to join our team, check this for more details.
Technology
OpenNebula 5.2 Excession has officially hit the road this last October. This is a stable release, you can safely proceed now to upgrade your existing installations to enjoy the following improvements and new features:
New IPAM module, a general mechanism to integrate with different IPAM servers
Session management, with enhanced user authentication token allowing to maintain different sessions with the same user account working in different projects
Usability improvements in Sunstone and CLI
VM migration between clusters
Better VM fault tolerance hook, easier to implement fencing
More secure ssh drivers to avoid compromising the front-end if a hypervisor goes rogue
Improvements in ec2 hybrid drivers and vCenter drivers, optimizing for large scale deployments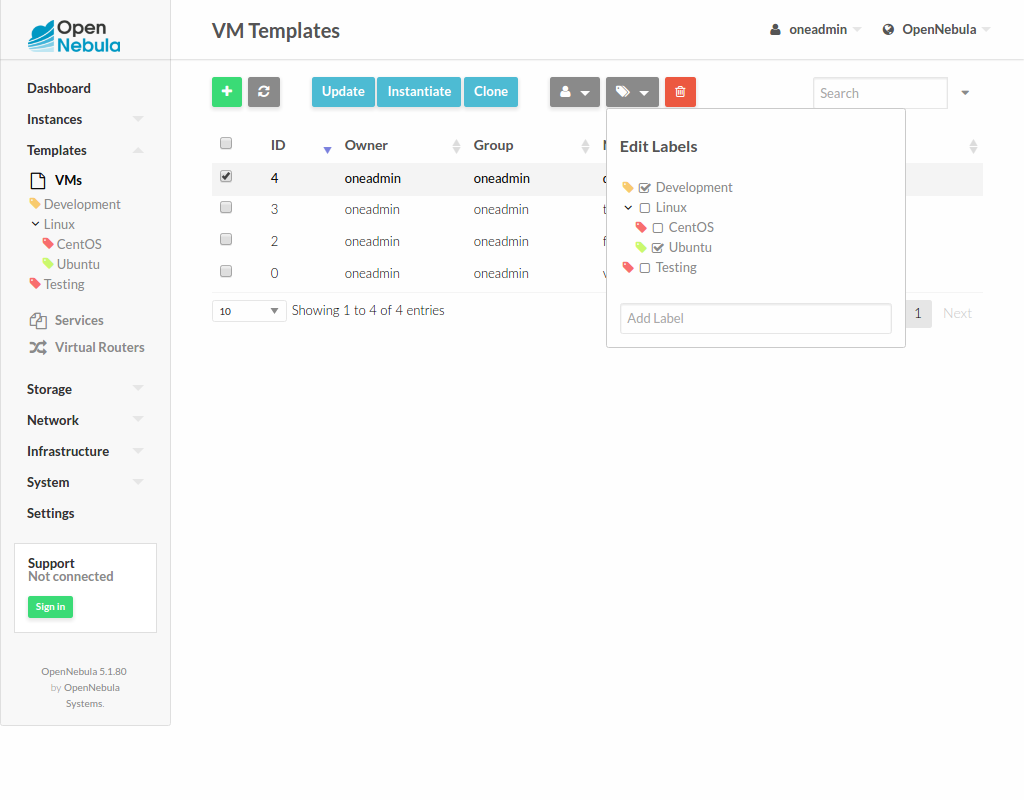 The team focus has now shifted to the next release, 5.4. Great functionality is planned, with an emphasis in vCenter integration. Expect great advances in this regard. Yes…we mean network management!. Also, full storage handling (non persistent images FTW!).
Community
Well, the community has been busy this month preparing their plane tickets and visit to Barcelona. It has been a blast at the Conf, and lots of interesting talks has shown us that OpenNebula is being used in amazing and crazy infrastructures around the world. We had the chance to host in our blog this quality post. This is an amazing work (thanks Marco!), which introduces Rancher and show how to launch OpenNebula Virtual Machines from the Rancher UI and provision them to run Docker compute hosts, which can then be used to run Docker containers. The post also comes with a promise!
That's all, we will be back soon with another post about the integration of Rancher and OneFlow to deploy multi-tier services on OpenNebula clouds. Stay tuned!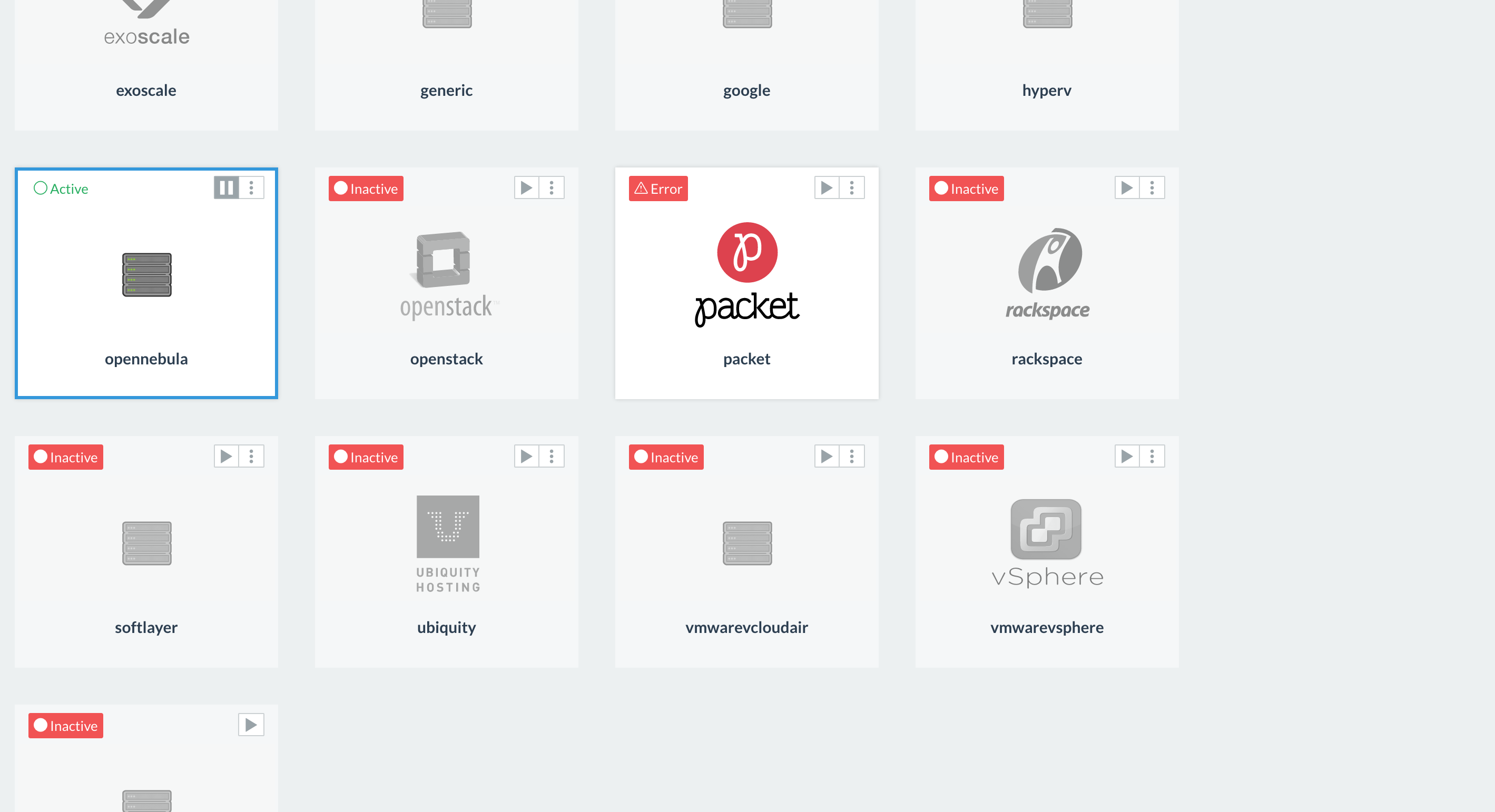 It is so good to know that old OpenNebula friends are also engaged in the community (like old but not forgotten OpenNebula contributors that showed up at the Conf)! For instance, Skymix is tinkering hard with OpenNebula with other technologies.
Very good news have arrived this last month from the community in the field of OpenNebula's hybrid capabilities, extending the number of public clouds supported by OpenNebula to build hybrid cloud deployments. A new set of drivers developed by CSUC are now available as an add-on, enabling the hybrid extension of your OpenNebula cloud to any public cloud provider implementing the vCloud API. Check this exhaustive post for details. The software can be found in github
"With this addon, real hybrid architectures can use OpenNebula's rich set of infrastructure management tools to manage cloud deployments across VCLOUD private, public and hosted cloud platforms."
Outreach
It has been a pleasure! The OpenNebulaConf 2016 has been a real success, with awesome keynotes including usage of OpenNebula in Akamai and Telefonica, high quality tutorials and excellent workshops. We want to thank all the attendees, and especially the sponsors, for providing such a great atmosphere for the exchange of experiences, help to the newcomers and in general for being such a great community. It has been great to see you all, the team is looking forward to seeing you again next year!
The Conf had an educational twist that has definitely pleased the attendees. The workshops were very well received, and we believe this is the direction that we want to give the Conf, as it gives an extra value for the attendees, which not only see real world examples of OpenNebula usage but learns how to use the software, and how to tweak it. The first day tutorials were also well received, make sure that you attend next year to either the basic or the advanced one, they are a real bonus of the conference.
The OpenNebula team is growing at a fast pace. Are you looking to get into the cloud professionally? If you are looking to work in an agile environment to develop new features and integrations and participate in the upstream community, this is your chance. Check out the OpenNebula Systems vacancies if this is the case.
Remember that you can see slides and resources from past events in our Events page. We have also created a Slideshare account where you can see the slides from some of our recent presentations.