Our monthly newsletter contains the major achievements of the OpenNebula project and its community during the month of September 2018.
Technology
This month the team released OpenNebula 5.6.1 – a new maintenance release of the 5.6 "Blue Flash" series, which addresses several bug fixes, as well as incorporating various feature enhancements.  A few examples include:
List subcommands use pagination when in an interactive shell.

Order of elements in list API calls can be selected.

XMLRPC calls report the client IP and PORT

New quotas for VMS allows to configure limits for running VMs "running".

Update Host hook triggers to include all possible states.

'onezone set' should allow temporary zone changes.

VMs associated to a Virtual Router now feature all lifecycle actions.
OpenNebula 5.6.1 is the first version which includes "Enterprise Add-ons", which are extended capabilities available for customers of OpenNebula Systems with an active support subscription.

For more details of what is included in OpenNebula 5.6.1, check the Release Notes.
We also closed out the month with the Release of our Host Provisioning Prototype!  This is a project on which we have been working in order to bring additional flexibility and improved efficiency to data center configurations. And it's just the first step in OpenNebula's focus to support the deployment of Edge Computing environments.  You can review here the details surrounding this "oneProvision" prototype.
We continue to move ahead with OpenNebula 5.8.  One of the key features that will be included in this upcoming version is OpenNebula's support for managing LXD containers (Operating System-level Virtualization).  Some of the details and key benefits are outlined in this earlier post.
For vOneCloud, we are currently working on vOne 3.2.1, which will incorporate the same functionalities and advances which we included in our release of OpenNebula 5.6.1.
Lastly, our push for completeness and flexibility continues to grow as we focus on incorporating Python binding, (in addition to Ruby and Java) within OpenNebula.
Community
This section is where we, at OpenNebula, get most excited!  As we all continue to work and focus on bringing real value to the market through the OpenNebula platform, one of the key goals we maintain is to foster genuine interest and engagement amongst our Community.  So much of what are able to achieve depends on you, the OpenNebula users and contributors. So when we see involvement and commitment across the Community, we know that the OpenNebula project is bound for continued growth.
For example, check out this great blog contribution by Inoreader, outlining their step-by-step evolution from a Bare-Metal server architecture to completely virtualizing their infrastructure using OpenNebula and KVM for virtualization, along with StorPool for storage.
Simon Haly, the CEO of LizardFS published a brief about their collaboration with Nodeweaver to create a plugin "scale [your] OpenNebula cloud to Petabytes and beyond." https://www.prurgent.com/2018-09-18/pressrelease447786.htm
Additionally, in a tweet earlier this month – both simple and direct – LINBIT highlighted the ease with which one can use the OpenNebula image driver,…and then posted a video demo.
The image driver for @opennebula makes #DRBD volumes easily to place VMs on.
Even beyond the direct impacts of our code, many contributors from the OpenNebula Community provided feedback and insight into a recent European Union publication on how to bring Standards and the Open Source community closer together.
And lastly, in the Community space, OpenNebula introduced Michael Abdou, their new Community and Customer Success Manager…read here.
Outreach
In the last week of September, we collaborated with LINBIT as they hosted an OpenNebula TechDay in Frankfurt, Germany!  In addition to offering a FREE Hands-on Tutorial of OpenNebula, we saw presentations and demos carried out by LINBIT, Mellanox, and Hystax.  Here you can check out how things fared at the Frankfurt TechDay.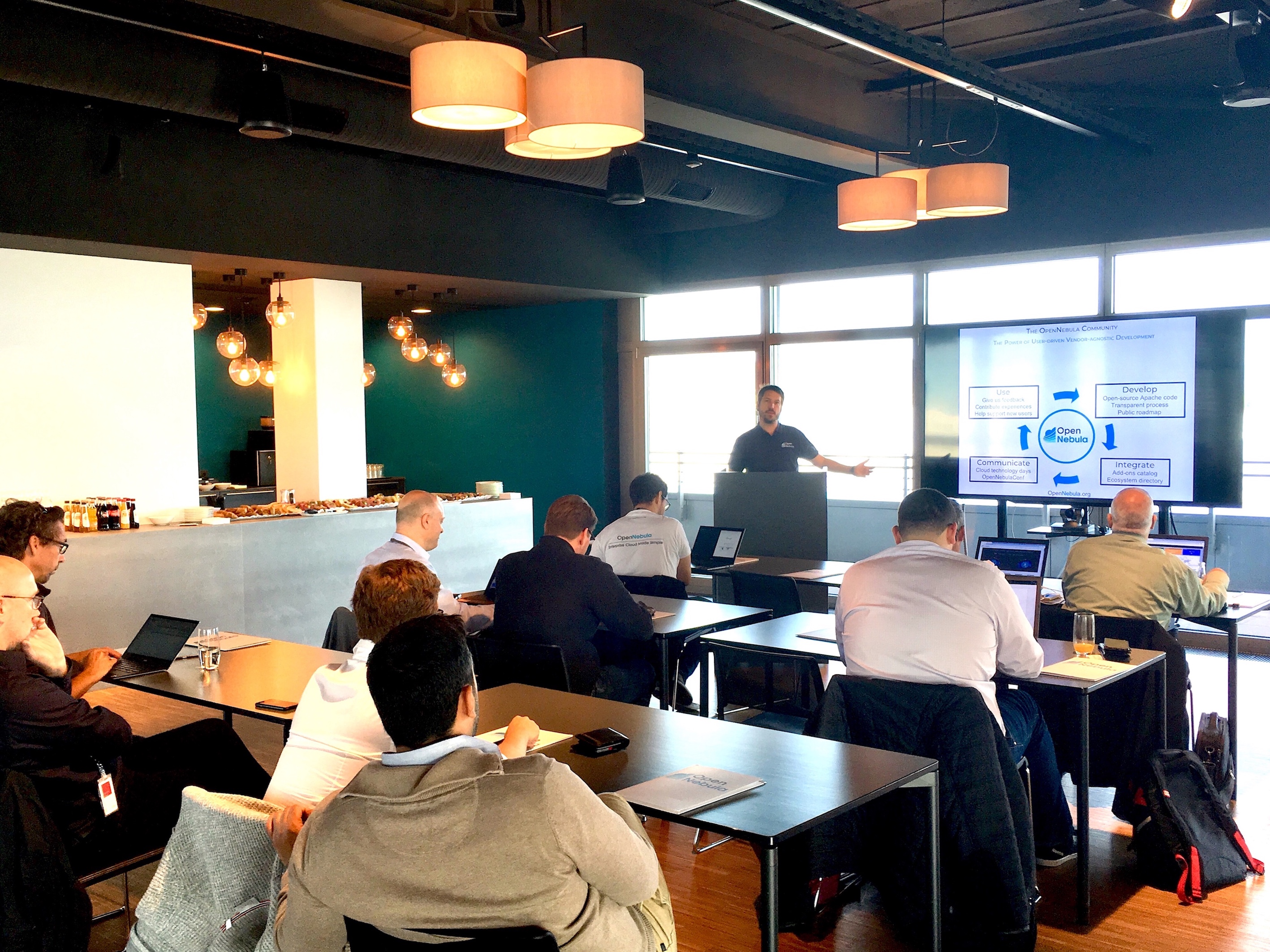 Keep an eye out for upcoming TechDays, as we try to schedule these sessions periodically throughout the year, in various locations – all free of charge. Or even partner with us to host one of your own!!  OpenNebula TechDay info.

Don't forget!  The OpenNebula Conference 2018 is right around the corner.  On November 12-13 we will be in Amsterdam, and there will be plenty of which you can take advantage!  From Hands-on Tutorials and Keynotes to Lightning Talks and Community discussions. Take a look at the agenda – plan on joining us in Amsterdam!  http://2018.opennebulaconf.com/
Join our Sponsor Program and be sure to maximize your benefits from the Conference.  The OpenNebula Conference 2018 is currently sponsored by StorPool, LINBIT and NTS as Platinum Sponsors and Virtual Cable SLU and ROOT as Silver Sponsors.  We would love to see you be a part of our team of sponsors!
One more item to put on your calendar is VMworld in Barcelona, on November 5-8, 2018.  We will be there with an exhibit for all things OpenNebula and vOneCloud.  Make sure to swing by booth E422!
More to come in October!!  Stay connected!