What's New in OpenNebula 6.6
OpenNebula 6.6 'Electra' is the fourth stable release of the OpenNebula 6 series. This new release comes packed with new functionality, mostly oriented to aid day-2 operations on production deployments of OpenNebula. There are two significant campaigns we would like to highlight in this regard:
A fully revamped Backup solution, based on datastore backends instead of private marketplace as the previous solution offered, and a new type of image to represent datastores. This allows you to implement tier-based backup policies, levarage access control and quota systems, as well as support for different storage and backup technologies.
An exciting integration with Prometheus, that includes packaging of a pre-configured Prometheus instance with metrics tailored for the optimal observability of an OpenNebula cloud. This integration also includes Prometheus Alert Manager with predefined alarms that can be enabled to react to issues with OpenNebula operations and amazing new dashboards for Grafana! 🤩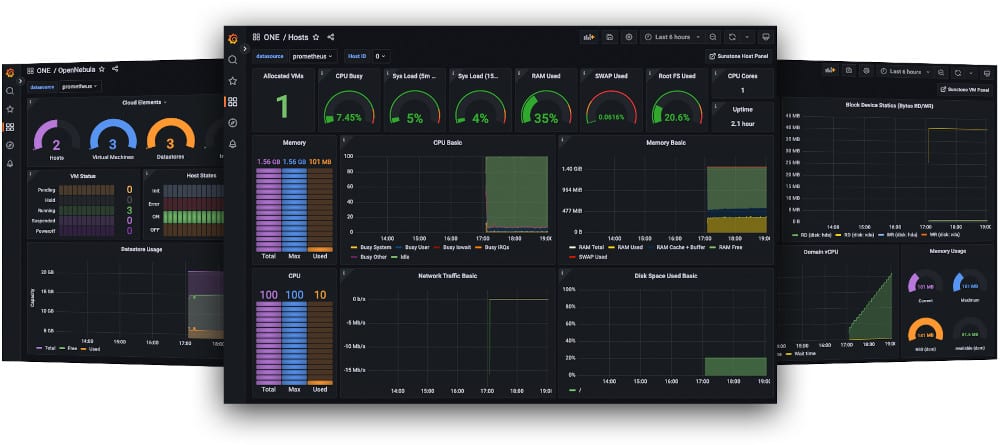 OpenNebula 6.6 is named after the Electra Nebula, the reflection dust cloud (coded "vdB 20") associated with the Electra star, a blue-white giant star in the constellation of Taurus and the third-brightest star in the Pleiades cluster.
⚠️ This is the first beta version for 6.6, aimed at testers and developers to try the new features. All the functionality is present and only bug fixes will happen between this release and final 6.6. Please check the known issues before submitting an issue through GitHub. Also note that being a development version, there is no migration path from the previous stable version (6.4.x) nor migration path to the final stable version (6.6.0). A list of open issues can be found in the GitHub development portal.
We'd like to thank all the people that support the project, OpenNebula is what it is thanks to its community! Please keep rocking.
🚀 Download OpenNebula 6.6 and give it a whirl!