The OpenNebula monthly newsletter, with latest developments, events and future plans for the upcoming months from the OpenNebula project. Read this newsletter to keep up to date with your favorite Cloud Management Platform.
The OpenNebulaConf 2016 will be held in Barcelona on the 24-26 of October. The preliminary agenda has already been published, the final version will soon be available. You might be interested in taking a look at the sponsorship opportunities. Check out the list of upcoming OpenNebula TechDays to see if there is one on your doorstep that you cannot miss.
Technology
The first stable release of OpenNebula 5.0 Wizard has been published. The OpenNebula project is proud to announce the availability of the first stable release of OpenNebula 5.0 'Wizard'. This major update comes with several improvements in different subsystems and components, with minimal changes in the API and the VM life-cycle states, which embodies long overdue changes but implemented to minimize the impact and ensure backwards compatibility as far as possible.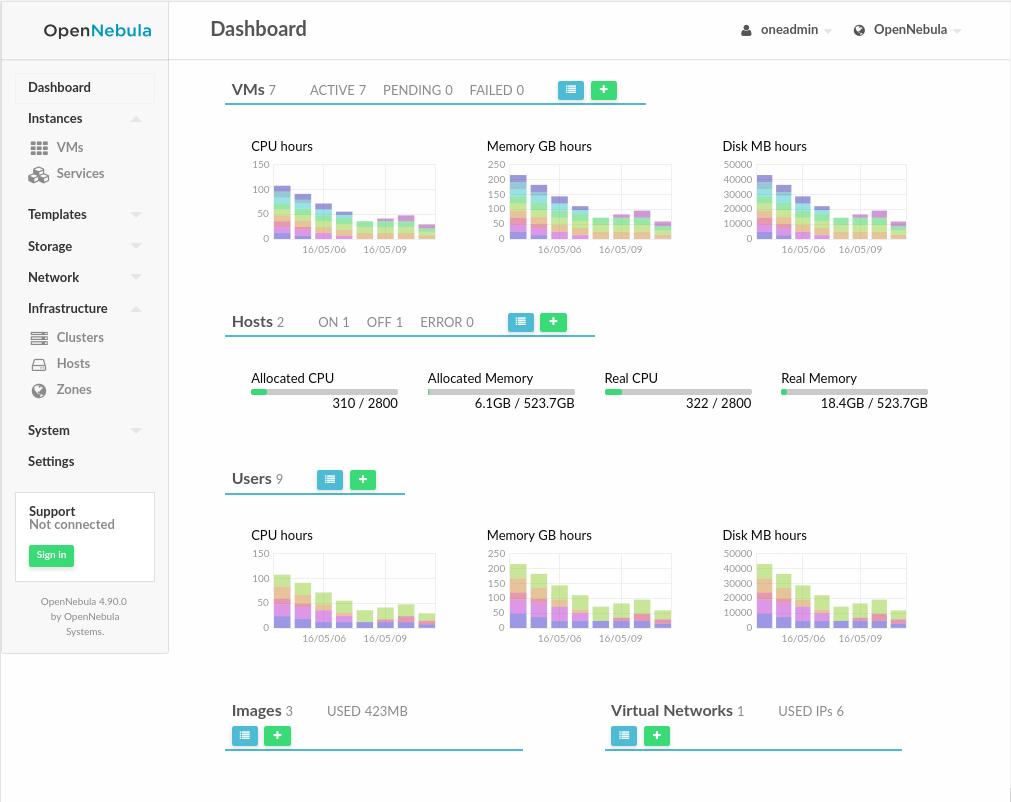 Also, a new maintenance release 5.0.1 fixing bugs reported by the community has also been published this month, fixing fix Ceph pool names, VM Template update wizard, oned crashes when a context variable contains a filter, PCI element in KVM deployment file, better checks for IPv4 strings, wrong attach disk in vCenter, VM instantiate when NIC contains a fixed IP, migration for STOPPED and UNDEPLOYED states and the apptemplate generation. We would like to thanks all members of the community that contributed hugely with their evaluation of the beta, RC and final stable version and provided feedback on it.
Based on 5.0 Wizard, also a new release of vOneCloud, 2.0, is available for download. vOneCloud is an OpenNebula distribution optimized to work on small VMware vCenter deployments. This new release of the appliance, based on a tailored version of OpenNebula 5.0 Wizard to ease the provisioning of resources from vSphere based infrastructures, comes packed with exciting new features:
Datastore and VMDK image management, as well as import.

New Virtual Router Resource, to allow routing between isolated virtual networks.

More flexible vCenter VM naming, with a configurable prefix.

New resource pool mode, with the ability to select in which resource pool a particular VM is confined.

New OneFlow templates operations, like the ability to clone existing service templates.

Keep disks on done, to avoid deleting disks when the VM is terminated.

Instantiate to persistent, to easily create a rich VM Template catalog.

Dynamic VM reconfiguration, that can be performed while the VM is running or powered off.
Community
We cannot emphasise this enough. The OpenNebula community is continuously contributing to the OpenNebula maturity and success, and we would like to thank you all for your excellent feedback on the several betas and RC of 5.0 Wizard.
Also, the amazing job of the different translators has enabled the availability of the Sunstone web interface to 20 different languages. Kudos to you!
The community shows its engagement in integrations like this one between OpenNebula and the Happy module by EOLE team, GO bindings for the OpenNebula Cloud API (OCA) by Megam and OpenNebula and Foreman by Netways. This enriches the OpenNebula ecosystem and shows its health, thanks!
Also important is to spread the word, with initiatives like users groups and local meetups and workshops. Also welcome are reviews in blogs, like this one about vOneCloud 2.0 (In French), or this excellently crafted post on OpenNebula and Docker Swarm with consul.
And, as usual, is very good to be reminded about nice things, like for instance the amount of years we've been working to make OpenNebula a mature product that you can find today.
Outreach
The next OpenNebula Conference in Barcelona in October 2016 will take place 24 to 26 of October. The preliminary agenda has already been published, the final version will soon be available. If you are willing to attend, the early bird will be available until 15th of July. Learn about the different sponsorship opportunities in the Conference web page. Current sponsors of the OpenNebulaConf 2016 include StorPool and LINBIT as Platinum Sponsor, NodeWeaver as Gold Sponsor and Terradue and Todo En Cloud as Silver Sponsor.
If you want to understand what all the OpenNebula Conference fuzz is about, check the last Conference material (talks, slides,pictures).
OpenNebula participated in the OpenExpo at Madrid, an event to promote and evaluate solutions and tendencies in the FLOSS industry. Members of the OpenNebula teams gave talks about the project and interesting integrations like Docker.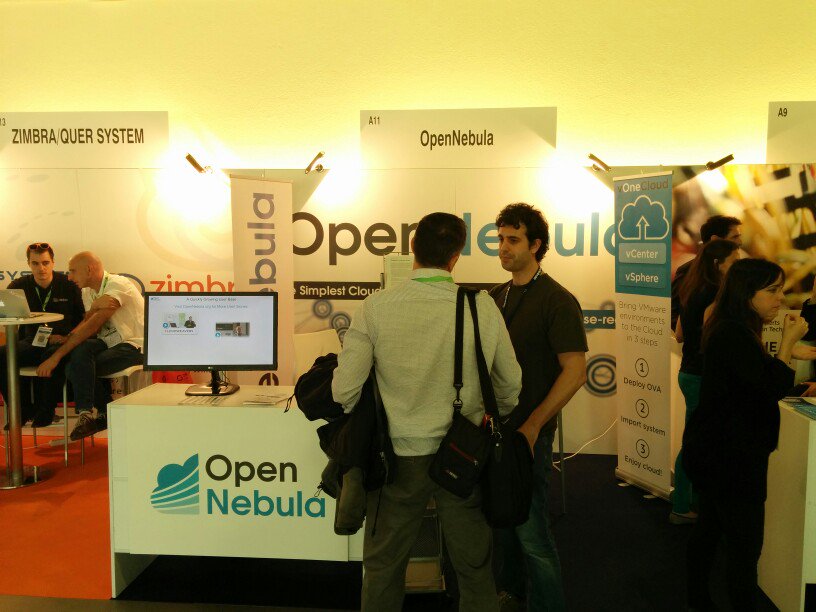 OpenNebula also participated in the DINSIC meeting, where a work group decides which open source technologies they recommend for public french ministers. It is an honor to be there!
Check out the projected OpenNebula TechDays for this year in case one is close to your location. If you are interested in participating in (or hosting) any of these TechDays agenda let us know. Besides the TechDays already celebrated (in Kuala Lumpur, Sofia, Madrid, Dallas, Toronto and Cambridge, Ede, Nuremberg), this year members of the OpenNebula team will be participating in a TechDay in Dublin. Stay tuned, there may be more in your doorstep to come!
The Nuremberg was celebrated this past month, with participation of Netways and e-Post sharing their experiences in OpenNebula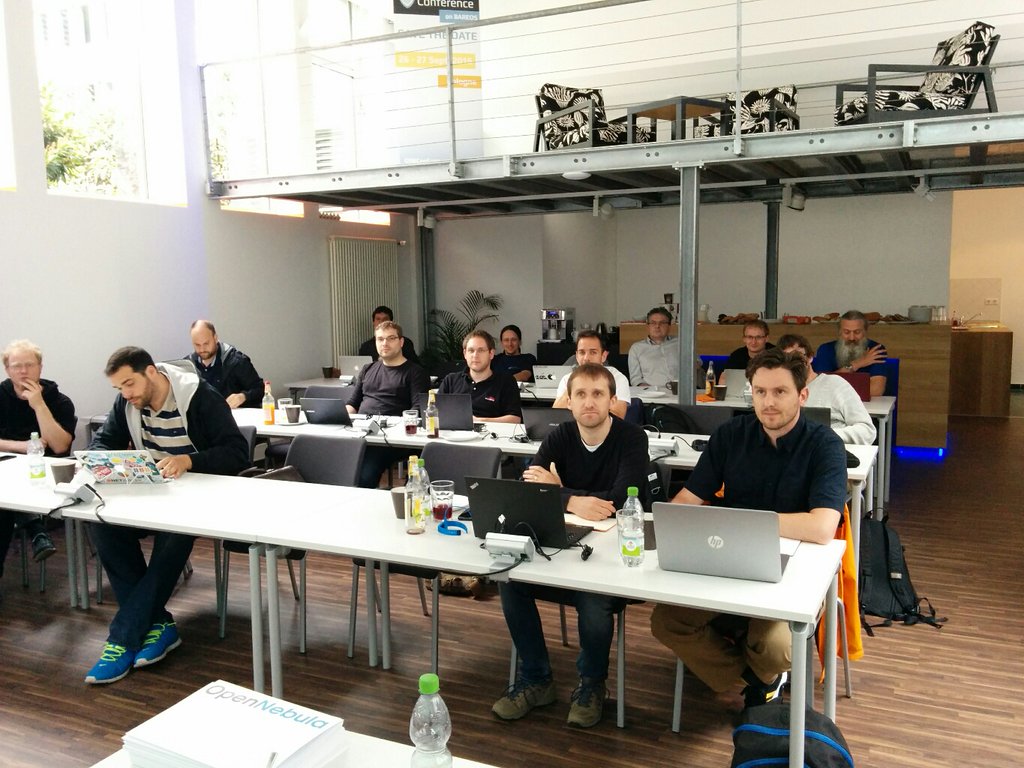 Members of the OpenNebula team will be present in the following events in upcoming months:
VMworld 2016 US, August 28 – September 1, Las Vegas (Mandalay Bay Hotel & Convention Center), Nevada, US.
VMworld 2016 Europe, October 17 – 20, Barcelona (Fira Barcelona Gran Via), Spain.
Remember that you can see slides and resources from past events in our Events page. We have also created a Slideshare account where you can see the slides from some of our recent presentations.