The OpenNebula monthly newsletter, with latest developments, events and future plans for the upcoming months from the OpenNebula project. Read this newsletter to keep up to date with your favorite Cloud Management Platform.
Still a long way until the OpenNebulaConf 2018 in Amsterdam, however, if you don't want to wait for so long, you can always attend to one of the TechDays organised all around the globe! Check the official calendar of events here and feel free to contact us if you want to speak and get your tickets.
Technology
As mentioned last month, we are immersed in a furbishing process for our next big release OpenNebula 5.6, which is around the corner. For this purpose we have published a new hotfix release, OpenNebula 5.4.9, resolving many of the issues reported by our community members. Within these fixes you can find:
vCenter issues related to disk and network monitoring have been solved.
vCenter driver allows template instantiation without duplicating the MAC address
qcow2 driver is automatically selected when a volatile qcow2 disk is added
VNet datatable now shows correctly in groupadmin views
The full list of improvements can be found, as always, in our documentation. If you are curious and want to see the technical details, feel free to glance at the official Github repository.
vOneCloud 3.0.5 release!
Alongside with OpenNebula 5.4.9 we have made a new release for users using vCenter. All the fixes and improvements on 5.4.9 and more are available in vOneCloud 3.0.5. Download the package at vonecloud.today.
Have a look at this blog post for further information.
Moreover we have been working in some of the new features for OpenNebula 5.6. The one we are more excited about is the new Lock functionality. With this new tool, cloud administrators using OpenNebula, will be able to lock any resource within the cloud infrastructure (VMs, users, networks, datastores, disks…) We aim to give more control to the users over the their cloud elements.

Looks good right? Stay tuned to get the latest news!
Community
Let's see what has been going on around our community.
Having a quick look at our forum we noticed the increasing number of contributions, answers and questions of all kind. We want to congratulate all the active members that are sharing their knowledge with the rest of the community. Also we would like to propose a big toast for our Champions and all the users that are acting as ambassadors of OpenNebula on the wild wild internet.
If you want to become an OpenNebula Champion, read our introductory page and see all the benefits of becoming a champ!
OpenNebula's community is very happy to welcome Inoreader. They have successfully migrated from Bare-metal servers to OpenNebula + StorPool, which means they now operate on a cloud environment with full control over their resources. Cheers for that!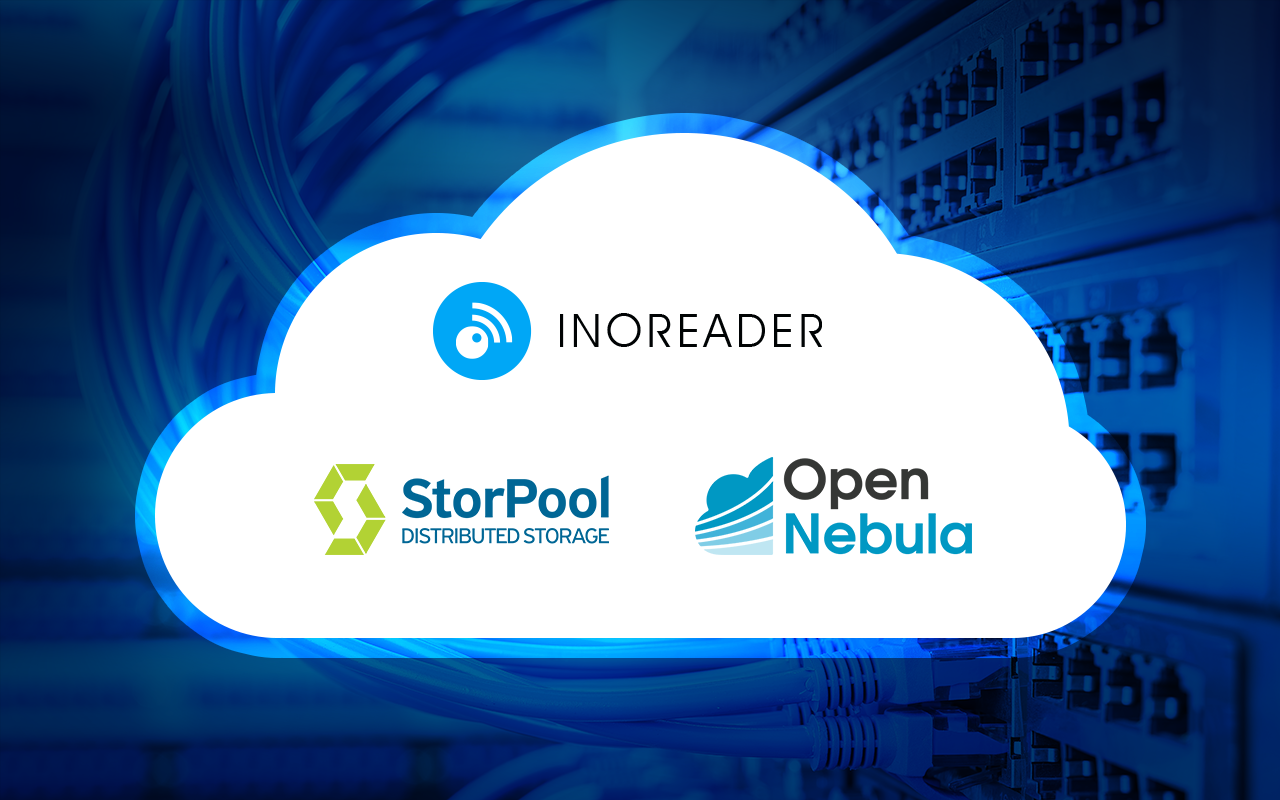 This was an amazing achievement, therefore, Inoreader team has written a very detailed article, describing all the processes, architectures, implementations, installations, integrations and many other experiences happening during the migration. We encourage all of you to have a look at this extensive whitepaper, It is very interesting, simple to read and shows how this migration is possible with OpenNebula. However, if you are a not so experienced user, but still, want to know about this process, do not worry, Inoreader colleagues are preparing a shorter article which we will publish in our blog shortly.
Find Inoreader's article here and enjoy the reading.
Moving on, we have a great proposal for Ansible's github project: add one_vm, one_image and one_service modules to manage VM instances, images and services on OpenNebula cloud platform. As the creator says, they have been using these modules in a production environment for the last 3 months and also the integration tests are working. You can see some code on their github repository.
Great news also coming from Telefonica and Amazon. We found out that Amazon is in talks with Telefonica to support its Greengrass edge-computing service, which will allow customers to run cloud computing from end-user devices instead of in large data facilities. This is going to be possible thanks to Telefonica's facilities which are using OpenNebula in their edge cloud computing deployment. Find more about this move on this article written by Ian Morris for Light Reading
Another successful case study!
This time Université Catholique de Louvain in collaboration with UDS Enterprise, bring us this VDI platform that makes possible for their students to access virtual classrooms as if they were in the standard computer classroom, being able to use the same software as in their labs, anywhere, anytime and using any device.
"the IT staff is really satisfied because they can work with the Open Source KVM-based cloud orchestrator OpenNebula, which is really useful for them."
Follow this link to discover more details on how this was achieved.
OpenNebula team wants to thanks Computing For Geeks for making a great tutorial about Installing OpenNebula Front-end on CentOS 7. If you are planning to start learning about OpenNebula this tutorial is a great starting point, anyhow if you find any difficulty or need further explanations, check our documentation and ask for help in our forum.
Outreach
The OpenNebulaConf 2018 will take place in Amsterdam the 12-13 of November. If you want to attend don't miss the chance to get the tickets with a great discount with the early bird registration.
For this event we are glad to present Linbit and SorPool as part of our Platinum Sponsors and UDS Enterprise as Silver Sponsor. If you want to contribute and enjoy the advantages of being a sponsor visit this link and choose the sponsorship program that suits you better.
Next TechDays are coming! Where you can join our technical experts for a one-day, hands-on workshop on cloud installation and operation:
Find our agenda for 2018 here .
We hope to see you all!