Welcome to our monthly newsletter! 👋 Sign up now to get timely updates on new releases, community events, tutorials, workshops, webinars, cool hacks, and much more!
Technology
After a well-deserved Christmas break after the release of OpenNebula 6.6 "Electra", January has been pretty eventful for our engineers! We started off 2023 by releasing new versions both for our community and enterprise customers. Users of our Community Edition, for instance, can now access the new Patch Release 6.4.0.1 CE, which comes with the open sourced migrators for version 6.4 🚀
Also, as part of our long-term support to version 5.12 "Firework" (exclusive to our enterprise customers with an active OpenNebula Subscription), we have released Maintenance Release 5.12.13 EE LTS. If you are interested in deploying an OpenNebula cloud with long-term support, don't forget to have a look at our latest LTS version: OpenNebula 6.4 "Archeon" 🤓
And speaking of the latest releases… we are working with our Engineering Team to create a detailed screencast to showcase and explain in detail the potential of the amazing new integration of Prometheus and the new Grafana dashboards available in the latest OpenNebula version 6.6, so stay tuned!
📡 MESSAGE FROM THE ENGINEERING DECK
OpenNebula 6.6.1 (ETA first half of February 2023) will come with some goodies for your enjoyment 🙂 Probably the most significant one is the ability to define a retention period for incremental backups, which among other minor enhancements, will help OpenNebula's new native backup solution to be adapted to different enterprise environments. We hope you'll enjoy that!
Community
Crazy how quickly time has passed. We've been going for 10 years now and we're still just as passionate about our annual conference, as we were in its first edition in Berlin! Get ready to join us in the 10th edition of the OpenNebulaCon which will be held on May 23-25, 2023. Following last year's success, we've decided to keep it as a virtual event, also because we are now planning a whole set of physical events to take place in different locations throughout 2023, so don't worry, we'll have many opportunities to meet face to face in the near future! You'll be able to pre-register and submit your proposals to the Call for Papers very soon!
This month has also come with a number of important milestones for some of the innovation projects in which we are involved, especially for the COGNIT Project, the EU-funded initiative that we coordinate in which we are working with several top-ranking companies and research organizations in Europe to define the future Cognitive Cloud. The kick-off of this project in Brussels was definitely a great success!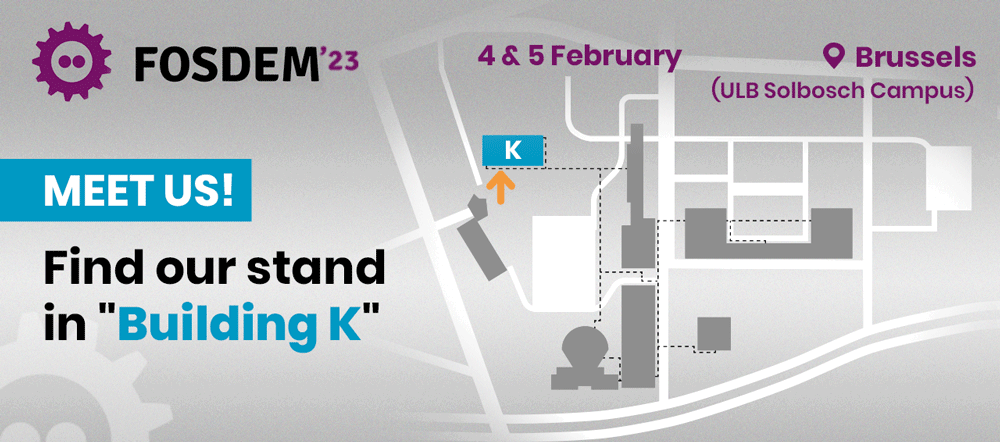 Outreach
Every year we participate in FOSDEM (Brussels) as speakers, but this year we will also be going as sponsors and exhibitors! 🥳 Apart from contributing to three different sessions (Legal & Policy Issues, Containers, and Sovereign Cloud), this weekend we will also have a stand at Europe's largest open source event, where our team will be there with some goodies, live demonstrations, and pretty interesting conversations. Drop by and say hello! You will also find us in Brussels the day before, on Friday 3rd, at the EU Open Source Policy Summit that we co-sponsor.
And don't forget that the OpenNebula team is growing! Visit our Careers page for more details about our all-remote policy and the open positions that you can apply to 😉