It is time to acknowledge that 2022 has been another great year for OpenNebula, and one of the reasons is because we've been able to keep incorporating powerful and innovative new features to our open source Cloud and Edge Computing Platform! 🤓 This has been possible thanks to the commitment of our Community, the support of our Corporate Users, and the amazing job that every single member of the OpenNebula Team has done throughout the year, so congratulations to everyone! And as we prepare ourselves for the developments and adventures that lie ahead in 2023, let's take a few minutes to look back at what we've accomplished together in 2022! 🎉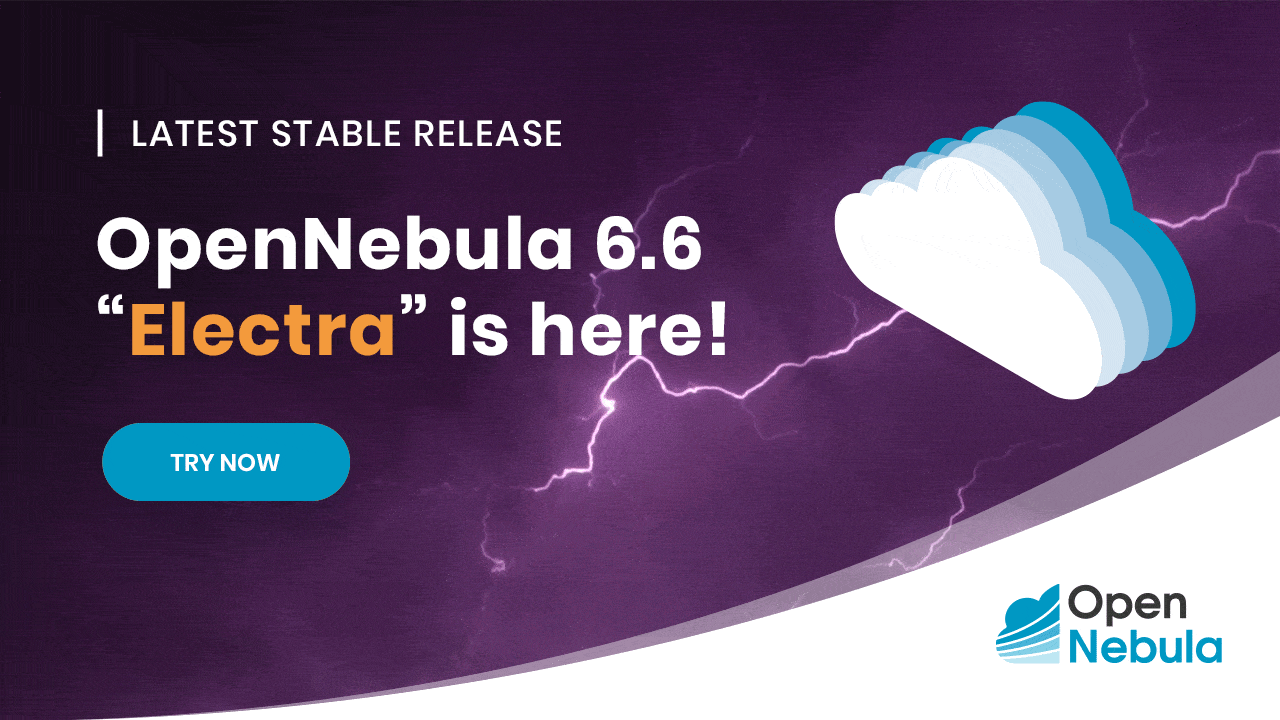 Technology
🌌 By now, you've already probably seen the news: we just published our latest stable release a couple of weeks ago! OpenNebula 6.6 "Electra" comes with an express focus on supporting Day-2 operations in production deployments, including:
A novel integration of Prometheus for enterprise monitoring, combined with new Grafana dashboards for optimal observability.
A new native support for incremental backups based on datastore back-ends and the development of new drivers for restic and rsync.
Improved networking to meet the requirements of Telco Cloud operators, including several improvements for managing virtual networks and VNFs.
🖖 But that's not all! In May 2022 we launched a previous minor release—currently our latest LTS version—the amazing OpenNebula 6.4 "Archeon", followed by the publication later in the year of two EE Maintenance Releases. Some of the major new features in this release included:
The ability to automatically deploy and manage hyperconverged Edge Clusters based on Ceph—the powerful open source software-defined storage solution—using AWS or on-premise resources.
Better integration with your datacenter networking infrastructure with life update of security groups and QinQ support.
A fully functional new FireEdge Sunstone GUI for managing VM templates and instances.
New SR-IOV support for NVIDIA GPU cards.
Fine-grain resource control to the LXC driver
Improved integration with VMware vCenter.
Support for Ubuntu 22.04 and AlmaLinux 9.
Access to our new Edge-as-a-Service platform Edgify.
🎆 Apart from producing the new 6.4 "Archeon" LTS and 6.6 "Electra", in 2022 we also published an additional EE Maintenance Release for 5.12 (our first LTS version) and two EE Maintenance Releases for the previous version 6.2 "Red Square", which worked as a fast-track for our corporate users to benefit from novel features such as:
An improved version of OneProvision, the tool that allows you to quickly deploy and configure Edge Clusters into your OpenNebula cloud.
Early support for AlmaLinux 8, the increasingly popular Linux distribution designed to fill the gap left by the discontinuation of the CentOS stable release.
Access to a new WHMCS module, enabling you to easily incorporate automated billing for your users based on their cloud resource usage.
📔 In 2022, as usual, we've kept publishing in-depth Blog Posts and Public Materials about key aspects of OpenNebula, including: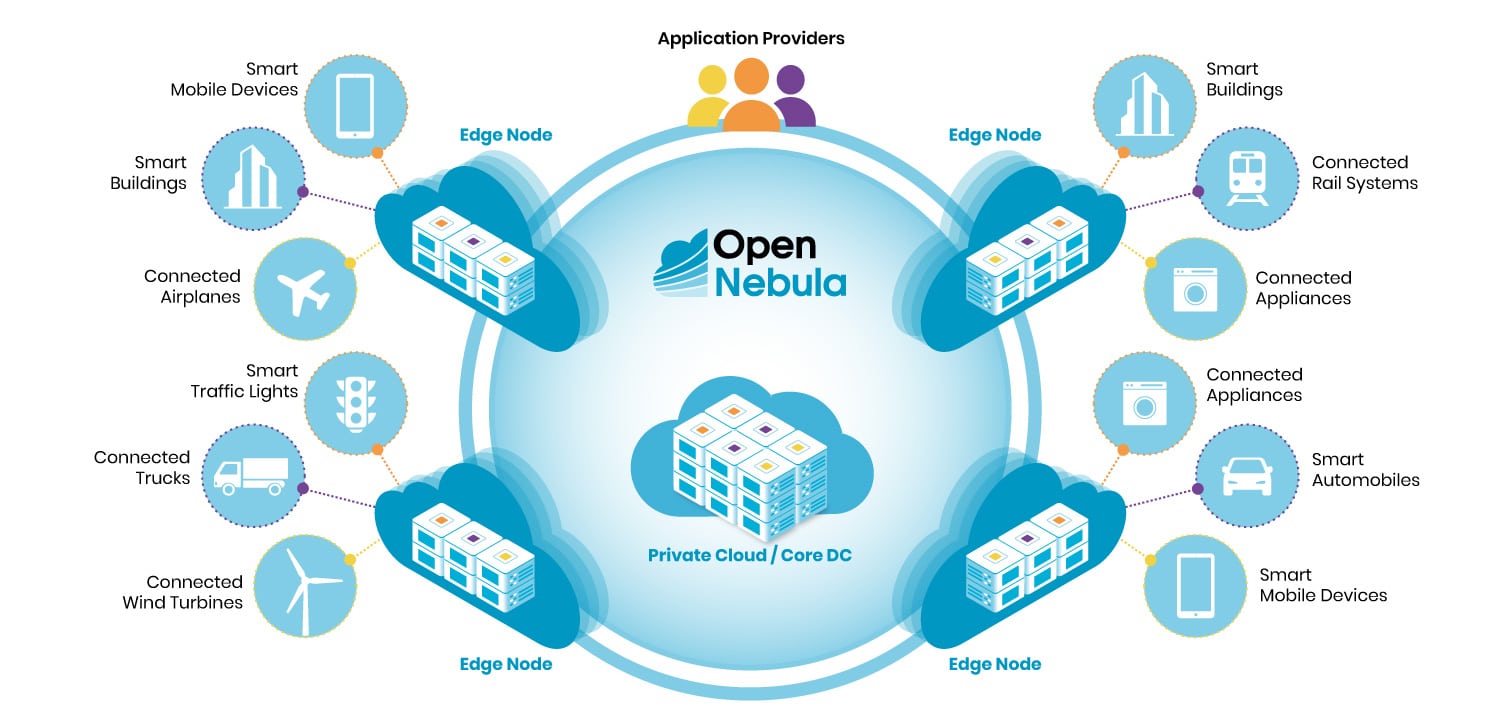 📝 Our team has also been quite busy in 2022 expanding our Knowledge Base with new articles for our corporate users, including these:
Community
🥰 Kudos to all our community for an amazing year, especially to those Community Champions that have contributed in 2022 to spreading the word about OpenNebula! Special thanks to our friends and colleagues at:
🔭 As always, part of our efforts during the year have also been focused on keeping our Public Marketplace updated, incorporating new open source products as public Virtual Appliances, like: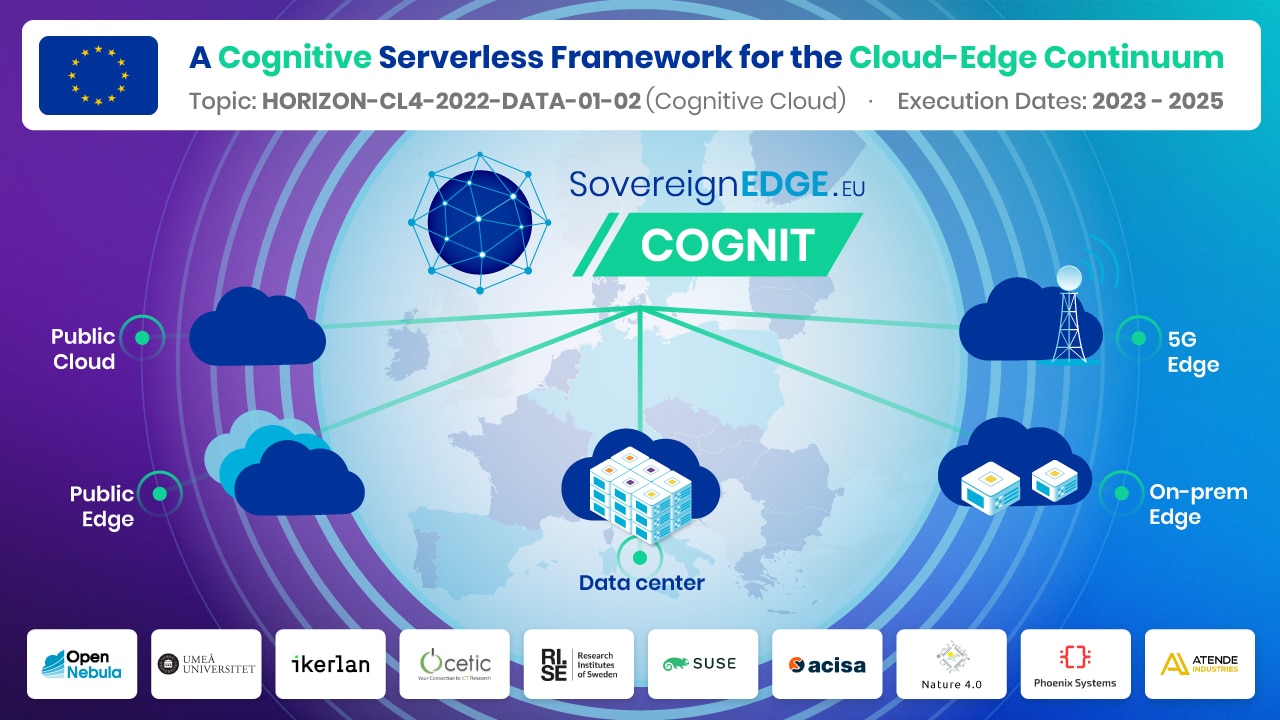 💪 And, of course, we've also been as active as possible in many relevant Open Source and Edge Computing initiatives, making sure that Open Source innovation remains one of our core principles:
Outreach
📡 Even if we are all slowly transitioning back to a world where physical events can finally take place again, we decided to run our Community events in 2022 following a virtual format—for obvious reasons, but also as a way to make them more inclusive for members of our Community that couldn't join us in person. The experience, in fact, was very positive!
As a final adieu to our European innovation project ONEedge, we held a first virtual event in late March 2022. This was a great opportunity to share with the open source community the new edge computing and multi-cloud features developed through the project, and to bring together friends and colleagues from major organizations like the European Commission, Gaia-X, the Research Institutes of Sweden, Telefónica, Oracle, and SUSE to talk about open source innovation and edge computing.
And just a couple of months later we had our first-ever, fully virtual edition of the OpenNebulaCon! This was a three-day conference filled with keynote presentations, amazing use cases, and in-depth thematic sessions in which we were joined by an impressive line-up of 40 speakers from 25 different organizations that joined us to make this a wonderful event. Special thanks to our sponsors, StorPool and LINBIT!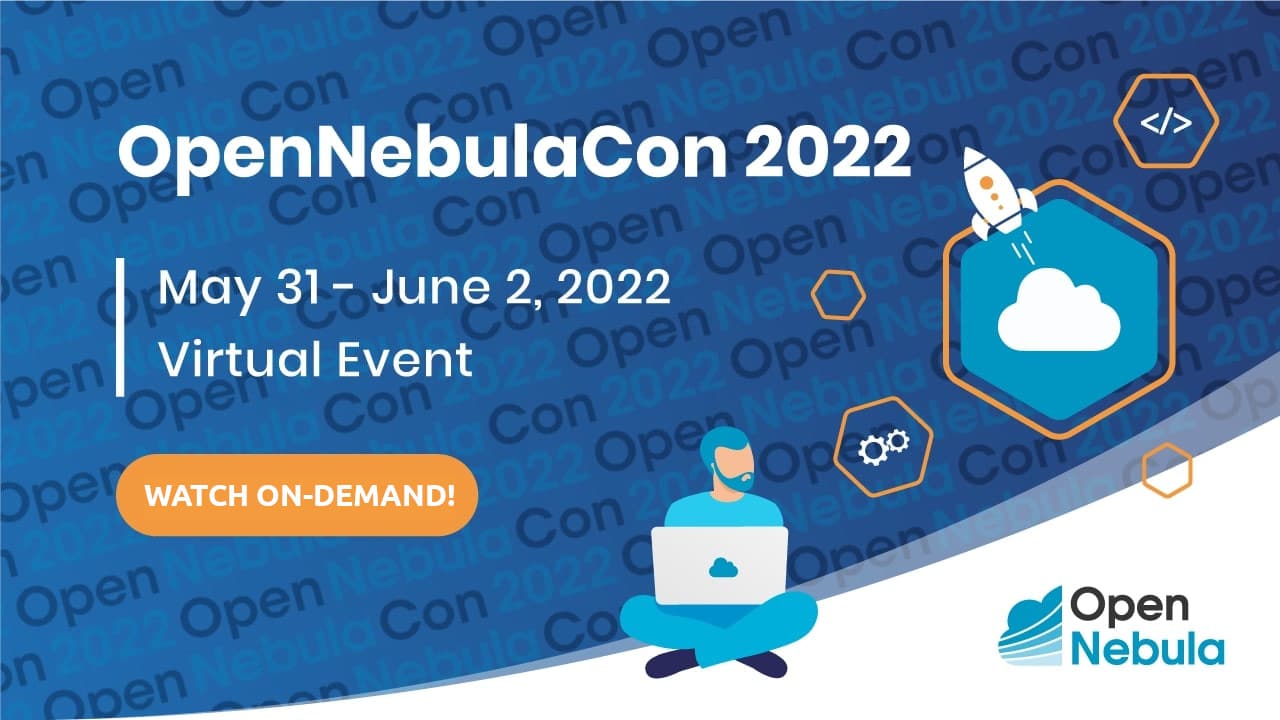 🤖 And, of course, we've been participating in many open source and industry events, spreading the word about the benefits and amazing features of OpenNebula, including:
So, as you can see, 2022 has been quite a year for OpenNebula… but we are sure 2023 will be even better! So, stay tuned for the amazing developments that lie ahead of us, and Happy New Year to y'all! 🚀
The OpenNebula Team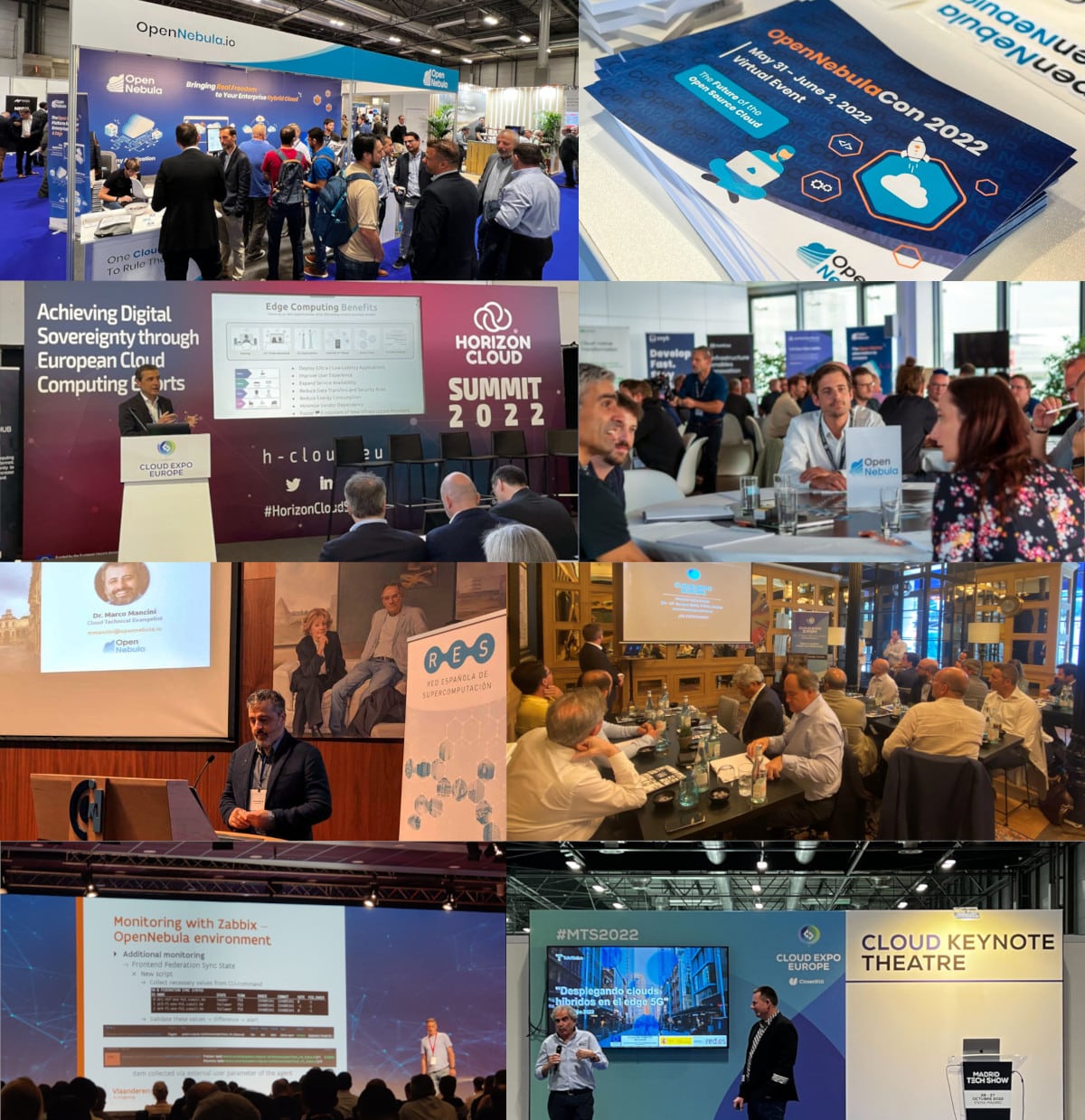 ℹ️ Remember that our team is growing! Visit our Careers page for more details about our all-remote policy and the open positions that you can apply to. Looking forward to hearing from you!