Well, 2020 is finally over and you'll all agree that it's been a bit of a challenge… But, despite all, and thanks to the strong commitment of both our fantastic team and the amazing OpenNebula Community, we've been able to deliver what we promised in our last Year in Review post—a year full of wonderful developments for the OpenNebula project and its ONEedge initiative! 🤓
Thanks to that collective effort, OpenNebula has consolidated its position as a powerful open source solution to build and manage Enterprise Clouds; one that combines virtualization and container technologies with multi-tenancy, automatic provision and elasticity. And all that to provide organizations with the tools they need for their digital transformation and for supporting the growing needs of their development teams and DevOps practices. So, congratulations everyone! 👏
Welcome to the True Hybrid Cloud
Apart from producing no less than four Hotfix Releases for version 5.10 "Boomerang", there's little doubt that the main event this year has been the release in June of our new version, the spectacular OpenNebula 5.12 "Firework" (codenamed after the beautiful Firework Nebula). We feel especially proud of this release, which followed our public announcement⁠ of Firecracker becoming a new hypervisor to be officially supported by OpenNebula. Firecracker is a new open source virtualization technology—widely used by Amazon Web Services (AWS) as part of its Fargate and Lambda services—that is going to open up a whole new world of possibilities for OpenNebula users.
Now, thanks to the integration with both Firecracker and Docker Hub, OpenNebula has become a real alternative for orchestrating application containers! That is why OpenNebula 5.12 came as well with a fully redesigned OneFlow, which has been expanded with additional network features. This powerful component of the OpenNebula stack, whose latest version shows an incredible improvement in performance, allows cloud admins to define and run complex services, like for example multi-tier applications based on containers that run as fast and secure Firecracker microVMs. 😉
In 2020, and following the release of OpenNebula 5.12, we launched our new Enterprise Edition, a more tested, hardened, and production-ready version of OpenNebula that incorporates additional bug fixes developed by OpenNebula Systems and software patches with minor enhancements, along with a series of Enterprise Tools to simplify upgrades and the maintenance of OpenNebula clouds in production environments. 🎖️
OneScape is the name of the new enterprise extension that we've released this year, and its main objective is to simplify the maintenance, management and upgrade workflows for corporate users. It's our way to say thank you to all those organizations supporting the project by purchasing an OpenNebula Subscription. One of the tools that come with this new extension is called onecfg, a new command that is able to read all the changes and upgrade the configuration files of your OpenNebula cloud all at once. Not bad, right? 😎
In July we also announced an additional development in our enterprise product release cycle: the introduction of new Long-Term Support versions to reduce the risk, expense, and disruption of software deployment. Starting with OpenNebula 5.12, the very first of them, LTS versions will be maintained and officially supported by OpenNebula Systems for a period of at least 27 months.
Another major announcement in 2020 has been the release in December of our True Hybrid Cloud Architecture, our new reference architecture composed of hybrid clusters that can run any workload (both virtualized and containerized), on any resource (physical or virtual) and anywhere (on-premises and on the cloud). This architecture is the basis of our new Managed Services for Corporate Users.📡
But that's not all! This year we have updated OpenNebula's Microsoft Azure driver to make it compatible with the new Azure Resource Manager, and we have also been working to improve our Public Marketplace, updating several of our virtual appliances. We've updated, for instance, our GitLab Virtual Appliance, now supporting CE Security Release 13.6.2, as well as the service appliance that provides several Virtual Network Functions (VNFs). And in November we confirmed that our Kubernetes Virtual Appliance—which gives you a "press-of-a-button", simple tool for creating and deploying a Kubernetes-based container orchestration platform on top of OpenNebula—had passed all the tests to be included into the CNCF Landscape as a Certified Kubernetes installer! 🎉

Real-Life Use Cases of Cloud and Edge Computing
With all that's been going on around the OpenNebula project, we are aware that sometimes it might be difficult to keep track of all the news and new features that we have been working on. That's why this year we've made an extra effort to produce new materials for both newcomers and expert users of OpenNebula. One of the resources we've used for this is a new collection of screencasts that provides a number of introductory videos as well as reviews of some of OpenNebula's key features and use cases. In this series of screencasts you'll find things like a new intro to vOneCloud (our open source replacement for VMWare vRealize), a tutorial on how to build a Windows image, an explanation on how to use OpenNebula plus Apache Guacamole to set up an open source VDI solution, or a tutorial on how to deploy VMs on the Edge.
Several of those screencasts are also part of a new series of public articles that we've added to our Knowledge Base, a section of the OpenNebula Customer Portal whose full contents are only available to corporate users with an active OpenNebula Subscription. In there you'll also find additional resources for the general public such as a tutorial on our new native integration with the Docker Hub marketplace, or a practical introduction to OpenNebula on the Edge with Docker. And if you need some more details, don't forget we've also been working to expand our collection of white papers and reports to cover relevant topics such as Edge Computing with OpenNebula and Mastering Containers with OpenNebula, as well as updated competitive pricing reviews of OpenNebula versus VMware and OpenStack. 💸
In late 2020 we also launched an initiative to publish a new series of testimonials by users and customers, sharing their specific requirements and ensuing experiences using OpenNebula. These new Case Studies are designed to help other members of the Community get a feel for how OpenNebula is meeting the needs of organizations across the globe. Special thanks to our initial contributors: Qt, Perspecta, Dustin, the Department of Environment and Spatial Planning (Flemish Government), and Ooma! 🤩
Special thanks to Tony Sarajärvi, CI Tech Lead at The Qt Company, for contributing as well to our Community Blog with such an inspiring guest post on the critical role that OpenNebula plays in Qt's impressive CI infrastructure, in combination with tools like MAAS, Parallels and Grafana. And kudos to Mara Sorella, Postdoctoral Researcher at the Research Center of Cyber Intelligence and Information Security (Sapienza University of Rome), for inaugurating the new Cybersecurity section of our blog. 🤖
In fact, if you've been following our blog in 2020, you'll have seen that during this year we've been publishing some really cool stuff! Here you'll find, for instance, an interesting comparative between a solution based on Kubernetes and our native container orchestration model, based on our support for Firecracker and Docker Hub. To illustrate the huge potential of this new integration we've also produced several blog posts, including one that explains in detail why we've fallen in love with the concept of deploying applications containers as microVMs and another one on how you can use OpenNebula to deploy an IoT solution at the Edge based on the open source IoT platform ThingsBoard.
Still, if what you prefer is a Kubernetes deployment on top of your OpenNebula cloud, worry not, because you'll also find some inspiration in this blog post explaining how to easily set up an OpenNebula environment with Kubernetes clusters on the Edge, which includes a practical example based on deploying multiplayer game servers on Equinix Metal bare-metal resources. 🎮
By now, you are probably perfectly aware that, thanks to our ONEedge initiative, we are in fact turning OpenNebula into a powerful open source Edge Computing platform. Within that context, we've developed the first version of our new Elastic Private Media Cloud concept, a tool for OTT services and Media companies to make use of on-demand Edge clouds to run high-definition video streaming and live broadcasting services. And we've also started to test our integration with AWS Wavelength, the amazing new service that Amazon Web Services has recently launched around the world in collaboration with Verizon, Vodafone and other 5G telecommunication providers. In the near future, OpenNebula users will be able to deploy Kubernetes clusters and containerized applications on the 5G edge using AWS Wavelength resources! 🌎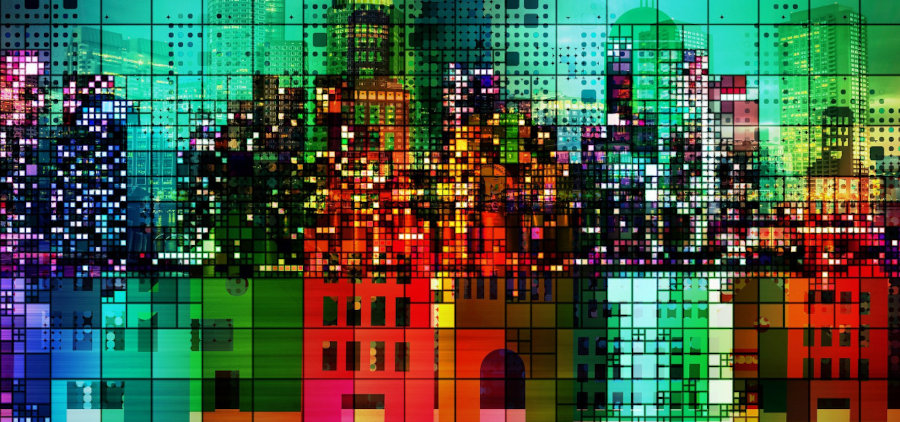 Expanding the OpenNebula Community
OpenNebula is an open source project that revolves around its community, and we are happy to say that, despite the global situation and the many professional and personal challenges that the COVID-19 crisis has brought, the OpenNebula Community is thriving! And to make sure that we all keep on the same page, this year we launched not only an OpenNebula Architecture Survey for ensuring that we maintain a proper focus on our users' evolving needs, but also a new Edge Computing User Group to make sure members of the Community have a direct channel to collaborate and provide feedback on OpenNebula's new Edge Computing capabilities. 🛰️
We've also seen some amazing contributions in 2020 from members of the OpenNebula Community, including Andrei Kvapil's improvements to his driver for LINSTOR, Dennis Felsch's implementation of 2FA for OpenNebula's WebUI, a new (experimental) support for PostgreSQL led by Igor Sivý (Masaryk University), and the first steps of a new Docker Images Add-on led by our colleagues from Dell EMC. But contributions work both ways, right? That's why we've also been contributing to some other open source projects, including a code contribution to Firecracker related to the support for CPU pinning, which will allow OpenNebula admins to have total flexibility to decide how Firecracker microVMs are isolated within their hosts.
A community initiative that's producing spectacular results is the Terraform Provider for OpenNebula! Here you have the full announcement of the latest release in December, written by Jean-Philippe Fourès (Cloud Product Manager at Iguane Solutions), one of the leaders of this project. This release is a huge step forward in making it easier for users to manage a running cluster, so many thanks to all the members of the Community and the OpenNebula team involved in this development! 💪
Finding New Ways to Collaborate
This year we've announced a number of strategic partnerships, including OpenNebula becoming a Technology Partner of HashiCorp—creators of Terraform—and also a member of Intel's Network Builders Edge Ecosystem.
This year we've also launched a new Managed Service Provider Program, an instrument for OpenNebula Solutions Providers (such as StorPool and BIT) to get the most out of our new Enterprise Edition and Long Term Support model, and build Managed Private Cloud solutions to offer to the broader public.
In November 2020 we announced that, after several months contributing to GAIA-X, OpenNebula had gone a step further in its commitment to this project by becoming a Day-1 Member of the GAIA-X Association—one of our main objectives being to make sure that OpenNebula Cloud Service Providers and Corporate Users will be able to get the most out of this new 🇪🇺 federated data infrastructure!
Also in November, and given that our recent support for both Firecracker and Docker Hub offers to the IT world an innovative alternative for container orchestration, we officially announced that OpenNebula was joining the Cloud Native Computing Foundation (CNCF) as a Silver Member!🥳
We'll Meet Again
Unexpectedly, and due to the on-going pandemic crisis, we've had to cancel or reschedule some of the events we had planned for this year, as has been the case with some other third-party conferences and meetings we were planning to attend as speakers and sponsors (like the Red Hat Summit 2020 and VMworld 2020). For starters, our OpenNebula Conference, which was going to take place in Brussels (Belgium) in September 2020, has been rescheduled for September 2021 in the hope that, by then, we'll be able to run at least a hybrid event, with online contents but also with a number of safe in-person activities. Fingers crossed! 🤞
Following our tradition of organizing local community events, this year we've managed to produce a virtual e-Techday in Barcelona, which has been made possible thanks to the invaluable support of our colleagues from CSUC (Consorci de Serveis Universitaris de Catalunya) and Cloud Admins Barcelona.
Yet, most of our efforts have been focused on setting up a brand-new Webinar Series, which has actually been a great success! Many thanks to all the guest speakers that have joined us this year:
Andreea Florescu (Software Developer Engineer at Amazon Web Services).
Venko Moyankov (Solutions Architect at StorPool) and Richard Lingsch (Managing Director of eApps Hosting).
Stéphane Graber (Technical Lead for LXD at Canonical).
Taylor Dolezal (Senior Developer Advocate at HashiCorp) and Jean-Philippe Fourès (Cloud Product Manager at Iguane Solutions).
Andreas Weiss (Director of EuroCloud Germany) and Mirko Lampe (Coordinator of GAIA-X Workstream 2—Technical Implementation).
Adrian Goins (Director of Community and Evangelism at Rancher Labs).
Jeremy Tanner (Developer Relations at Equinix).
Mark Mandel (Developer Advocate at Google Cloud).
Apart from attending both the SustainOSS Summit and CHAOSScon in late January, the OpenNebula team presented some of the project's main novelties at FOSDEM (Brussels), the iconic Free and Open Source Software Developers' European Meeting. We've taken part at the Virtualization & IaaS DevRoom with a talk on Edge Clouds with OpenNebula.
We've also been participating in a number of virtual events during the year. One of them was the Cloud Data Summit (North America), where we presented several use cases where OpenNebula's new Edge Computing features were put to work, including IoT and Kubernetes. Another nice opportunity to talk about our OneEdge initiative was OpenExpo Europe, where we delivered a talk on the past, present and future of OpenNebula.
If you are interested in container orchestration and Serverless Computing at the edge, don't forget to watch online our presentation at Edge Computing World 2020, which included a live demo on how to use OpenNebula to run Docker Hub images as Firecracker microVMs on a distributed bare-metal Edge infrastructure. And if you couldn't attend our amazing live demo at Rancher's Computing on the Edge with Kubernetes event showing how to use OpenNebula + K3s to deploy multiplayer game servers on the edge, worry not, the recording is also available on demand. 📺
Looking forward to 2021
As you can see, 2020 has been a challenging year, but one that's been full of great developments for the OpenNebula project and its community. Keep tuned because, as promised, this was only the tip of the iceberg: the release of OpenNebula 6.0 is fast approaching and will bring along amazing new true hybrid and edge computing features and capabilities for making the execution of containerized applications and the management of Kubernetes clusters even easier—so fasten your seat-belts and enjoy the flight! 🚀
The OpenNebula Team
PS: Happy New Year! And remember: keep taking care of yourselves and of those around you in 2021. All our support to those who are fighting the pandemic on the front lines!